DBS has retained the number one spot as ASEAN's most valuable banking brand, and improved 12 places globally to number 40. This was according a recent Brand Finance Banking 500 report.
The report added that the brand value for DBS has improved significantly over 2017, reaching US$6.5 billion. This makes DBS the first ASEAN bank to be in the top 50 most valuable bank brand ranking and also the first ASEAN bank to cross US$6 billion in brand value.
The report also listed Singapore bank brands OCBC and UOB as second and third place respectively in the ASEAN rankings, with global rankings of 64th and 66th respectively. According to BrandFinance, the "strong growth" for DBS and OCBC is partly attributed to recent acquisitions both organisations made which provided the boost to the revenue base.
According to Samir Dixit, managing director of Brand Finance Asia Pacific, it is also worth highlighting that unlike DBS and OCBC, UOB had a more organic, non-acquisition based growth of revenues and brand value. UOB remains highly competitive in the region as the third most valuable ASEAN bank brand.
If not for the acquisitions made by OCBC, UOB would have been in a strong position to challenge them at second place.
Malaysia & Indonesia banks on the rise
Malaysia bank brands also continued to populate the top 10 rankings, with Maybank maintaining its position as fifth place when compared to the year before. CIMB took eighth place, dropping one spot from the year before. Indonesia bank brands such as BRI and BCA also maintained their positions at fourth and sixth place respectively, but also saw improvements in their global ranking.
Dixit added that the company's annual brand equity research for the banks indicates that there still exist wide gaps for banks brand strength. This is due to higher product focus and very little brand differentiation. Therefore, banks that will focus on the brand will benefit disproportionately.
While it is heartening to see the rise of ASEAN brands amongst the global rankings and the dominance of Singaporean banks both globally and in ASEAN; Malaysian, Indonesian and Vietnamese banks have also been rising steadily both in value and in brand strength. He added:
This will likely pose some threat in the future to the three Singapore banks.
Overall, ASEAN bank brands more recent growth has also been due to accelerating M&A activities in the region. According to Dixit, these have been providing opportunities for the ASEAN banks beyond its growing domestic market.
The research also indicates ASEAN's consumers growing affinity for brands and branded goods has also helped set a solid foundation for competitive brands from the region. This is also evident by Indonesian banks such as BCA, Mandiri and BRI making their way into being the top 3 strongest bank brand in ASEAN.
"It's the strong growth of ASEAN region as a whole and coupled with a consumer preference for home grown brands that is driving the phenomenal increase in brand values of the ASEAN bank brands, which the western banks cannot hope to match," Dixit added.
View the top ASEAN bank brand rankings here: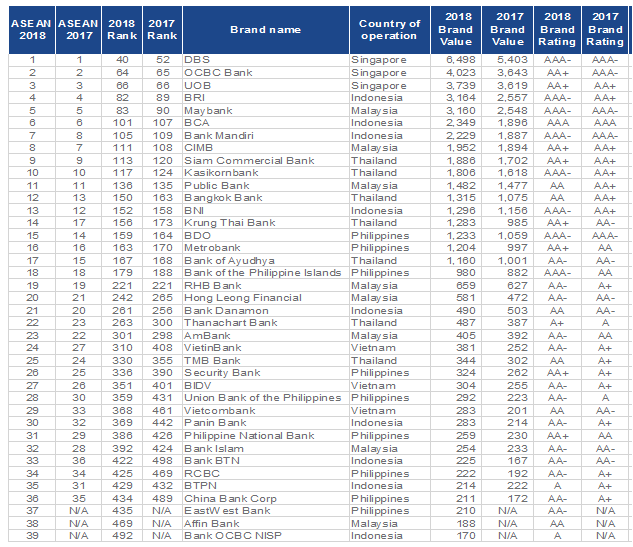 Annually, Brand Finance evaluates the brands of thousands of the world's biggest companies. The results of this analysis are then ranked, with the world's 500 most valuable banking brands featured in the Brand Finance Banking 500.