2016 has seen the next evolution of reality-altering advancements in technology. While many have extolled the virtues of virtual reality, it's augmented reality (AR) that has stolen the show.
From Snapchat filters to Pokémon GO, AR has yielded some fascinating results and provided new ways of engaging users across multiple platforms.
Despite the abundance of Pokémon situated around Harbour City, it's not the only AR experience available taking over the massive mall. The shopping mall has launched a new Smurfs AR experience campaign with eSee's technology to celebrate its "We're All Smurfs!" summer event.
In the campaign, visitors will be able to redeem four different AR Smurfs Cards featuring various characters.
The Smurf-infused AR experience provides what it calls "online-to-onsite" experience to visitors, which also encourages them to share unique moments and the exhibition at Harbour City with their friends, family, and followers.
There are eight Smurfs hidden inside the gigantic mushroom house at the "We're All Smurfs!" village, who will make appearances while using the app.
Visitors can get the "village card" and various Smurf AR marker cards upon donation, a minimum spend or participating through different onsite activities.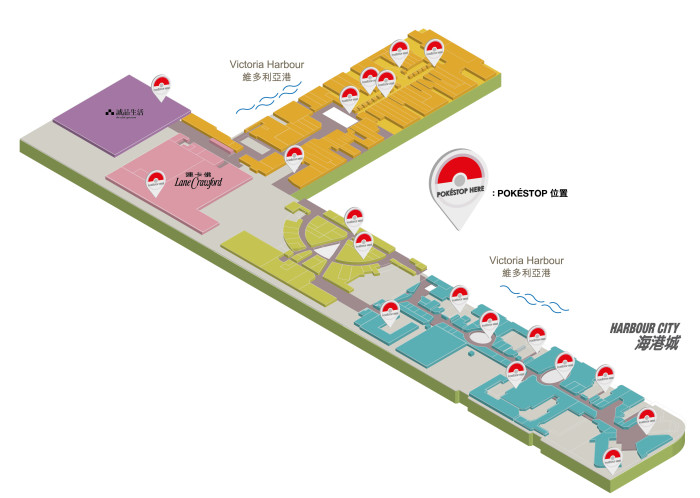 Meanwhile, the shopping mall aims to become one of the favourite spots for Pokémon trainers.
Harbour City flags Pokéstops with stickers today (28 July). The signs will also help trainers conserve phone battery.
There are around 20 Pokéstops and 2 Pokéstop gyms in Harbour City, and trainers are using 'lure modules' to attract more Pokémons to the location.