Yesterday, Microsoft stunned with a sleek presentation of its line-up of innovative devices. Today, Apple showed off its new MacBook line, and reactions have been mixed once again. Apple touted its new device as 'revolutionary' with their "best screen yet," while highlighting that this iteration is the "thinnest and lightest ever MacBook Pro".
The new MacBook introduced the TouchBar – a small touch screen at the top of the keyboard that replaces all the function keys, from ESC to the power button. This very narrow touch screen was shown to be customisable with different buttons and emojis in an effort to improve efficiency while working.
On the other hand, Apple also announced that the much-loved MagSafe chargers are no more and even traditional USB ports have gone the way of the dodo.
The MacBooks will now come with four USB Type C ports that can charge the device through the new standard cables, but cannot connect to external displays or even iPhones (which use Apple's signature Lightning cable) without converters and dongles.
Online commenters are lamenting the loss of MagSafe, traditional USB ports and have expressed skepticism about the price hike.

Others still unfavourably compared the new touch screen to Microsoft's Surface touch screens.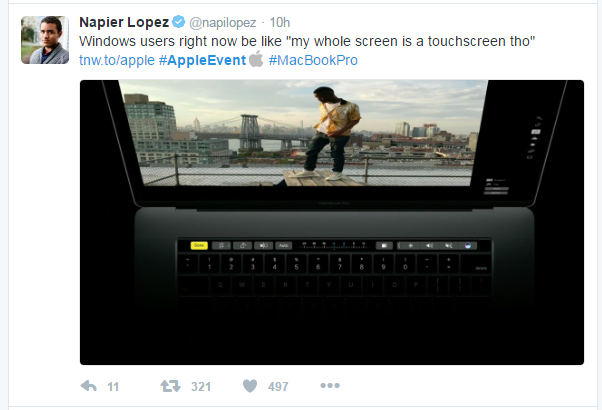 And finally, here's a (questionable) idea for advertising professionals:

Watch the design video here.