In its latest report, Apple's fiscal year 2016 revenue has declined almost 8% from US$233.7 billion to US$215.6 billion.
Since the release of the iPod and the company's comeback under then-CEO Steve Jobs in 2001, the company has had a good record. The latest report marks the first annual dip in sales for Apple in 15 years, softening iPhone sales believed to be the cause.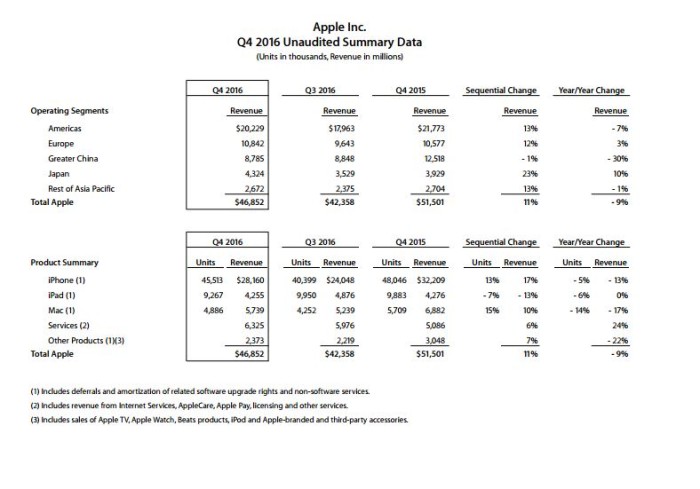 The tech giant sold 45.5 million iPhones compared to 48 million in the same period last year, a drop of 5%. Analysts had expected 44.8 million, which suggests Apple may have been benefited from Samsung's Note 7 battery fiasco.
Apple also reported earnings of $1.67 per share on a revenue of $46.9 billion, compared with $1.96 and revenue of $51.5 billion in the same quarter a year ago. Although the performance was roughly in line with analysts' forecasts of earnings of $1.63 per share on a revenue of $46.9 billion, it highlighted several long-term problems with Apple's smartphone sale growth.
For example, the revenue in China fell 30% year-on-year in the fourth quarter.
Apple CEO Tim Cook tried to focus attention on growth in its services sector, which includes iTunes and the App Store. "We're thrilled with the customer response to iPhone 7, iPhone 7 Plus and Apple Watch Series 2, as well as the incredible momentum of our services business, where revenue grew 24 percent to set another all-time record," he said in a statement, adding that the performance of its services business vaulted 24% to $6.3 billion.