For the entirety of June, Marketing will be putting the spotlight on each of the category winners at the Agency of the Year Awards 2017 Hong Kong. A new category – including an overview of the winning agencies – will be featured every day, going from A-Z.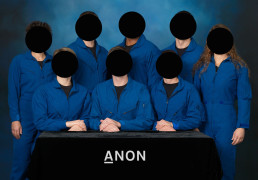 Gold and Local Hero: ANON
Owned by: Independent
Headed by: Simon Handford/Sandy Chan, co-founders

Local Hero ANON won another gold, this time in the Brand Consultancy of the Year category.
Founded in 2013 by Ogilvy & Mather alumni Simon Handford and Sandy Chan, the agency's team of 10 serves an impressive portfolio of clients, including Hong Kong Disneyland, Vanguard Investments Hong Kong, Swire Properties and Nike Hong Kong.
This relatively small, but prolific team doesn't pull any punches in its offerings, including TVCs, OOH, digital, product design, packaging, collateral and brand events. In 2016, the agency scored a number of big wins, including Moët Hennessy, FOX Networks Group Asia and JP Morgan, to name a few.
Perhaps the most notable campaign from the ANON team in 2016 – although there were more than a few – was the "Star Wars Takeover" for Hong Kong Disneyland, where it created a range of highly creative collaterals. For example, the print ads were accompanied by a small DIY hologram device to recreate characters from the perpetually popular franchise on your phone – an excellent fit for the space opera attraction.
Bus shelter ads used directional speakers to send messages only to people standing directly beneath them to create the illusion of hearing "the force", while the billboards featured villain Kylo Ren seemingly cutting through buildings using a 3D perspective in the creative.
Regularly eschewing the retainer-based business model, ANON is not afraid to do things differently. While the agency naturally has specialists in certain disciplines, it does not employ separate teams and focuses on creative ideas, rather than disciplines or formats. To top it all off, it gives clients access to all its creative resources to nurture a collaborative environment.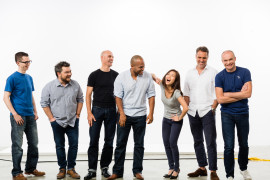 Silver: Eight Partnership
Owned by: Independent
Headed by: Chris Fjelddahl, founder and partner

Eight Partnership put its focus on "integrating design disciplines to create brand experiences", a move that has paid off for the agency with a silver in Brand Consultancy of the Year.
In 2016, it delivered large projects all over the world, including South Korea, Japan, Mauritius, Maldives, Thailand, Singapore, Australia, New Zealand, Hong Kong and China.
Key clients for the agency include Blackstone, Cathay Pacific, THX, Coco-Cola, Dyson, Ocean Park and Mori Building for which it provides strategy, product, space and communications design.
Some of its work has included redesigning luxury apartments in Tokyo, rebranding and redesigning Facebook's Seoul offices, product design for a British audio brand, and perhaps most notably, its work with Cathay Dragon.
Entering its third year with Cathay Pacific, 2016 resulted in a massive effort to redesign Cathay Dragon's brand experience (previously DragonAir), as well as global signage efforts, promotional state-of-the-art air-to-air footage of new planes and launch films and in-flight safety videos, to name a few.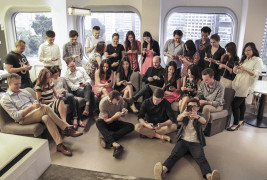 Bronze: Prophet
Owned by: Independent
Headed by: Jay Milliken, senior partner

Prophet landed in the design agency category for the first time with a prestigious gold award; as well as taking out bronze for Brand Consultancy of the Year.
A notable project for the agency was leading a global rebrand for MetLife, creating a new tag line – "Navigating life together" – along with a new visual identity – a blue and green stylised "M" that serves as MetLife's new logo.
Prophet also helped Marriott relaunch "LiYu", its Chinese outbound traveller programme, with a refreshed brand identity and a suite of new signature experiences.
While believing relevance is the single greatest determining factor for a brand's long-term success, in 2016, the firm surveyed more than 10,000 consumers in China on 279 brands across 27 industries to develop its inaugural "brand relevance index" for China.
This year, formerly the long-standing Asia CEO of J. Walter Thompson, Tom Doctoroff, joined the branding agency as a senior partner.
With offices in Atlanta, Berlin, chicago, Hong Kong, London, New York, Richmond, San Francisco and Zürich, it operates as one global company, with one single global P&L structure.
At the end of 2016, Prophet relocated from its former office location on Garden Road to a new, contemporary and more creative space in the heart of Causeway Bay.
Finalist: Grey Group Hong Kong
Owned by: WPP
Headed by: Sarah Trombetta, CEO

Grey Group had a transformative year in 2016, during which it celebrated its 100th birthday, as the agency repositioned itself as a "world-class creative start-up".
In Hong Kong, it landed one of the year's biggest global accounts with Hong Kong Tourism Board. Grey also transformed its local office into a global creative space to solidify its relationship with HSBC.
Notable campaigns in 2016 included HKTB's "Shifting through the lens of locals", where it leveraged local insights to showcase the best of Hong Kong, which resulted in more than 249 million video views, and a big increase in consideration for visiting Hong Kong. Perhaps the flashiest campaign, however, was the transformation of the HSBC guardian lions into the widely covered "rainbow lions" – combining feng shui with pro-LGBT designs in support of HSBC's message of diversity and inclusion.
Amid heated debate, and even calls to remove the lions, HSBC stood by its values and was buoyed by overwhelming public support. The campaign garnered more than $6,333,000 in PR value and increased internal Pride network membership by 340%.
Grey also overhauled its internal culture by centring itself around a simple message: "We only do what others care about". Additionally, it started organising weekly sharing sessions and drinks and delicacies every Friday.
Finalist: McCann Health
Owned by: McCann Worldgroup
Headed by: Connie Lo, managing director

From revamping the Hong Kong Integrated Oncology Centre's digital strategic platform to branding and defining services for Pfizer's regional pharma initiative, McCann Health built its business by pursuing an idea-centric culture to make it as a finalist in the Brand Consultancy of the Year category.
The agency was rewarded with three Gold Lions at Cannes, the first healthcare Gold Lion in the Greater China region.
McCann Health, which re-entered Hong Kong in 2013, has a client retention rate of more than 90%, with key relationships averaging more than five years. The agency captured regional business for Pfizer and Amgen, while maintaining long-term partnerships with international clients such as GlaxoSmithKline, MSD, CSL Behring and Takeda.
The agency had three key hires last year, with Connie Lo as managing director of McCann Health Hong Kong and the PRD office; Pierre Loo as executive creative director; and Cynthia Wong as talent director for Greater China.