For the entirety of June, Marketing will be putting the spotlight on each of the category winners at the Agency of the Year Awards 2017 Hong Kong. A new category – including an overview of the winning agencies – will be featured every day, going from A-Z.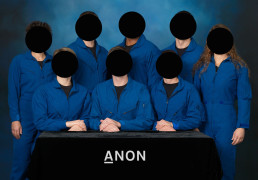 Gold and Local Hero: ANON
Owned by: Independent
Headed by:Simon Handford/Sandy Chan, co-founders

ANON didn't just make it onto the Local Hero list, it also took home gold in the Boutique Agency of the Year category, among others.
Founded in 2013 by Ogilvy & Mather alumni Simon Handford and Sandy Chan, the agency's team of 10 serves an impressive portfolio of clients, including Hong Kong Disneyland, Vanguard Investments Hong Kong, Swire Properties and Nike Hong Kong.
This relatively small, but prolific team doesn't pull any punches in its offerings, including TVCs, OOH, digital, product design, packaging, collateral and brand events.
In 2016, the agency scored a number of big wins, including Moët Hennessy, FOX Networks Group Asia and JP Morgan, to name a few.
Perhaps the most notable campaign from the ANON team in 2016 – although there were more than a few – was the "Star Wars Takeover" for Hong Kong Disneyland, where it created a range of highly creative collaterals. For example, the print ads were accompanied by a small DIY hologram device to recreate characters from the perpetually popular franchise on your phone – an excellent fit for the space opera attraction.
Bus shelter ads used directional speakers to send messages only to people standing directly beneath them to create the illusion of hearing "the force", while the billboards featured villain Kylo Ren seemingly cutting through buildings using a 3D perspective in the creative.
Regularly eschewing the retainer-based business model, ANON is not afraid to do things differently.
While the agency naturally has specialists in certain disciplines, it does not employ separate teams and focuses on creative ideas, rather than disciplines or formats. To top it all off, it gives clients access to all its creative resources to nurture a collaborative environment.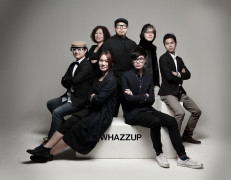 Silver: WHAZZUP
Owned by: Independent
Headed by: Adams Chow, director

Alongside a silver award for Boutique Agency of the Year, WHAZZUP is a finalist for Production Agency of the Year and Independent Agency of the Year.
The agency has been active in handling video production, including concept development and pre and post-production.
The seven-person team won six pitches out of eight in 2016.
One of the key projects in 2016 was FWD's "savie" insurance plan in which customers can suspend and resume their premium payments anytime with no charge. To promote the launch, WHAZZUP created music videos with local hip hop duo Fama for a tailor-made theme song for FWD. The agency also created visual designs and street activation activities to engage the younger generation.
It counts Starbucks, Hong Kong Jockey Club, Sun Hung Kai Properties, FWD, and more, as key clients.
As a boutique agency, WHAZZUP says it has a flat organisational structure which enables its staff to respond to clients' needs swiftly. Last year, the agency had a staff turnover rate of zero.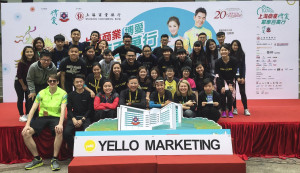 Bronze: Yello Marketing
Owned by: Independent
Headed by: Tina Wong, director

Specialist agency for sports events Yello Marketing was crowned bronze for the first time in the boutique agency category.
Founded in 2008, Yello is a PR agency specialising in sports events and the management of athletes and coaches. It has worked on projects such as the Bloomberg Square Mile Relay, Nike Women's 10K, Prudential Hong Kong Tennis Open and more.
Since 2014, the agency has been Nike's extended arm in events such as the Nike Women 10K and Nike Training Club Tour for event management, customer outreach, carnival and village design, race route experience design and operations.
In the past two years, it has been involved with the Women's Tennis Association's Hong Kong Tennis Open, providing services from advertising, digital solutions, community engagement, sponsor activation to publicity.
In 2015, Yello expanded its business into Singapore and Shanghai. Last year, the headcount was increased from 10 to 15.
Finalist: SearchGuru
Owned by: Independent
Headed by: Gary Cheung, general manager

A finalist in Search Agency of the Year, Best Newcomer and Boutique Agency of the Year, SearchGuru, established in November 2015 in Hong Kong, is a newcomer to the local market and industry.
Its key product offering includes search engine marketing, search engine optimisation, display marketing, re-marketing, paid social, content, creative and web development.
SearchGuru Hong Kong may be smaller than the media agencies or agencies that belong to big networks, but the company says it is certainly not small in ambition.
The performance in 2016 saw the agency pick up more than 20 new clients, including Ovolo, Abbott, MaBelle, Taikoo Place, Xiaomi and Cigna Insurance.
The company has offices in Hong Kong, Malaysia and Singapore with a staff size of 40 people.
Over the past 12 months, there have been a couple of key hires. One of the key appointments in 2016 was Gary Cheung as general manager and another key addition to the team was Elton Tsang as account manager.
Finalist: X2 CREATiVE
Owned by: Independent
Headed by: Frank Chan, founder

X2 CREATiVE emerged as a finalist in the boutique agency category this year.
One of its most significant projects was the launch event of the Swiss home appliance brand V-ZUG in Hong Kong. To celebrate the launch, V-ZUG invited 250 guests to the Hong Kong Maritime Museum on the city's central waterfront for a special dinner.
Under the theme, "The Mastery of Steam" , a chef took to the stage to shoot a live on-screen cooking demonstration with V-ZUG appliances before passing the food to guests for their enjoyment.
Founded in Hong Kong in 2011, X2 has grown rapidly, with offices in Singapore and Hong Kong, and a client base that includes Harvey Nichols, Shure, Deloitte, Deutsche Bank, UBS and Lenovo. With 17 staff members, X2 also built its own internship programmes with Hong Kong Polytechnic University and CUHK Business School.