For the entirety of June, Marketing will be putting the spotlight on each of the category winners at the Agency of the Year Awards 2017 Hong Kong. A new category – including an overview of the winning agencies – will be featured every day, going from A-Z.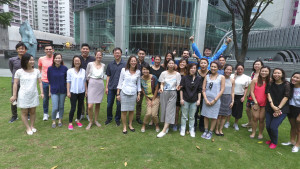 Gold: Jack Morton Worldwide
Owned by: Interpublic
Headed by: Natalie Ackerman, managing director

Jack Morton Worldwide in the most recent two iterations of the awards has taken home silver in the Event Agency of the Year category – this year, the agency won the gold award for Best Agency Culture, demonstrating an excellent working environment alongside its flair for events.
Jack Morton Worldwide owns a steady portfolio of clients, including Proctor & Gamble, Cartier, Audi, adidas, Galaxy Entertainment Group, Samsung, Sands China, City of Dreams Macau, HSBC and JP Morgan. Clients which have had a relationship of more than five years with the agency, contributed 40% of its 2016 revenue.
New accounts won over the past 12 months included The Peninsula, Tatler, HKGTA, Tesla and Dream Cruises, which have also contributed to a 12% growth in new client business. 2016 saw Jack Morton Worldwide step into sponsorship marketing and established a foothold in content marketing, which is already showing strong traction with clients.
A major hire for 2016 was bringing Lucille Essey back to Jack in a new role as executive creative director. With her experience and passion, combined with her leadership and drive to inspire creativity in everyone at the company, 2016 saw a push to raise the level of work.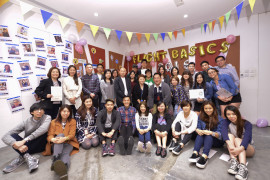 Silver: Starcom
Owned by: Publicis Media
Headed by: Shirley Lau, deputy general manager

In 2016, Publicis Media Group's media arm Starcom moved out from Island East (Quarry Bay) to Kowloon East (Kwun Tong), and "starcommers" decided to outline a fun countdown plan for the office relocation.
In most people's perception, Kwun Tong is a relatively inconvenient place. Some starcommers thought they were being downgraded to an industrial area without nice dining places, no shopping malls and less leisure facilities.
Inviting staff from different teams and working levels, it formed a relocation taskforce named "Quk". Q represents Quarry Bay; U represents all of you while K represents Kwun Tong. The team event set up an official private Facebook page for communication.
The Quk team sat in the relocation meetings with senior management to be involved in the initial office layout and "fun land" design. Indeed, the new office is spacious with faster Wi-Fi, a 270-degree sunset sea view and collaboration areas.
In the end, the relocation project was smooth and didn't trigger a high turnover rate with Starcom retaining 95% of its staff.
To create a positive working environment, staff who work with Starcom a full year will be entitled to HK$100 as anniversary money which can be cumulated by working years. The record high last year was 33 years.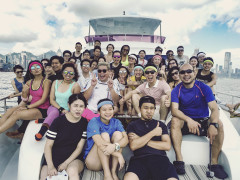 Bronze: BBDO Hong Kong
Owned by: Omnicom Group
Headed by: Tze Kiat Tan, CEO of Greater China

BBDO Hong Kong has had a big year – the agency was able to boast a 100% client retention rate, and achieved a whopping 240% profit margin increase; the biggest growth in the office's 42-year history.
Key clients include Fedex, Wrigley, Mars, Mercedes-Benz and Visa – and since last year, quadruple wins on Mattel and Vitasoy.
Mattel called an APAC-wide pitch for brands Barbie, Hot Wheels, Mega Bloks and Turning Mecard, all of which BBDO won.
Vitasoy's entire tea portfolio also went to the agency, led by a team of talent from all over Greater China. Notable campaigns over the past year included the Snickers slip-ups, where celebrities "slip up" and make hilarious mistakes due to hunger; and the counter-intuitive "No sugar-coating" for Vita, where it challenged competitors' claims and turned them on their respective heads.
Finalist and Local Hero: Fimmick
Owned by: Independent
Headed by: Willy Lai, co-founder and business director

Fimmick is one of Hong Kong's own success stories, with numerous awards already under its belt, but missed out on a trophy in the Best Agency Culture category.
It has offices in Japan, Taiwan and Hong Kong. 2016 saw a number of big client wins while boasting impressive client retention numbers at the same time.
Its impressive portfolio includes local and global names such as Swire, HKJC, DBS, Revlon, The Body Shop, Marks & Spencer and Microsoft.
Staff at Fimmick are welcomed to join the internal "lunch with management" and "dialogue with CEO" programmes where they can chat freely with their superiors on any interesting topics, and join numerous monthly and yearround training programmes. It also promotes a healthy work-balance in the company; a tough goal for any agency.
Finalist: Text100 Hong Kong
Owned by: Next Fifteen Communications
Headed by: Rosemary Merz, vice president and managing consultant

PR agency Text100 Hong Kong has made its way into the Best Agency Culture category as a finalist.
Holding to the belief that workplace design is a reflection of a company's culture, the agency said its workplace is completely open plan with no desk dividers, to ensure people have no barriers when asking for help.
The company organises a game of "musical chairs" – twice a year all staff move desks to build relationships and share knowledge between team members. Seniors sit next to juniors; technical experts sit next to PR professionals.
The PR firm believes the more it invests in people, the more its business prospers, so it invests HK$270,000 in training every year.
Opened in Hong Kong in 1999, Text100 said it values transparency at all levels – from the bottom up and top down, everyone in the business has a voice.
Junior team members are given a budget and free reign to entertain the team each month. With a retention rate of 84%, compared with an industry average of 75% to 80%, its average tenure is 3.2 years.