In the era of social, fashion and Instagram are inseparable.
Denim brand American Eagle Outfitters has rolled out a socially driven activation campaign on Instagram to inspire fans to celebrate their individuality through music and dance.
Developed by TBWA Digital Arts Network Hong Kong, the one-month campaign AEO Live MEGAzine will give musicians and dancers a chance to showcase their talents on Instagram and win the chance to perform live at an exhibition hosted by American Eagle Outfitters.
Building on the brand's motto – live your life – fans are encouraged to share images or 15-second videos on Instagram and use the hashtag #AEOLive.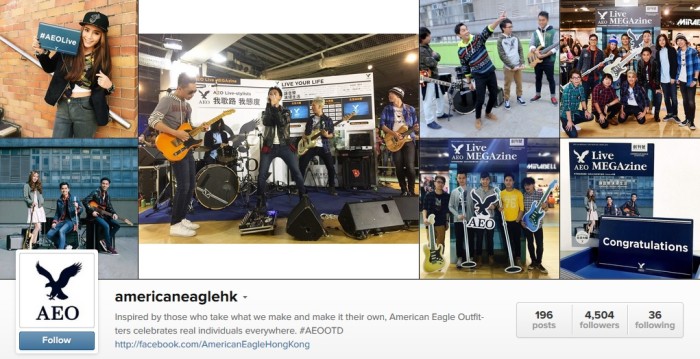 Selected winners perform live at the music and dance events hosted by American Eagle Outfitters on 8 to 9 November and 22 at Hong Kong's Harbour City Ocean Terminal, in front of a mega size branded magazine backdrop.
The first event on 7 November will feature live performances by Hong Kong performer Fred Cheng's band, HOME, as well as Killer Soap and Yuki Lovey, who will all also act as mentors to the selected talents.
"There's a lot of hidden talent in Hong Kong but little opportunity to get recognized," said Linda Tam, vice president of brand and consumer experience at American Eagle Outfitters.
"We believe AEO Live MEGAzine is an answer to this particular void in Hong Kong; a place where people can show off their talents and have a chance to 'live their life'."
Jan Cho, head of DAN Hong Kong added: "Hong Kong youth want to express themselves, and American Eagle is using this platform to provide a blank canvas for young creative people to fill and bring their talent, imagination and creations to life."