Alphabet (the new name for Google's holding company) has increased its lead as the world's largest media owner in the new Top Thirty Global Media Owners report published by Zenith.
The company's media revenues total US$60bn, 166% more than its nearest rival's, Walt Disney.
There are four media giants among the top 30 global media owners – Facebook, Baidu, Yahoo and Microsoft – and all have risen up the ranking this year. Facebook has moved up from 10th place last year to 5th place this year; Baidu from 14th to 9th; Yahoo from 18th to 15th; and Microsoft from 21st to 17th.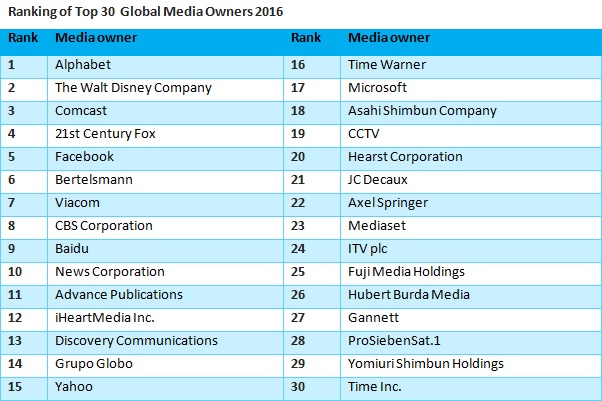 Facebook is the fastest-growing media owner in our top 30, with media revenues up 65% on last year. Baidu is second-fastest (up by 52%) and Alphabet is third (up by 17%).
The five digital giants generated US$88bn in media revenue, which is 34% of all the revenues generated by our top 30 companies, and represents 65% of the entire global internet advertising market.
Digital adspend has grown at an average of 18% a year for the past five years, driven by the spread of mobile technology, the rise of social media and online video, and improved advertising technology, such as programmatic buying and local real-time search. Adspend across all other media has grown by just 0.6% a year.
Faced with stagnant revenues from their core businesses, traditional media owners have invested in their digital activities, either expanding digital extensions of their existing brands or creating new stand-alone digital products. This has been particularly pronounced among newspaper and magazine publishers.
"The traditional media owners in our top 30 ranking have been scrambling to scale up their own digital businesses, to various degrees of success," said Jonathan Barnard, Zenith's Head of Forecasting.
"As digital ad technology – such as programmatic buying – spreads to traditional media, it will further shake up the businesses of traditional media owners, but also provide them with new opportunities for growth."