Local social media agency Dstnct has found itself in a tricky situation with a local photographer named Zexun Tan. The agency first reached out to Tan to use his image for an AIA campaign, an account it had bagged only in December last year.
Tan promptly said no. The conversation, which happened on Instagram's DM feature is was as follows.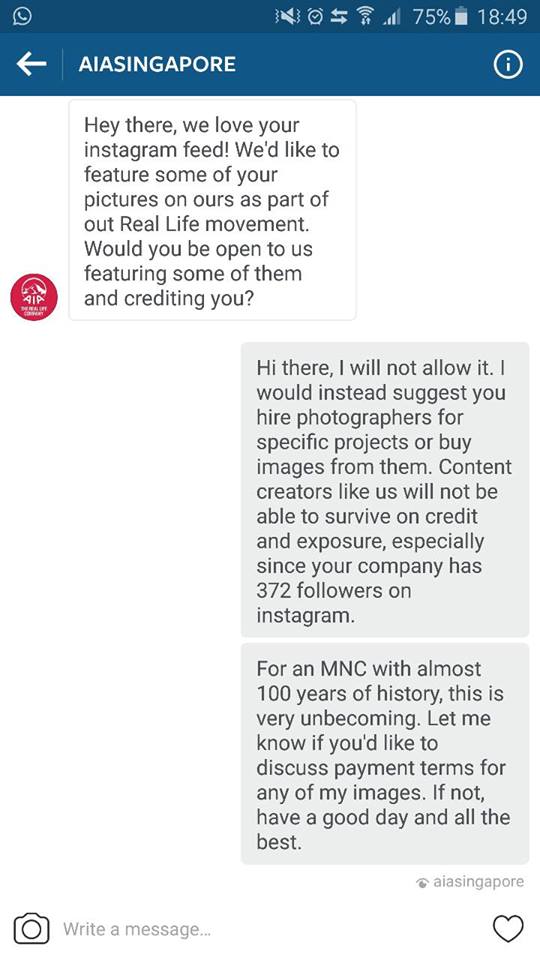 Since then, Dstnct has also clarified its stance to Tan saying that the company had simply hoped to "encourage user generated content with the RealLifeSG hashtag". It also said the pictures will not be used on any other platform other than Instagram.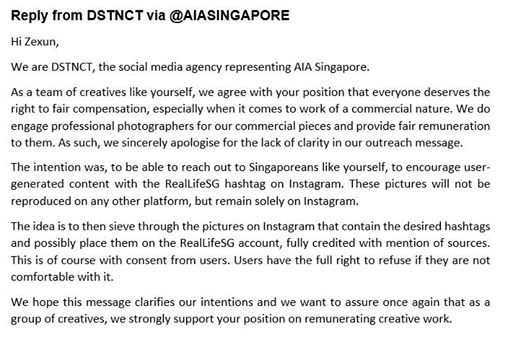 To this Tan said on Facebook, that companies should not be even asking for free photos with only credit and perceived exposure being given.
"I do not agree with the requesting of photographs to be transferred to commercial use for exposure. Whatever happens between agreeable parties and them after that does not negate the fact that they asked in the first place."
In a conversation with Marketing, Lesner Chua, managing director of Dstnct said the entire situation has been taken out of context.
"We reached out to ask permission from Instagram users with the intention of featuring their images that resonated with the theme 'Real Life,' on the client's Instagram account. We would then credit them by tagging the featured Instagram users in the post."
"At Dstnct, we respect the creative work of all people, be it photographers or talented Instagram users and we respect the need to credit or remunerate for creative works," Chua said.
Preetham Venkky, head of digital at KRDS Singapore was of the opinion that the agency was simply following protocol.
"Natively on a platform such as Instagram, brands have the right to legally reshare content as a natural share. On social media brands take on personalities of their own and as long as the agency communicated explicitly and attribution is made clear, they have not legally broken any laws. What is not okay is to take the content and use it on other mediums," said Venkky.
He added that many a times users are willing to share their photographs as this leads to more eyeballs for their own pages.
Another agency lead Marketing spoke to also echoed Venkky's statement saying this is common industry practice and the agency has not done anything out of line. She added that as long as the terms and conditions for use and consent is asked for, most users are willing to share.
A quick check by Marketing also showed that Instagram states that by using its service, users agree that sharing their content publicly.
"This means that other Users may search for, see, use, or share any of your User Content that you make publicly available through the Service, consistent with the terms and conditions of this Privacy Policy and our Terms of Use," read the statement.