"We try to de-sell native apps" was one of the first things IT director Henry Wong and creative director Alan Kan at digital agency Kitchen, said at the interview yesterday.
"A native app is something marketers can say they've done and say 'there, we have it'; but like any Facebook page or an app, you need to maintain it so you're still relevant and valuable to have in users' phone," said Wong. "And, to be honest, that's not the case with many of the native apps we've seen."
As such, the agency's mantra for mobile is one-off, web-based and campaign-based interactive games that are not only less time consuming and cheaper to produce and easier to adjust to various screens and than apps, but they can also "promote instant response, entertainment, and online-to-offline marketing", said Kan.
Such was the recent campaign they did for DBS to help promote its new plane ticket and Sogo coupon offers.
The push was an online virtual flying game that – if played at home -- rewards a cup of coffee after winning and flight tickets or cash coupons if played at a weekly event, whereby all the players' virtual airplanes show up on a big screen. The campaign was complemented by another Facebook virtual flying game.
DBS's sales team was at the event to enlist people to sign onto the card.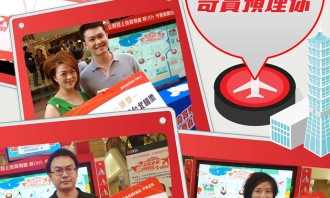 "The campaign was more soft-selling: we didn't sell on the campaign directly, but we created a mindset for players in a sense that 'oh, you didn't win the game? You can sign up with DBS and fly to Taiwan anyway," said Kan.
"The push is very instant: people don't need to download the app, they can just scan the QR code and play immediately. We get instant response, and the entertainment value is very high," he said, adding that every campaign and industry require a different strategy, and mobile apps are not the answer to everything.
"I wouldn't sell diamonds like this, for example."
Wong chimed in, saying that present-day technology allows web browsers to perform like apps anyway: the latter only has an advantage of letting users capture photos, which is a function he believes web browsers will eventually have.
Other one-off interactive games the agency has done includes the Coca-Cola Music Game that had fans tapping their phones based on the music coming from the TVC, and eventually, a game that also interacts with commercials for its latest Durex campaign.