COMPANY:
adidas
EVENT:
#UNITE ALL ORIGINALS PARTY
DATE:
7 OCTOBER 2013
LOCALE:
HONG KONG
EVENT OBJECTIVE:

To showcase the brand's Unite All Originals manifesto where adidas brought together celebrities, artistes and consumers together under this theme. The party was aimed at combining sports heritage with music, fashion and art.
EXECUTION:
The annual event was part of the "Unite All Originals" campaign, which merged technology and fashion. The campaign kicked off in August.
Consumers were entitled to two party tickets upon a minimum purchase of adidas' products at the designated adidas Originals shops.
adidas made use of through-the-line communications, PR and digital efforts as well as radio to drum up interest ahead of the event.
Held at the Star Hall of Kowloon Bay International Trade & Exhibition Centre, the event saw The Korean pop group, 2NE1, adidas Originals' Korean ambassador, and Eason Chan, its global brand ambassador performing at the party. Celebrities such as Charlene Choi, Jan Lamb, Jun Kung, Pakho Chau, Shiga Lin and Linah Matsuoka were also part of the guest list.
The limited-edition JS 2.0 Money sneakers by adidas Originals from the Jeremy Scott 10th anniversary collection were showcased as well.
The guest list also included Originals fans and business partners.
The event highlights included booths where the celebrities passed out popcorn, candy floss and beverages to the crowd. There was also a beat box act, pop and roller skate dance performance.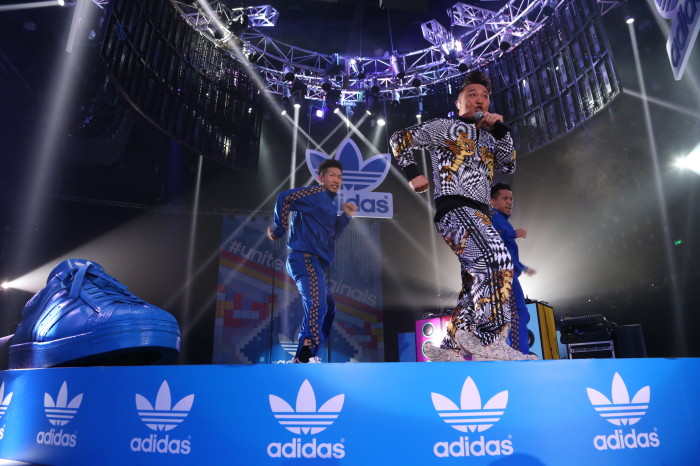 The event also saw a catwalk show with a preview to the adidas Originals 2014 Spring/Summer collection with celebrity models Zelia Zhong and Jocelyn Luko strutting down the runway. For the finale of the fashion show, adidas Originals ambassadors Charlene Choi and Jan Lamb appeared on the runway in tailor-made outfits.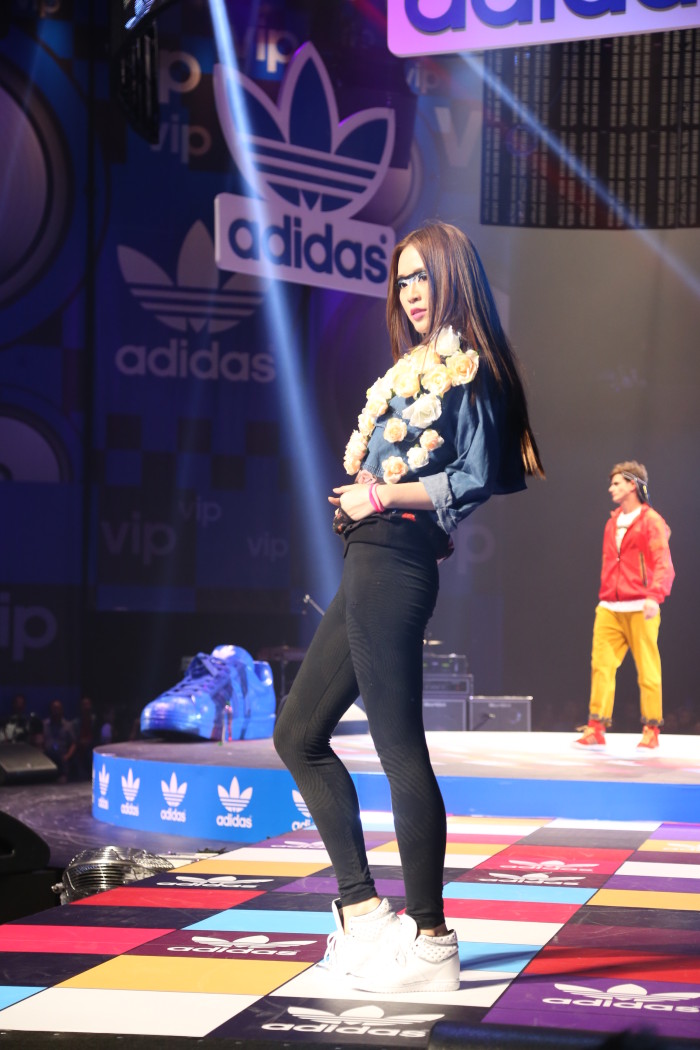 adidas also made use of Near Field Communication for the event. Around 3,000 wristbands were created where attendants could check-in on Facebook by simply swiping over the sensors installed in the venue, keeping social media users updated in real-time.
RESULT:
The venue was packed to capacity at 3,000 guests.
There was also PR coverage across local TV stations and newspapers, key trend/fashion magazines, including Apple Daily, Oriental Daily News, South China Morning Post, Milk, New Monday, TVB, Cable TV, Now TV. More post-event coverage is expected, said adidas.
LESSONS LEARNED:
One of the biggest challenges in organising the event was trying to be creative and original when it came to this event and campaign, said Rina Ho, brand director for sport performance & sport style, adidas Hong Kong.
"This year we invited the K-pop superstars  2NE1, who are the brand ambassadors of adidas Originals Korea and it was their first official singing performance together with Eason Chan, Jun Kung, and Fashion Show to truly 'unite all originals'," said Ho.
The brand also ensured that it planned ahead for the event in advance by six months to ensure that everything was pulled off smoothly.
[gallery ids="24162,24157,24155"]