A social media crisis is unavoidable – but here's a checklist to help you through when times get tough. SocialMetric's Marcus Ho writes.
A social media crisis is unavoidable.
Social media is used for sharing news and the latest happenings, and it doesn't restrict negative experiences. The fact is people will share whatever they want on social media, and when they are unhappy with your product or service, there will always be a chance of them posting online.
Big brands are not immune to social media disasters. McDonald's was one that was recently hit with a social media crisis on Instagram.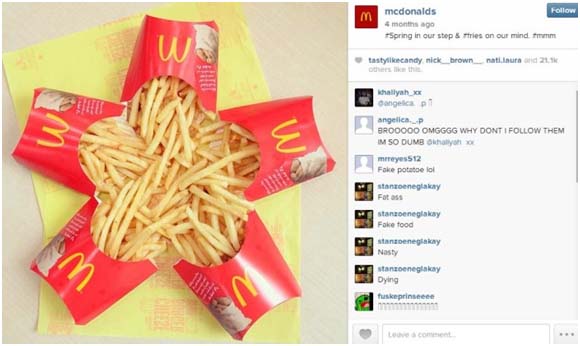 After the recent expired meat scandal in China, McDonald's was trying to be more engaging on social media in the hope of winning customers back. However, its Instagram posts were met with a powerful backlash from the brand's followers.
Early last year, HMV faced a public Twitter meltdown. A giant music chain for more than 90 years, HMV was conducting a mass firing. An angry intern hijacked into the Twitter account to release the information online.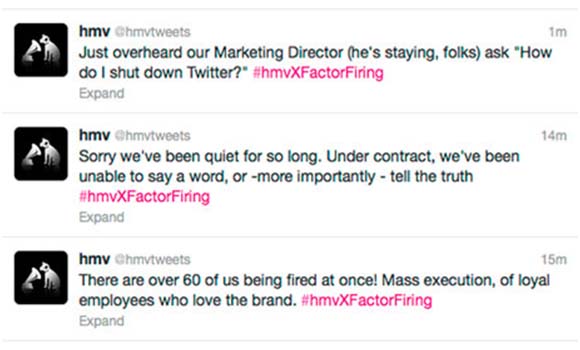 The worst part was the marketing director didn't know how to use the platform, which was overheard by the hijacker and posted online. The rogue tweets instantly went viral, and by the time HMV regained control of its account, the damage was done.
Some crises can be avoided with proper management, but others are out of your control.
In research by Altimeter, of the 50 social media crises that occurred from January 2001 to August 2011, most of them could have been diminished or averted. Therefore it is crucial that when the unavoidable social media crisis happens, you are ready and prepared to resolve it properly.
When handled well, damage from a social media crisis can be minimised. Negative feedback is an opportunity to turn your complainers into great brand advocates. The advantage of social media is the ability to connect to your customers, and in this context, to be able to engage them and reassure them in times of a social media crisis.
The key thing in a social media crisis is to identify and resolve the issue. Here are eight things to do to survive a social media crisis.
1. Acknowledge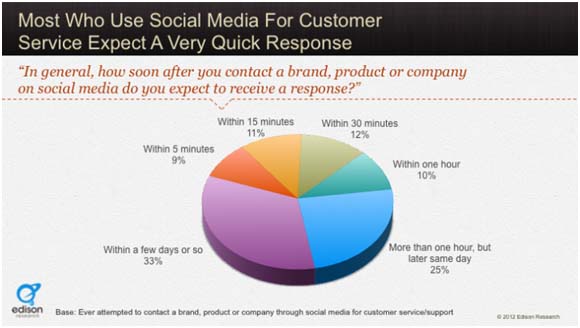 Credits: http://www.convinceandconvert.com/social-media-research/42-percent-of-consumers-complaining-in-social-media-expect-60-minute-response-time/
About 42% of complainers expect a response within 60 minutes and more than two thirds expect an answer within the day. To businesses, it may seem impossible to do so, as they need to investigate the issue before replying. However, most of them do not expect the issue to be solved immediately. What they want is for you to understand how they feel. Therefore, it is important to reply first before you investigate.
By replying, you have to acknowledge their problem, and apologise.
Through apologising, you are demonstrating empathy, and 90% of the angry customers just want brands to first empathise with them, and proceed to resolve their problems.
By just saying, "I'm sorry you feel this way", it will be the first step to resolving a huge meltdown.
2. Fight social media fire with social media water
It may sound very obvious, but I still have to say it anyway – during a social media crisis, you have to respond first on the platform it occurred. If it started on Facebook, you should reply on Facebook, and if it went viral on YouTube, you should approach the problem on YouTube.
Kashi, a brand known for using organic ingredients, was hit with negative feedback on Facebook when someone posted it used artificial or genetically modified ingredients. The post went viral quickly, gaining 11,000 Facebook shares within a short time. However, Kashi did not reply to the feedback on the same platform, but posted a video on YouTube. Its video reply, which consisted of not the director, but a nutritionist reading off a script, was met with a harsh response. The video gained little views as compared to the 11,000 shares and had negative comments.
Wherever the social media crisis happens, respond immediately on the same platform. Although it may seem like an obvious point, people still miss out on this and make the elementary mistake.
3. Be sorry
When something goes wrong, the fastest way to be forgiven is to be truly sorry. Along the course of the all the drama experienced by Singaporeans, we have forgiven a lot of people.
We have forgiven director Jack Neo for his affairs with multiple actresses and models after he came up to face the music and apologise sincerely, while asking for the public's forgiveness.
We have forgiven SBS Transit for when its train service broke down. SBS Transit reacted swiftly by setting up a press conference to apologise and offered free bus shuttle services to make up to their customers.
The CEO of OCBC sent out an apology personally when OCBC iBanking went down for a few hours.
KFC Malaysia was hit with a social media crisis when a video was released of its employee playing and tampering with the food. Customers vented their displeasure on KFC Malaysia's social media outlets, such as Facebook and YouTube.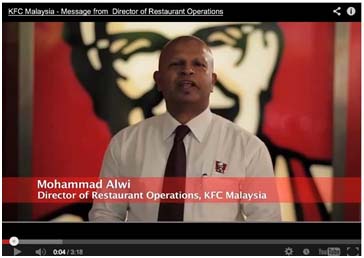 "On behalf of KFC Malaysia, I am extremely sorry for the distress and concern that may have undermined your trust and support from thousands of customers across Malaysia. Please allow me to take this opportunity to share more with you about the situation and the action that KFC has taken to prevent it from happening again."
Within four hours, the director of operations broadcasted a video to apologise to customers and assured them the company had taken actions to prevent the incident from happening again. Notice that he opened the video with "being extremely sorry" and "undermined your trust". With the swift actions taken, customers were reassured and public anger was eased.
4. Create a crisis fact sheet
A crisis fact sheet is a place to house all the facts and happenings. It can be a microsite where all the information is in real time, so anyone who visits the site can be updated. It is much easier to direct people to a link than to answer every tweet and status update.
In light of the recent tragedies on Malaysia Airlines, it would have been easier for the team to have a crisis fact sheet, rather than setting up press conferences every single time there was news. That way, people on social media can find out the latest updates and news without having to wait, which will ease the public's worry.
Crisis FAQ should include:
– Acknowledgement of the issue.
– Details about the occurrence, including date and time.
– Any available photos or videos.
– How the company found out.
– Who was alerted, and how.
– Specific actions taken.
– Real or potential effects.
– Steps taken to prevent reoccurrence.
– Contact information for people at the company.
Journalists will be able to access the crisis fact sheet as well, meaning they can get accurate and up-to-date information on the issue, which makes their job easier. Although the damage has been done, it can be minimised with positive writings from the journalists, therefore it is important to provide good experiences for the journalists.
To take it a step further, enable people to subscribe to the crisis updates, via RSS, email or SMS.
5. Build a pressure relief valve
Create a venue for your angry complainers to vent their frustrations at; it can just be a simple Facebook post. Although it may seem counter intuitive, it would be better for the rants to be at a venue that you can control.
What is the importance of having your own pressure relief valve for your fans and followers? Without your own venue, your stakeholders may take matters into their own hands and create their own platform to vent their anger and go viral. Imagine a site that makes fun of you and your brand, and has a larger following than you.
Our local transport company, SMRT had a series of train breakdowns a few years ago. It did not create a platform for its customers to vent their frustrations, hence a joke page was created, SMRT (Feedback).
The benefits of having your own platform:
– It allows you to keep more of the conversations about the crisis in a single venue.
– It is an early warning detection system for new dimensions of the crisis.
– It gives your customers an official place to come to your defence, should they want to.
6. Clean up your digital reputation
Once a social media crisis sparks, the public will inevitably Google either your employees' names or your organisation. It is crucial to monitor your digital reputation and manage it well, so as to have a good digital reputation to back you up when people Google your brand name.
With good digital reputation management, the increase in good reviews will allow you to dominate the first page of Google, hence pushing the negative reviews down to the other pages.
The first page of Google is extremely valuable, with 91.5% of the users finding their required information on the first page of Google search.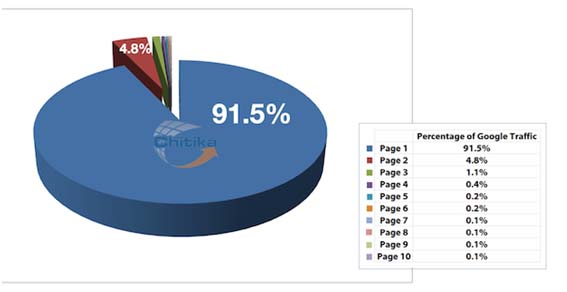 Credits: Chitika Insights, June 2013
7. Learn your lessons
As always, the first step towards preventing the same mistake from happening again is to learn from your mistakes. You can create a crisis portfolio, which documents every element of the crisis (for example, tweets, status updates, YouTube comments, emails received). From the portfolio, analyse the problem and the effectiveness of your methods, and think about how you can improve your crisis management skills further.
Some of the things to watch for:
– Website traffic patterns.
– Search data: Which came first, and when?
– How did internal notification work?
– How did the response work?
– Did specific customers rise to your defence? Thank them.
– Were your employees adequately informed?
– How did the online and offline intersect?
8. Communicate internally
The last step will be to communicate internally as an organisation and allow the knowledge and information to be shared. Make sure everyone under the organisation is aware of how to deal with negative feedback cohesively, meaning no contradicting posts.
With the eight steps in place, you can survive and overcome any kind of social media disaster. Social media crises are unavoidable, but it's your actions that will determine the extent of the damage, and the perks you manage to achieve out of them. We can never fully prevent a fire from happening, but we can always have a fire escape plan.
The writer is Marcus Ho, director of social media at SocialMetric.