7-Eleven has made its first foray into mobile payments via a mobile app 7-Fans, using mobile as a marketing tool to connect with its offline retail stores.
Rose Yeung, director of sales and marketing at 7-Eleven, said, "This app allows us to be more personal while rewarding the most frequent customers with extra benefits."
"The new shopping experience that we have created will give our customers more reasons to visit us frequently and become loyal customers, which ultimately boosts sales."
The app features an e-wallet where after registration, customers can top up and make mobile payments at 7-Eleven by getting the QR code in the mobile app scanned at a 7-Eleven cashier.
Up-selling inventory
The Bonus Offer section names a product and a specific quantity of the product that the customer can buy in order to redeem a coupon, which will show up in the coupons section.
In the Bonus Offers section, customers are asked to buy a specific quantity of a product to redeem a coupon.
 Loyalty marketing
A new reward-earning scheme was unveiled along with the app where members can earn one point for every HK$5 purchase made at 7-Eleven through mobile payment with the app, except for purchases of cigarettes and payment for service products.
On the 28th of every month, members are given double the number of points for every HK$5 spent.
The accumulated points can be used to redeem coupons or other prizes. Coupons can be re-gifted to friends through the app.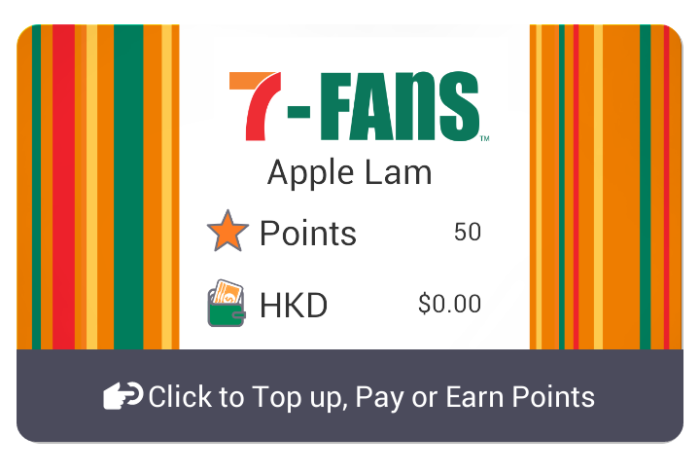 To motivate customers to use the application, 7-Eleven gives new members 50 points after registration and from 21 to 30 January, members can redeem a Disney figurine with 70 points plus HK$20 and enter a lucky draw for a chance to win Disneyland tickets.
Yeung said, "We launched the mobile app to reward our customers who have been making purchases at 7-Eleven in a timely way, anytime and anywhere."