This post is sponsored by Epsilon.
Email may not be the new kid on the block, but it's still a major marketing channel across Asia and marketers need to keep up to date with the latest techniques - with an emphasis on improved personalisation and the use of innovation in the inbox . By adopting adaptive techniques, you can create emails that will wow your customers with minimal engineering required.
Move beyond personalisation, introduce adaptive content

A lot of marketers have started using location data in subject lines, but adaptive content is where this information can really shine. Incorporate personalisation features based on the location where readers open your email. For example, show store locations in their hometown as a standard, but show store locations in a new location if they reopen the email while travelling.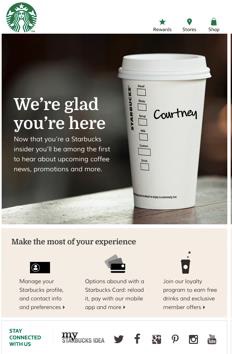 Personalised images are another way to grab a reader's attention with adaptive content. In this Starbucks welcome email, it observed a lift in click-through rates by incorporating image personalisation – naming the cup. These intriguing and seemingly complex capabilities aren't that difficult because the technology has become so easy to use.
Tease progress in loyalty mailings
As part of your standard template, create a graphic representation to demonstrate how far a customer is from the next loyalty level. This example from Marriott uses simple imagery to demonstrate its loyalty points system.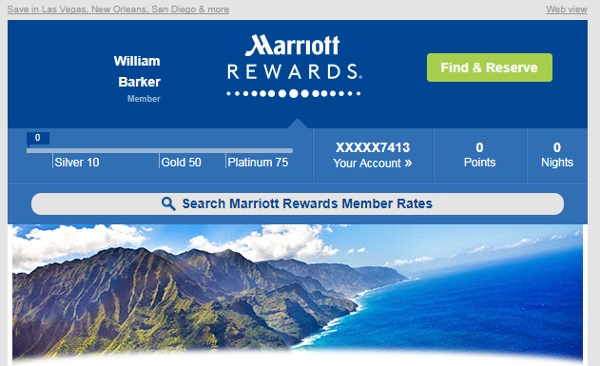 You can make it even simpler by using header text to say how many more points they need to level up. Send a communication to remind customers how many points they need to get to the next tier. Use teaser emails to encourage them with messages such as: "You're almost there; don't give up!"
Ask the people what they want, think and feel
This tactic isn't something we see a lot, but it can be so effective. Content such as those silly (but addictive) BuzzFeed quizzes really get people engaged. This example from a Yard House email had readers weigh in on their favourite summer cocktails.
Take this tactic a step further by making the content adaptive. Involve consumers in the decision-making about your brand: What special dish should our restaurant make next month? What beauty products would they recommend to a friend?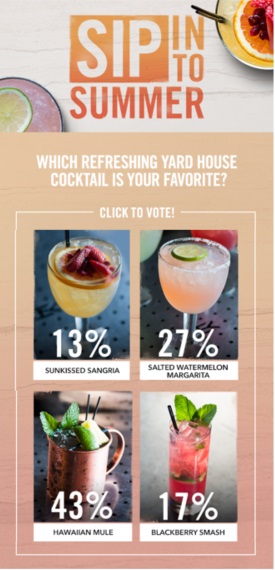 Getting customers' input allows you to make them feel like part of your brand.
Give your subscribers the time of day
Sending an email at the time when people are most likely to open or click is bound to generate lift. The right email service provider can help you find the ideal deployment time for a consumer based on their individual email activity over time, and execute it with just a click of a button. Scheduling intelligence is yet another way to personalise the marketing message by deploying at a time tailored for the individual.
Think mobile-first
Often at times, the email you developed looks great on desktop, but your readers struggle to scroll through on their much smaller mobile app. The concept of responsive design makes sure your email is designed to render well on any device, window or screen size. If you don't have the resources to develop responsive designs, think simple designs. To stay safe, stick to designs that are around 400-450 pixels. Make sure your CTAs are thumb-friendly so they are accessible for users. If the CTA is to call a phone number, ensure the click is deep-linked straight to dial.
Email has a higher ROI than most other channels, and it's getting easier than ever before to deliver emails that are relevant and interesting. By adding a few tricks to your repertoire, you can show your customers that you truly know them and are working to enhance their customer experience.
To learn more about how Epsilon can help get the most out of your email campaigns, contact Jeff on jeff.evans@epsilon.com or contact Epsilon on apac-info@epsilon.com.
The writer is Jeffrey Evans, vice president, technology and digital experience, APAC at Epsilon.