The Philippines broke another Guinness world record this Monday in Iloilo for forming the world's biggest flaming image using candles to promote world peace in time for Holy Week.
A total of 56,680 candles were lit for the feat, forming an image of the Philippine map with the text "World Peace through Inner Peace." This tops the old record set by Pakistan, which lit 35,478 candles to form the company logo of pharmaceutical company Sandoz in 2009.
The annual "Light of Peace in the Philippines" was mainly organized by NGOs, government bodies and religious groups but it's not without brand partners. For instance, the record was made at Savannah City, the flagship project of real estate giant Vista Land in the Visayas region.
Lead by the Middle Way Meditation Institute (Iloilo), the event has seven other core organizers – the Thailand-based Middle Way Meditation Institute (MMI), the Villar SIPAG (Social Institute for Poverty Alleviation and Governance), the Archdiocese of Jaro, the provincial and city governments of Iloilo, the Commission on Higher Education (CHED) and the Department of Education (DepEd).
A growing number of institutions in the Philippines have turned to Guinness record breaking as a tactic for promotion. Given its popularity, it's not surprising that brands have also sought after the bragging rights associated with being world a record-holder.
Below are some recent examples from the island nation. Some are quite trivial but it's undeniable that breaking records are always buzz-worthy:
Largest human formation of a gender symbol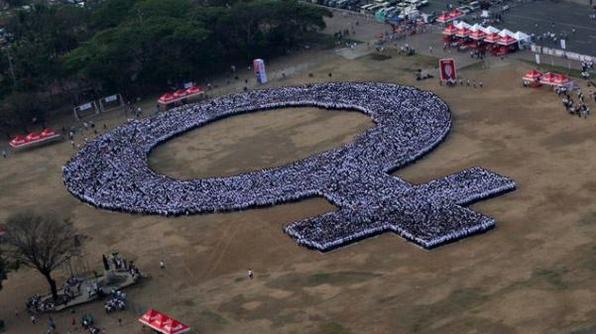 In celebration of International Women's Day, the Philippine Commission on Women (PCW) and Coca-Cola Philippines brought together 10,168 people to form a humongous "Women Symbol" at the Quiruno Grandstand last March 2014. There is no previous holder for this Guinness World Record.
Most number of people to sign up for organ donations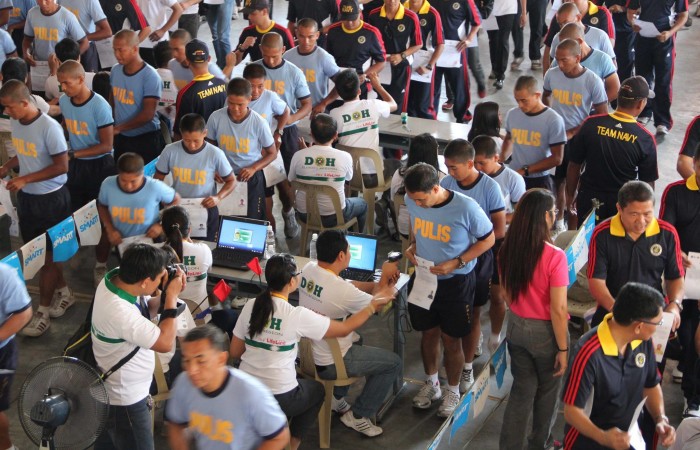 The Department of Health and the Polytechnic University of the Philippines broke India's record for the most organ donation pledges in one hour in a single site in February 2014. Part of the agency's "I'm a Lifeline" campaign, it got 3,548 pledges versus India's 2,755 record set last September.
Most Number of People Handwashing Fabric Simultaneously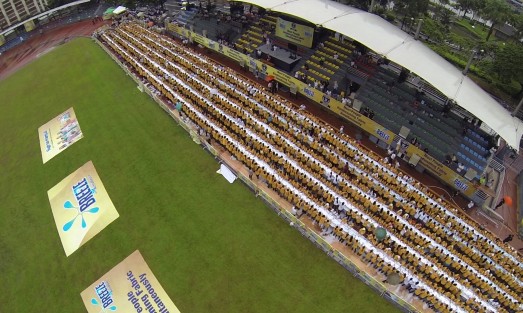 Unilever detergent brand Breeze gathered 2,132 Filipino moms in April 2013 to make Guinness history for hand washing a 1.2 kilometer-long fabric for 17 minutes using a new detergent called Breeze ActivBleach. The previous record was held by Vietnam with 1,968 people hand washing a 400-meter fabric for at least five minutes.
Most Mentos and soda fountains
The most Mentos and soda fountains was 2,865 and was achieved in an event organized by Perfetti Van Melle Philippine at the SM Mall of Asia Complex on October 2010. A total of 300 tables were placed in the area with 10 Coca Cola Zero bottles per table and 10 Mentos on each.
Largest Slam Shot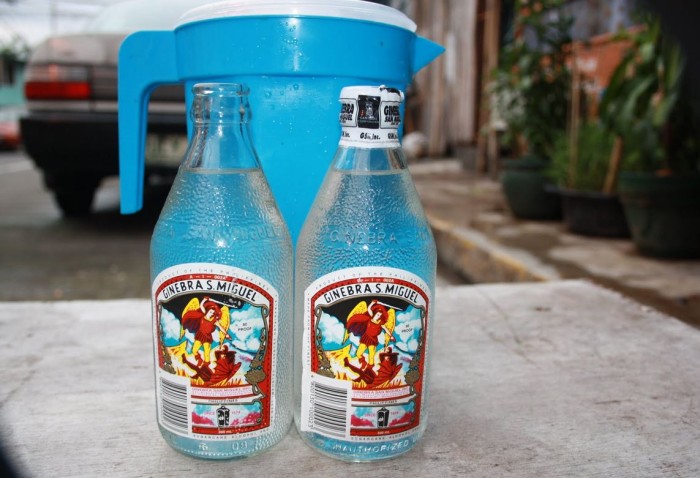 Liquor brand Ginebra San Miguel brought home this title to the country in December 2010  held in Naga City, Camarines Sur. The attempt lasted for two hour and invloved 2,435 people, broking the previous Guinness World Record of 1412 participants in Mexico.