The F&B industry has become increasingly competitive and saturated with the vast array of affordable premium dining options and proliferation of value-priced food franchises.
According to a latest report from Isentia, within such a climate, it is more imperative and vital for brands to be able to find ways to differentiate themselves strategically while optimising their resources within the industry.
"The industry is closely tied to consumer confidence," said the report.
The Asia Pacific region continues to lead in among global regions, with consumer confidence at 107 points. Europe is at 79 points, while North America has 101 points. This reflects a positive outlook for higher consumer spending ability.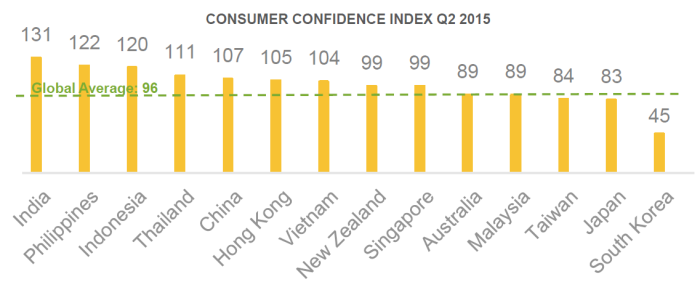 Growth opportunities
Despite high consumer confidence, the industry still faces challenges from high rental costs and manpower shortages, which are the few main reasons for drop in sales. Sales of F&B services in December 2015 dropped compared to a year ago by 5.7% in APAC (According to studies by Nielsen,WDA and Singstat)
This was despite a growing opportunity for the F&B industry to exploit the fact that Singaporeans are dining out more frequently, with 67% dining out more than once a week. Diners in Singapore remain the biggest spenders among the ASEAN countries with an average spending of SG$248 per month.

The study adds that marketers should focus on the millennials aged 15 to 34 years old, who possess greater financial freedom and passion for food. They are the key market segment for the F&B service industry.
The next target will be Gen X, who have more savings and enjoy financial independence.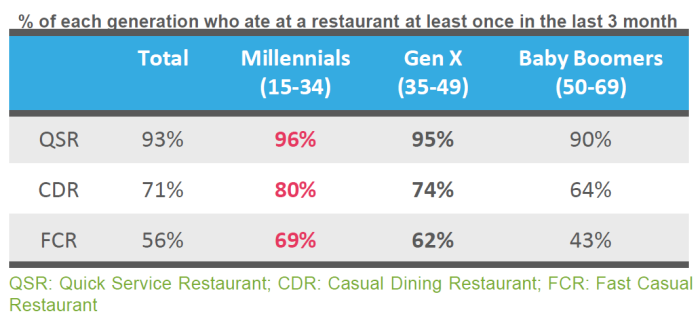 Digital digest

In a digitally connected society today, many customers take to social media or othe online platforms to leave their reviews and food experiences. About 25% post once a week or more and 13% once a month. Such a trend also comes with the proliferation of online food blogs and food reviews platforms.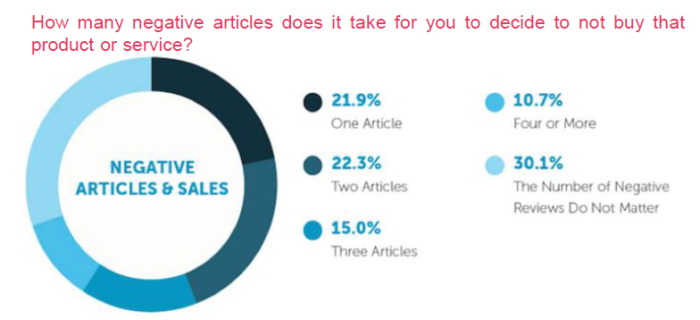 Similarly, customers also rely on other online reviews as a reliable form of word-of-mouth when exploring new dining options.
Nearly 52% of Singaporeans read online reviews when searching for a dining place and even a single negative review can sway their decision. Topics discussed online can affect business as well, as online customers' reviews have significant impact.
When there is high negative sentiment, share price drop by 1.9% as compared to an increase of 0.9% when there is high positive sentiment.

Many F&B businesses are also beginning to realise the importance of customer interaction in order to create loyalty for long-term relationships.
Consumers are more active in searching and sharing content through online channels, and social media is a lucrative platform businesses can utilise to engage their customers. However, social media is far from simple, it requires active monitoring and effort.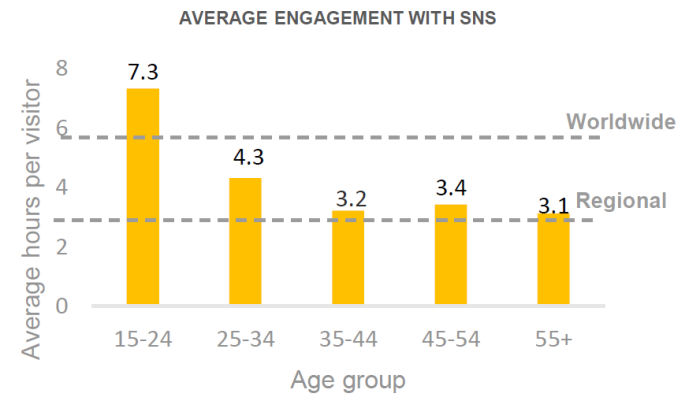 Don't just be socially active

Other than social media channels such as Twitter or Facebook, F&B companies need to look into their blind sports, which are platforms outside their control, in order to map a necessarily complete customer relationship journey. These platforms are typically earned media, including blogs and reviews.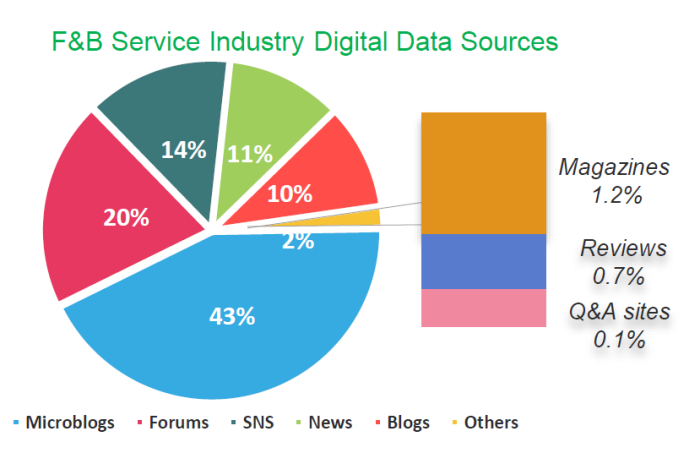 To this end, companies need to look beyond just financial data, and redefine KPIs. Monitoring and measuring more data such as complaints, feedbacks and reviews are valuable, possibly translated into quantifiable data and insights.

Lastly, the study also cautions marketers from equating high buzz to actual growth in target audience while low buzz does not mean less concern.
"Numbers can indeed be deceiving, as the target audience can actually be divided into three segments: Lurkers, Dabblers and Enthusiasts'," the study reads.
Here's the breakdown: