3 Hong Kong has teamed up with Metta Communications for the first time for a campaign to highlight its freshly-upgraded digital customer service platforms.
New features of its digital customer service includes instant online chat facility iChat, handset data-transfer capability Super Switch, personal information app My 3, data tracking app 3Meter, and information center 3Care.
The campaign, titled Better Service, launched with a TV commercial themed "One team, one heart! Better service from 3", which takes a lighthearted approach to the iChat feature via a story based on schooldays and female stereotypes in Hong Kong.
The spot will make prime-time appearances on TVB Jade and Pearl, as well as J2 and the i-CABLE News Channel.
The campaign also spans print, followed in late September by a set of 10 short films featuring web celebrity To Siu Kiu (杜小喬) on the subject of 3 Hong Kong's customer service.
Created by 3 Hong Kong digital team, the videos will appear on "3 Research Lab" mini site, as well as 3 Hong Kong's Facebook page and YouTube channel.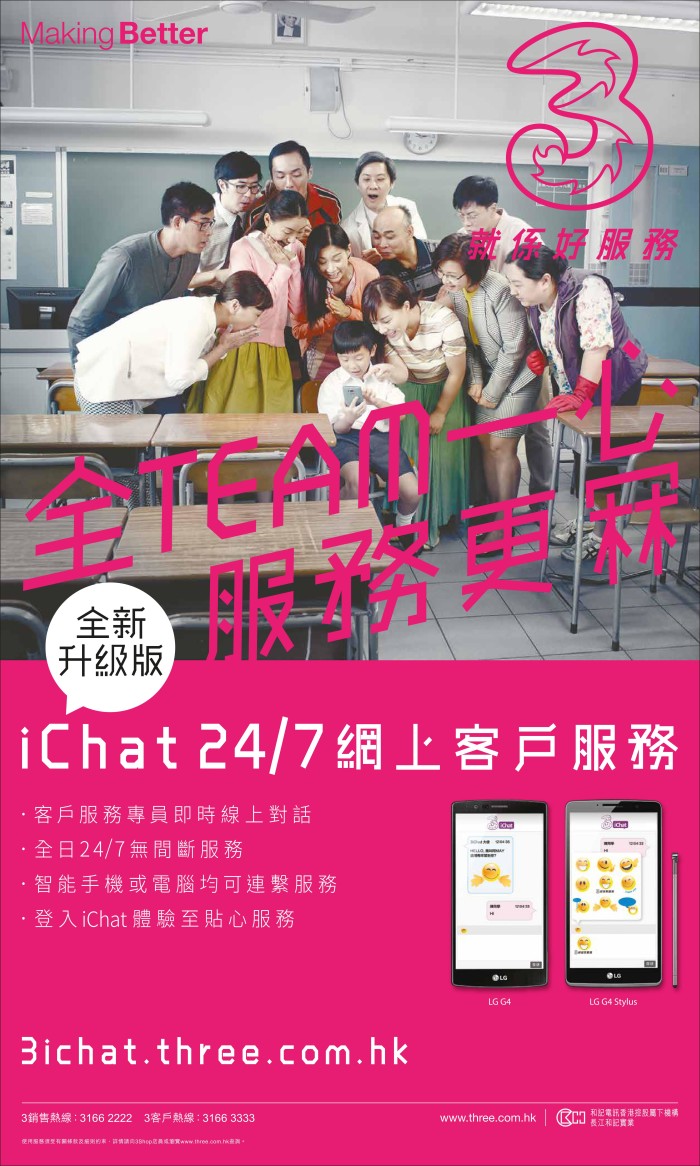 Another spot focusing on the Super Switch function is slated to launch next week.
"A fast, simple and pleasing customer service experience is essential to building a successful brand image, which is why 3 Hong Kong has been adding levels of sophistication to our digital customer service platform," said Jennifer Tan, chief operating officer at HTHKH.
"A prime example has been a series of upgrades to the My 3, 3Care and 3Meter apps, enabling customers to solve everyday issues anytime, anywhere. We also plan to improve our instant messaging app so customers enjoy even closer links with 3 Hong Kong."
Credit
Client: 3 Hong Kong
Creative: Metta Communications
Media: phd Hong Kong