It would surprise nobody to say that Asia will be driving the world's retail sales in the next five years.
But PwC and The Economist Intelligence Unit's 2015-16 Outlook for the Retail and Consumer Products Sector in Asia report takes a more nuanced look at what that means.
According to the report, the region's retail sales will grow by 8.5% in US dollar terms, higher than the global average growth rate of 5.6%. By 2018, it is estimated that Asian retail sales will amount to US$10 trillion, much of which will be driven by India and China.
Retail sales in Asia and Australasia is projected to grow by 4.6% this year and hit a 4.9% growth rate in 2018. The same growth in sales volume for all other regions except Western Europe is projected to decline in the same period.
Asia and Australasia's retail sales will amount to US$10.3 trillion in 2018, compared to US$5 trillion for North America and US$3.3 trillion for Western Europe.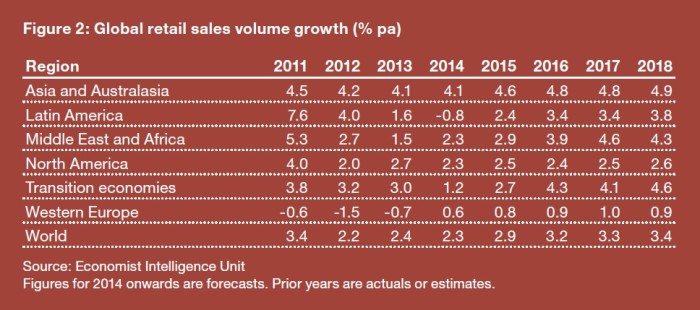 However, the report said China is experiencing slowing growth, a trend that is expected to continue as the market matures. Weak consumer sentiment, fears of the property bubble bursting and anti-graft measures further complicate things.
Taiwan and Hong Kong rely on investments and visitors from the mainland for growth.  This means that if there is any fall-out due to economic weakness in China, its effects on Taiwan and Hong Kong will be exacerbated.
However, Hong Kong has a sustainable and healthy luxury market that is also supported by domestic consumers - a wealthy expat population and high proportion of high net worth individuals.  According to a 2013 WealthInsight report, Hong Kong came eighth in the ranking of cities with the highest populations of millionaires, with 187,000 US-dollar millionnaires.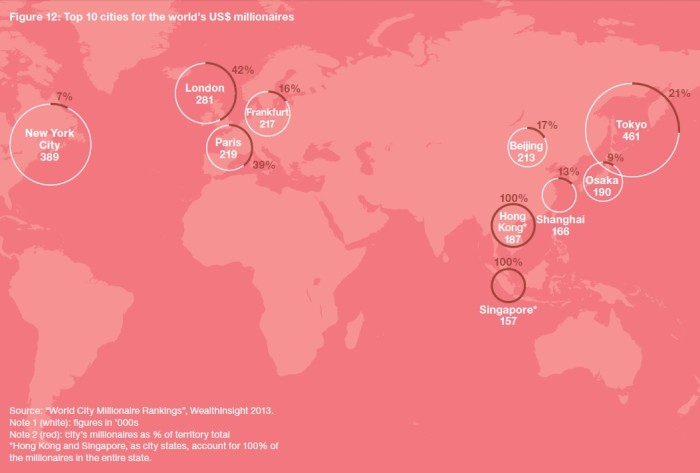 On the mass market consumption front, the market share of supermarkets and department stores in Hong Kong fell to about 20% in 2013, although the sector is heavily consolidated, with Wellcome and ParkNShop making up 80% of supermarket sales in Hong Kong.
Growth in offline retail sales is mostly driven by shopping in convenience stores and retail tourism.
Hong Kong sales volume growth is expected to slow over the next four years, from 3.1% last year to 1.3% in 2018.  Meanwhile, mainland China's sales volume growth rate is expected to slow to 6.6% in 2018.
Around the region, growth rates for retail sales volume in India, the Philippines, Thailand, India, Malaysia, New Zealand, Singapore and South Korea are projected to rise from 2015 to 2018.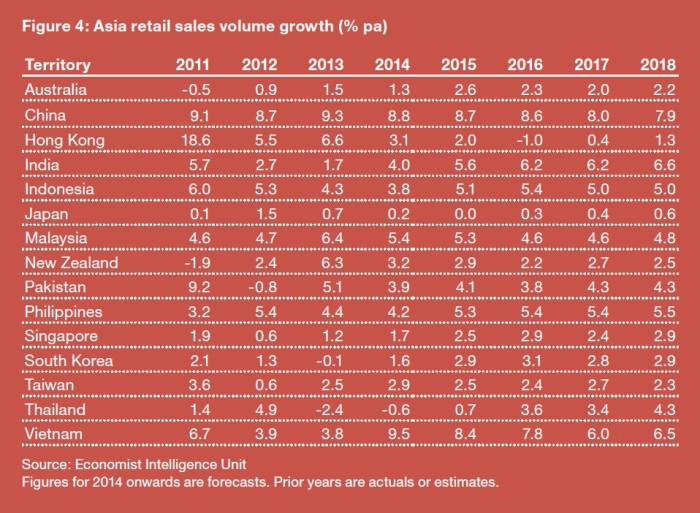 Below are 10 trends shaping Asia's retail landscape in coming years.
1. Some foreign retailers are refocusing on core domestic markets
Deceleration of growth in China, economic weakness in Japan and mixed signals created by policymakers in terms of how welcoming they are towards FDI from retail brands in India are prompting big-name retailers to focus on recapturing revenue from domestic markets.
2. Big players are also showing signs of switching emphasis to smaller Asian markets
As growth slows or barriers to entry are erected in some of the larger Asian markets, smaller countries are becoming the new playgrounds for big-name retailers.  For example, Indonesia, with strong population growth and rising incomes, and Vietnam, which is relatively FDI-friendly, are up and coming markets for retail.
4. The lines between physical and virtual channels are blurring
Multi-channel solutions are fast becoming the rule in the retail playbook, with click-and-collect stores, pop-up shops and retail touchpoints that use beacons to drive engagement becoming popular, especially in the food and beverage industry.
5. Fragmentation of retail markets
Although the global decline of the hypermarket has limited impact on Asia, the shift towards eCommerce and the increasing prevalence of small well-located outlets shows the shift towards convenience.
6. The rise of the flagship store
Every year, brands announce the grand openings of more and more flagship stores.
In China, flagship stores are popping up in Tier Three and Four cities, moving beyond the Tier One and Two cities that brands typically enter first.
7. Discount retailing
Although the discount retail channel is not as strong a trend as it is inWestern Europe, the trend is catching on in Japan in the form of 100 Yen stores, while in China, discount retailing is becoming popular online.
8. Online retailers are equipping themselves for m-commerce and s-commerce
Global eCommerce growth is forecast to be driven by Asian markets, which are preparing themselves for m-commerce and emerging forms of social media commerce.  In China, mobile payments accounted for 8% of total online transactions in 2013, compared to 1.5% in 2011.
The importance of using social media as an eCommerce platform is reflected in earlier investments such as Alibaba's April 2013 purchase of a 18% stake in Sina Weibo.  Early last year, Alibaba's Alipay collaborated with Sina Weibo to launch Weibo payment where users of the microblogging platform can facilitate offline payments, accept payments and manage content marketing campaigns.
In 2012, Japanese eCommerce company Rakuten led a US$100 million funding round for Pinterest, which it now uses for content marketing and allowing Rakuten users to log into the social media platform using Rakuten Connect, giving access to Rakuten online stores and services.
9. Dominant eCommerce players expected to continue setting high barriers to entry
Alibaba's dominance in mainland China will make it difficult for foreign players to break into the market.  It accounts for almost 40% of the China B2C eCommerce market, dominates eBay-style marketplaces selling locally and has ambitions for international expansion.
This year, Indian eCommerce giants Flipkart and Snapdeal will drive growth in the local market.  However, poor infrastructure, low Internet market penetration, high capital investments, low annual consumer expenditure per capita and the lack of basic enablers such as online payment technologies pose challenges to growth.
10. Importance of local shopping cultures to retail markets
For example, in Hong Kong, there is a culture that encourages hunting down bargains and hands-on shopping, which is why shopping often happens offline.
But consistent with this culture, couponing and group buying sites, as well as social media and mobile apps linking to special offers blur the line between online and offline retail channels.
Another example is Japan, where large networks of convenience stores are offering multimedia kiosks where customers can collect goods after purchasing them online.