About 60% of Millennials in Singapore feel well-represented by the media, as compared to just 30% of baby boomers who feel well-represented, according to new research by YouGov Omnibus which surveyed 1,061 respondents in Singapore between 27 September and 4 October 2017.
The net score for Millennials, excluding those who do not feel well-represented by the media, is 30, while baby boomers had a score of -29. On the other hand, Millennials feel far less well-represented by advertising than the media, achieving a net score of 17. Meanwhile, baby boomers had a score of -27, indicating that they feel poorly represented. According to the research, 6 in 10 baby boomers stated they feel poorly represented due to their age, whereas three in 10 Millennials cited occupation as the biggest factor.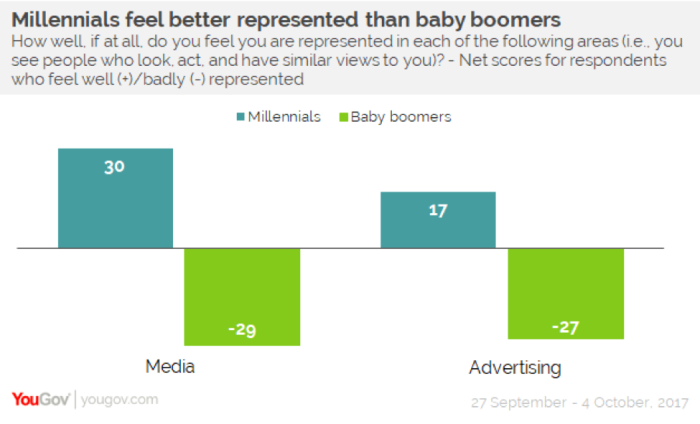 While Millennials are known for their love for digital media, with eight in 10 Millennials reading or watching content from social media at least once a day, less attention is usually paid to the time baby boomers spend on social media.
(Read also: Forget the fluff metrics on social. It's all about the sale)
According to the survey, more than half (54%) of baby boomers either read or watch content from social media at least once a day. Approximately 20% use social media less often than once a week while 12% use it four to six times a week. Meanwhile, only one in 20 baby boomers make purchases at least once a week based on things they have seen on social media, as compared to one in eight of Millennials.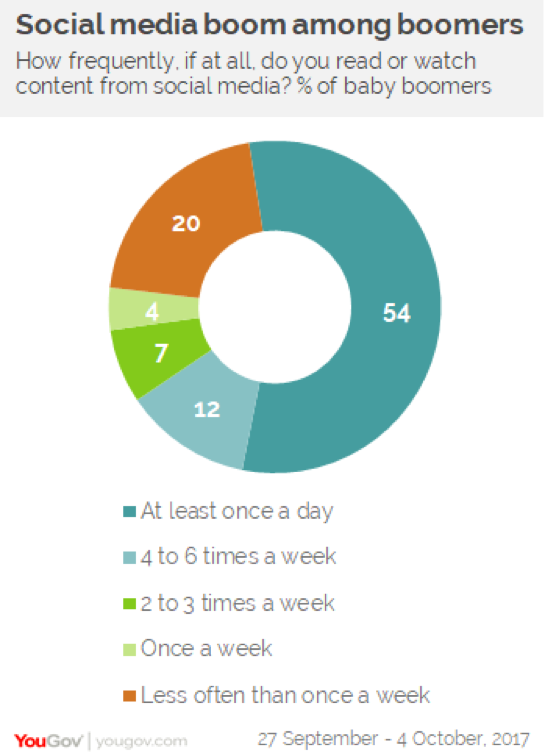 "With 54% of baby boomers consuming content on social media at least once a day, and only 1 in 20 influenced by the channel before purchasing items once a week, our research suggests the digital savviness of older generations is being underestimated by marketers. That coupled with the fact that age is cited as the biggest reason boomers feel misrepresented by the media and advertising makes the case for a digital strategy re-focused on engaging multiple age ranges," head of Omnibus, Jake Gammon, said.
The survey compared the opinions of respondents born between the mid-1940s and mid -1960s and between the early 1980s and mid-1990s. It asked respondents how well-represented they feel by the way they see people look, act and have similar views to them in media and advertising.