Wyeth Nutrition's Illuma has launched a music-based content marketing campaign to reach mothers across Hong Kong.
In a partnership with Spotify Hong Kong, Wyeth Nutrition's premium infant formula brand takes on the task of helping mothers to unleash the potential in their children by using music to nurture creativity and ensure their developmental well being.
Wyeth has commissioned Bettina Wan, an Australian registered and certified music therapist based in Hong Kong, to curate a series of playlists for Illuma Hong Kong aimed to simulate and develop a child's skills such as early literacy, cognitive development, social-emotional growth, physical movement and creativity.
Some 200 songs have been selected across a group of playlists called Natural Thinker, Expressive Performer, Affectionate Companion, Boundless Adventurist and Melody Shaker.
Research has found that a music-rich experience for children from an early age can carry serious benefits as they progress through their childhood development.
Working with agency partners including media agency OMD Hong Kong and Spotify's Hong Kong ad sales partner Pixels, Wyeth is putting less emphasis on a paid media experience and hoping word-of-mouth and social media will fuel its latest initiative.
A second phase will be unveiled soon to deepen its digital engagement.
Clarence Chung, Wyeth general manager, told Marketing the initiative was about more than just generating sales.
Kevin Huang, CEO of Pixels, said the inclusion of Illuma's playlists on Spotify enables every parent and child in Hong Kong to enjoy the developmental benefits of music for free.
"Illuma's curated playlist, based on various child development themes and curated by a renowned music therapist, makes expert advice now easily accessible to every parent and child in Hong Kong at absolutely no barrier to entry and at no cost using Spotify," he said.
Sunita Kaur, managing director – Asia at Spotify, added campaigns like these leverage the wealth of content and music data.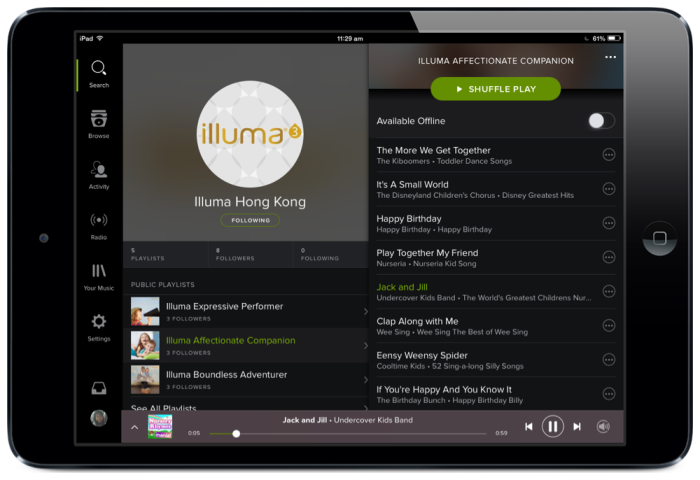 A recent Hong Kong Advertiser's Association Ad Spend report showed 80% of marketers ranked content marketing as the hottest trends in digital marketing and the majority of them indicated that they will be investing further in content marketing as part of their media mix.
The Illuma playlists campaign on Spotify addresses Wyeth's goal of aiding child development while riding on the current trend of Content Marketing, making the content provided useful for a parent and child, with curated content from an expert music therapist and songs available on Spotify on desktop, mobile, tablets and a variety of integrated hardware partners (BMW, Mini, Bose, Sony PlayStation, Uber) at no cost to all users.
The Illuma Hong Kong playlists on Spotify are available at no cost to all users effective today and can be found on Spotify Desktop, Mobile and Tablet. The launch campaign is supported by ad placements on Spotify using Homepage Takeover, Display and Audio Plus Ads.