Of late McDonald's promotions have been backfiring more than benefitting the brand.
The long queues, reminiscent of its Hello Kitty campaign were back when it lauched the promotions for Despicable Me 2 giving away one Minion with each Happy Meal. And not everyone had a pleasant experience. The backlash in Malaysia, however, was far harsher than Singapore.
In Singapore, the promotion began from 11 July, 11 am onwards. However, one frustrated customer ranted on McD's Facebook page saying when she visited an outlet in Jurong at 8pm, a staff member told her the promotion had not yet started.
She then decided to pre-order, only to find out that her friends already received their Despicable Me 2 toys at other branches.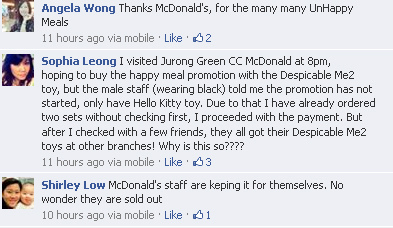 A Muslim customer also added that the move was insensitive because of the fasting period. By the time he made his way down, the toys were sold out. He was supported by others who questioned why the sale had started at 11am since the Muslim community would be fasting then.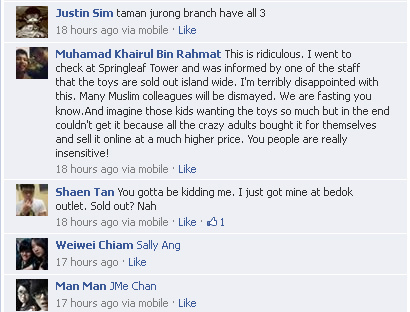 To its credit, learning from its Hello Kitty fiasco, the fast food giant did make an attempt of crowd control this time around.
It posted on McDonald's Facebook site as well as on its promotion site a set of strict guidelines as to how consumers could get their hands on these toys. "We have learnt from past campaigns and in view of anticipated demand, we have put in place some additional measures to improve the experience for our customers," a McDonald's spokesperson said.
See McDonald's poster here.
But somehow, it seemed that the memo was lost on its staff. Several customers said they saw the outlets not adhering to the rules. Customers were buying more than the imposed three Happy Meal Despicable Me 2 toys per customer transaction.
McDonald's Singapore, which been somewhat quiet on its Facebook site so far, responded to Marketing's queries saying the majority of the feedback it has received around the new measures have been positive.
McDonald's also added that customer response in stores were smooth.
"We are sorry if any customers encountered any issues during the promotion, and would like them to write to us at ops@sg.mcd.com so that we could follow up with them on these," the spokesperson from McDonald's said.
"We are also reaching out to customers who have provided feedback via our Facebook page to address their feedback. We take feedback very seriously and look to continuously improve to serve our customers even better."