Facebook has been gaining traction over YouTube for awhile, with its latest revenue sharing model with content creators said to be a game-changer.
While its revenue model is similar to YouTube, Facebook's is slightly more complex.
The revenue share on Facebook doesn't apply to all videos in News Feed. Instead, the company is rolling out a new feature called Suggested Videos – a News Feed of video content. If a user clicks on a certain video, he would be taken to similar ones, Dan Rose, Facebook's VP of partnerships, told Re/code.
The programme starts with partners such as NBA, Hearst, Funny or Die, and Fox Sports.
According to Socialbakers, Facebook's already trumped YouTube, as of 2014. "Brands posted 20,000 more videos on Facebook than they did on YouTube in December 2014," said the report.
"A year ago, YouTube was clearly the dominant network in terms of sheer video quantity, nearly doubling the number of videos published on any other content network. Starting in January, however, content marketers increasingly began uploading videos to Facebook directly, with a 50% increase from January through May," said Socialbakers. It also lists Facebook as tracking the highest interaction for videos amongst other mediums.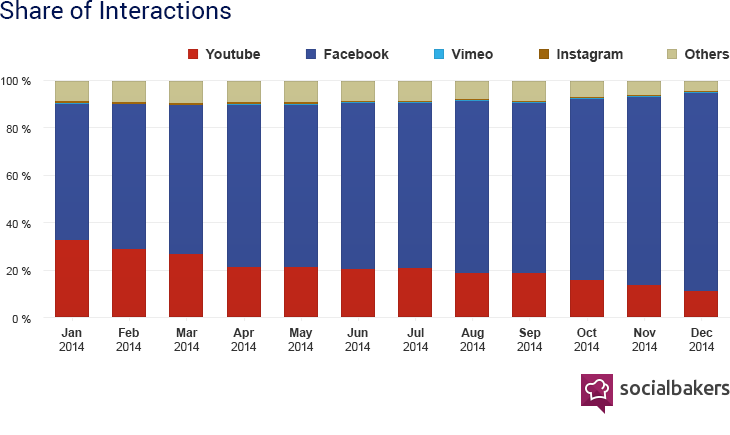 Google has declined to comment on the development.
Industry players are confirming the trend.
"There was a time last year during the Ice Bucket Challenge craze that Facebook briefly overtook YouTube as in terms of videos served. Growing video views is a central plank of Facebook's growth strategy. We are advising all our clients to ensure that videos move beyond YouTube to being natively shared within Facebook, as well as leveraging platforms like TubeMogul. YouTube is still King of Reach, but for certain video types we now see higher engagement levels on Facebook," said Keith Timimi of VMLQais.
QED Consulting's Natasha Zhao, said that Facebook has always had an edge in advertising and targeting, and is also more open to sharing details with advertisers on who they are targeting, appealing more to marketers. However, for Asia, trends that are prevalent in less developed countries the trend may lag.
Prantik Mazumdar of Happy Marketer offers a caveat, however. While acknowledging Facebook's attractiveness to marketers, he said: "Facebook will need to improve its reporting for video content though; for instance they need to share details about how many videos were auto-played, how many users chose to un-mute the videos, how many watched it on full screen and HD mode etc. These granular details would be great feedback to help marketers and creators improve their content."