Mobile is the buzz word in today's era of smartphones and tablets, but mobile ad expenditure in Hong Kong makes up a much smaller proportion of overall ad expenditure compared with ad spending on traditional media.
According to admanGo data, Hong Kong's total ad spend increased from HK$43.1 billion in 2013 to HK$44.9 billion in 2014.
Out of Hong Kong's total ad spend in 2014, 32% was spent on TV, 16% on paid newspapers and 14% on outdoor media. In comparison, mobile ad spend comprised 2% of the overall ad spend in 2014, although this represents a 1% increase from the previous year.
The PwC's Entertainment and Media Outlook 2014 report forecasted mobile advertising to make up 2% of digital advertising in Hong Kong in 2015, which is much less than the 15% of digital ad expenditure taken up by mobile advertising around the world.
"Given that smartphone penetration in Hong Kong is 73%, one of the highest in the world, the lack of mobile advertising is not down to consumer behaviour, but rather the dominance of traditional media, principally print and TV," says Colin Light, digital consulting leader at PwC China and Hong Kong.
"Four key inhibitors are responsible for the significant 'media gap' in mobile advertising in Hong Kong today: difficulties in ROI measurement, limited access to specialist talent, slow mindset shift, and the relative ease of advertising on traditional media."
He says businesses need greater awareness and trust in performance metrics used to measure digital advertising and that agencies and digital publishers need to educate marketers about the role of conversion metrics and performance-based pricing and how they affect the bottom line.
"The prerequisites for mobile advertising demand are already in place. We are now waiting for Hong Kong businesses to catch up. This requires a change in mindset on behalf of marketers away from the perceived ease of traditional media spending," Light says.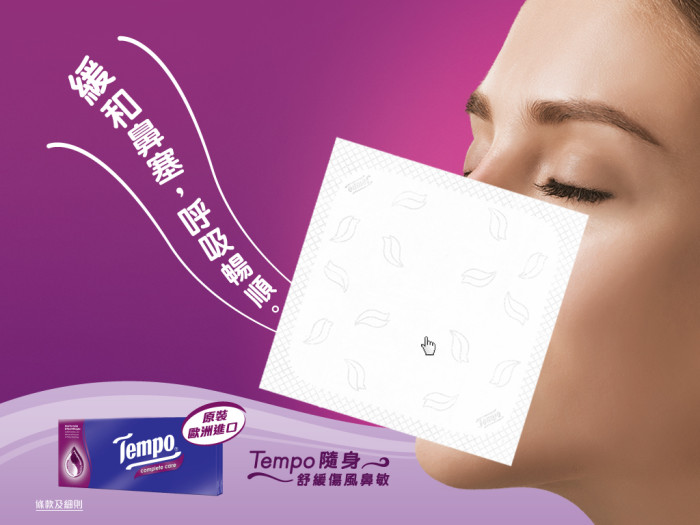 Tempo used a fun and creative mobile game to extend its Complete Care brand to mobile.
Patrick Waller, director of marketing and e-commerce in APAC at OtterBox, says while different channels offer varying levels of cost-effectiveness for different brands, digital advertising is cheaper than offline media channels.
"Once you enter the field of digital advertising, everything can be targeted and within that, the more targeted your ad is, the more expensive it will be," he says.
"The justification from media agencies is that targeted campaigns generate conversion, but there are not many proven case studies compared to traditional media. That's because digital media has not been around for as long and there is a less well-established proof of conversion.
"As brands understand mobile in more detail, mobile marketing will follow, but not the other way around. The industry needs more success stories before mobile can truly become the dominant channel."
In the absence of well-established methods of conversion, rising costs may also be a concern for marketers.
Mobile marketing agency Fetch's "FetchMe Report: Mobile Acquisition Trends in Hong Kong" analysed user behaviour between 1 March 2014 and 28 February 2015. Collected through the agency's global dashboard FetchMe, the Hong Kong data spanned 10 million media interactions and 150,000 app installations, for which media spend totalled HK$3.8 million.
The report showed mobile user acquisition costs in Hong Kong across iPads, iPhones and Android devices increased by 49% over the past 12 months.
There are also interesting nuances in cost comparisons between Android and iOS devices.
FetchMe data collected showed costs of media and of user acquisition for iPad and iPhone users was more expensive than that for Android users.
For example, a cost-per-click (CPC) index was used in the report to measure the cost of mobile media – with 100 representing the Hong Kong average.
The CPC indices for iPads and iPhones were 180 and 108 respectively. This means buying ads on mobile media on iPads and iPhones costs 80% and 8% respectively more than the average.
Meanwhile, the same index for Android devices is 11, meaning the cost of purchasing ads on Android devices is 89% below the average.
The index used to measure user acquisition costs in the report was cost per install (CPI). iPad and iPhone users have CPI indices of 156 and 116 respectively while the CPI index for Android devices is 28.
However, the iPad and iPhone generated higher conversion rates than Android devices in terms of click to install (CTI).
Android devices have a CTI index of 49 whereas iPads and iPhones have indices of 139 and 112 respectively.
Commenting on the high cost of acquiring iPad users, Dan Wilson, head of data at Fetch, says: "This is typically a factor of the relative scarcity of the media and the larger format providing a potentially more engaging environment for advertisers."
For Jacqueline Chu, marketing director at Revlon Hong Kong and Taiwan, what's holding brands back is the limited number of well-established mobile content providers.
"Hong Kong's mobile advertising scene is very fragmented. There are only four dominant platforms – Yahoo, Google, OpenRice and Apple Daily," Chu says.
"Other platforms have little reach and if the dominant platforms aren't appropriate for reaching the brand's target audience, marketers would rather invest the money in other types of media."
She believes the key to encouraging more brands to spend on mobile ads is to create unique content that drives traffic.
"Mobile platforms need high quality content, just like how brands need to develop high quality products. Many mobile media platforms have very similar content to one another and fail to accumulate a solid following," she says.
"Unique content is the key to building loyalty. For example, Apple Daily consistently produces explosive content in a unique voice. OpenRice also took the time to specialise and it has now become the first platform that comes to mind for restaurants."
Mobile ad networks also compete with owned mobile platforms for demand. One example is proprietary mobile apps used for online banking. Chu says these owned platforms reduce the need for marketers to place ads on mobile media platforms owned by external parties for loyalty marketing.
Another factor affecting a brand's desire to spend on mobile ads is whether their company site is optimised for mobile.
Waller says his company held back on mobile ad spending until its mobile website was complete.
"If your website isn't adaptive or responsive to mobile, you would not drive traffic to it on mobile because that would create a frustrating experience for the customer," Waller says.
Is native advertising the solution?
Native advertising is branded content that takes a similar form to editorial content or other content normally published by a mobile media platform.
As mobile devices increasingly derive their value from the content they access on the cloud rather than the features they have as physical devices, native advertising has been championed as the next step towards a new generation of mobile marketing.
In addition to strong creatives and storytelling that ensures mobile advertising is tailored, engaging and does not abuse the intensely personal trust that comes with mobile and social advertising, Light believes the contextual relevance of mobile is of prime importance.
"Native advertising is about not being restricted to a single digital format like banner ads, which are clearly not as effective because they are seen as obtrusive and sometimes disruptive to the mobile experience," Light says.
"In-app, video streaming and use of the contextual application programme interfaces (APIs) that mobile offers are all key to creating a strong user experience."
Meanwhile, Waller says both display and native advertising on mobile are effective in their own ways and their suitability depends on a brand's time and cost investments.
"For both native and display, the content is tailored to the channel and the audience," Waller says.
"Native advertising is becoming more of a grey area for digital channels as insights considered in any digital campaign help craft the content."
With external market conditions in place in Hong Kong, it seems to be up to publishers, agencies and marketers to start thinking differently to truly unleash the power of mobile marketing.
[Image]: iStockphoto