Let's face it, mobile apps have taken over Asia by storm. Whether it's search, instant messaging, social networks, or gaming, we are now one of world's leading regions for mobile apps.
Our daily lives have changed remarkably compared to just 10 years ago with the existence, and help, of mobile apps. These little square boxes on our phones allow us to complete a list of tasks from the moment we open our eyes in the morning; be it our morning run, checking schedules for the day, meeting agendas and even booking our taxis to work.
But there is intense competition from marketers to make sure the app remains on the phones. The reality is that apps can sometimes become stale and collect metaphorical dust on our devices. As such, retaining and engaging users is top priority for marketers with apps.
In a conversation with Marketing, James Tan, head of performance products at Google APAC said marketers often use push notifications to stay fresh in users' minds, but over time these notifications may prove to be ineffective. This is especially true for more developed countries such as Singapore (49%) where users have turned off notifications altogether for nearly half of the apps on their phones. For its neighbours over in Malaysia, the number stands at 38%.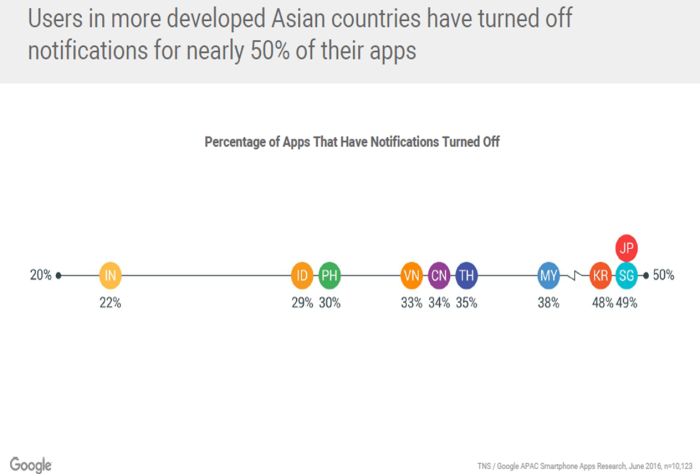 Tan, who also recently authored a study called "How to stay top-of-mind in Asia's crowded apps marketplace" said instead of using push notifications, marketers in Singapore and Malaysia can increase engagement using targeted ads that reach users at relevant times and help retain them over the long run.
"They can use mobile app engagement campaigns to help remind users how their apps can help. By engaging your audience at the right time with content that's relevant to them, you can help your users make the most of your app – all while avoiding the "uninstall" button," he said. He added that Google's app install ads across search, YouTube and AdMob have helped marketers drive more than three billion app downloads.
Tan said:
For marketers looking for high engagement, reaching users at the right time is key.
According to the "Mobile App Marketing Insights: Asia 2016" report by both Google and TNS - which surveyed over 10,000 people across ten countries - Malaysian and Singaporean users only use 21% and 19% of their installed apps on a daily basis, respectively. The highest percentage of apps used was found in Asian countries like Indonesia ( 27%) and Vietnam (25%), which stand only marginally higher.
Interestingly, smartphone users in most Asian countries also spend nearly equal time on apps and websites.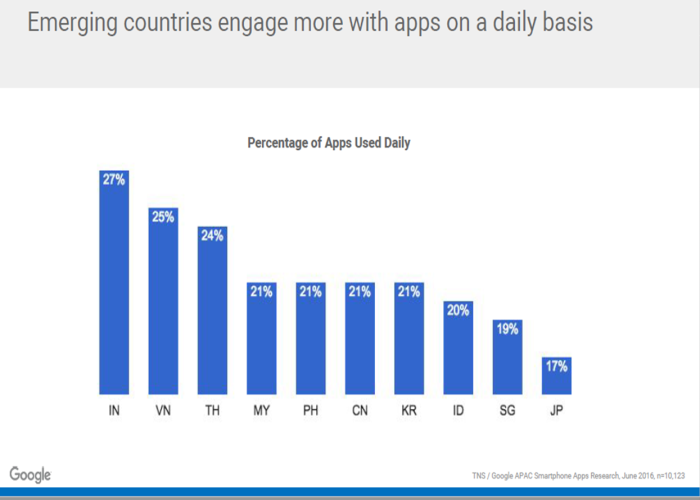 With users' phones often bursting with apps, along with their limited phone storage, the competition is cut-throat among marketers to engage users and avoid being uninstalled.
Why do people uninstall apps?
There are many reasons why users uninstall apps, Tan explained, but a common theme across Asia is that people delete apps that are no longer relevant. The report also cited that users, including those in Singapore and Malaysia, would uninstall apps if they don't find it useful or relevant anymore.
But Tan also pointed that it doesn't mean all users are actively using an app after being downloaded onto their smartphones. For example, the study found that in Indonesia, one out of every five installed smartphone apps is never used. These apps would likely be deleted later on to free up more storage space.
However, fortunately for marketers, the vast majority of app users across Asia said they would likely use apps again if given a reason to do so, including 37% of users in Malaysia, 23% in Singapore and 66% for Indonesia.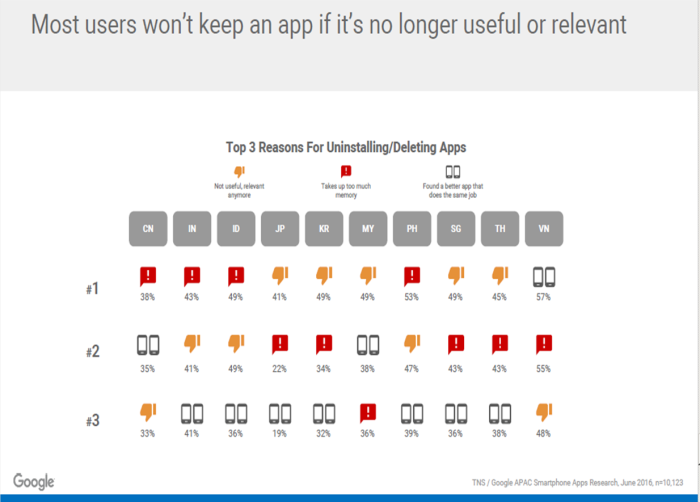 Last but not least, Tan said, the secret to formulating a winning strategy with apps is to focus on the user, "By understanding when and how people engage with apps and using tools that help act on those insights at scale - marketers can stay relevant and become part of consumers' daily routines."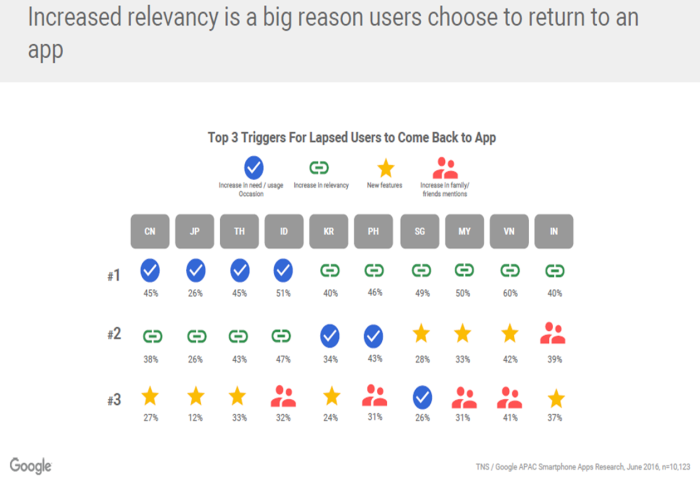 Tan stressed again, that it's important for marketers to engage their audience at the right time with content that's relevant them, "You can help your users make the most of your app - all while avoiding the "uninstall" button."