Social media is the main channel for communication and being the face of any company, it makes perfect sense why CEOs need to have a social presence. While 93% of ASEAN100 companies have a social media presence, less than 10% of chief executives in these companies are active on social media.
To help these social media shy CEOs, a report by Hootsuite, titled The Social Executive: How to Influence Trust, Transparency, and the Bottom Line, says that CMOs have to come into action. CMOs need to "operate as the organisation's central social media nervous system, communicating strategy and messaging" so that it is fully understood and supported by the CEO and other members of the executive.
Marketing and communications leaders need to ensure that the direction they set is properly staffed, budgeted and managed. That includes offering a fully supported plan for social engagement by other members of the executive, including the CEO.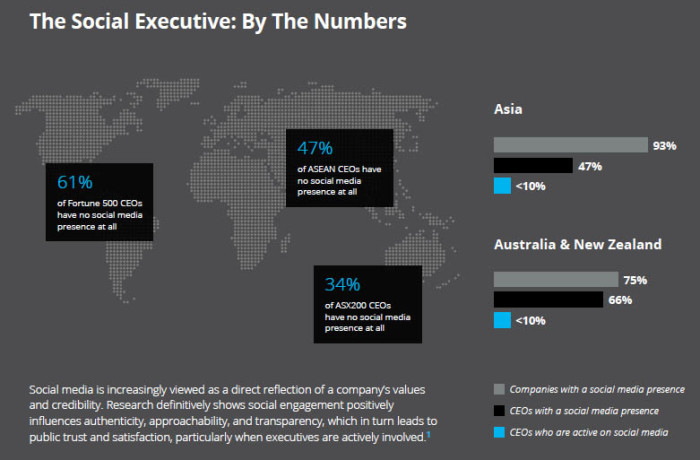 This low involvement of CEOs on social comes despite 86% of executives from Asia Pacific believing that social CEOs have a positive impact on company reputation, with 76% believing it enhances the credibility.
In fact, in countries like Australia, New Zealand, Indonesia, and Malaysia, characteristics such as vision (35%t), ethics (31%) and honesty (39%) are more important attributes of trustworthy top executives than in other regions globally; all areas deeply influenced by the authenticity, approachability and transparency of social.
What's stopping CEOs from embracing social
Currently, 70% of chief executives believe it's risky to participate on social media. As such, those with trusted, capable communications counsel from their marketing leadership are better armed and ready to deploy and benefit from the strategic use of social media.
"Corporate reputation and business performance are increasingly dependent on social media. Social executives have more success inspiring employees, attracting new customers and talent, and building loyalty and trust," said Rich Meiklejohn, general manager, Asia Pacific, Hootsuite. He added:
Having the support and involvement of all teams within an organisation is crucial to help executives build an active professional brand on social media channels.
Meanwhile, here are the top Asia Pacific social executives (in alphabetical order):
Here's where the public is most likely to follow your CEO: