According to a new Accenture Strategy report, chief executive officers (CEOs) said that chief marketing officers (CMOs) are the first in the firing line if growth targets are not met. This is despite there being around five C-level executives responsible for driving disruptive business growth.
Approximately, 37% of CEOs surveyed hold CMOs first in the firing line, said the study and following closely are chief sales officers at 34% and chief strategy officers at 29%. This is despite 50% of CEOs see CMOs as the primary driver of disruptive growth, closely followed by chief strategy officers at 49% and chief sales officers at 38%.CMOs are also viewed as to be the ones who are best placed to drive growth due to their unique position of being in direct line of customers, prospects and the wider market.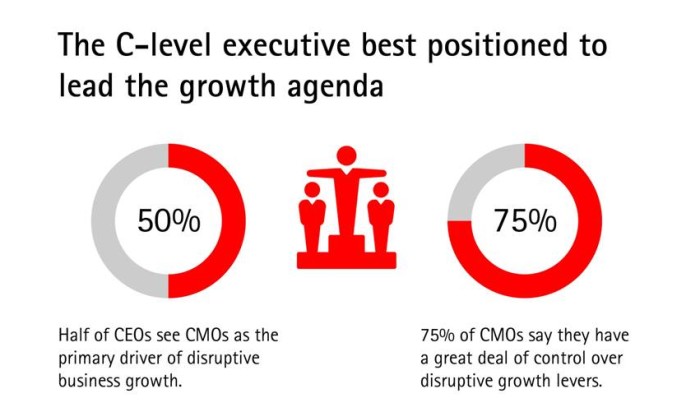 According to the Accenture report, 96% of CMOs recognise the importance of disruptive growth to revenue potential. Moreover, 75% believe they have a great deal of control over the disruptive growth levers in their company. However, many still feel that they are "currently not in a position to drive disruptive growth due to mindset and time". Only 30% of CMOs believe they are "cutting-edge marketing innovators" and only 37% spend their time on innovation.
And despite the need for all things innovative and digital, 60% of CMOs still spend the majority of their time on traditional marketing initiatives, such as maintaining brand image, improving customer experience and loyalty.
Agreeing on this point is Vernon Vasu, co-founder of Refuel4 who was previously the head of marketing of Health Promotion Board. This is especially because CMOs feel that 60% of their time is spent on legacy activities that don't deliver.
"That seems to the crux of what is a self-perpetuating cycle. There is a clear opportunity to embrace new technology, manage the risk of implementation and Board expectations, to see upside," Vasu said.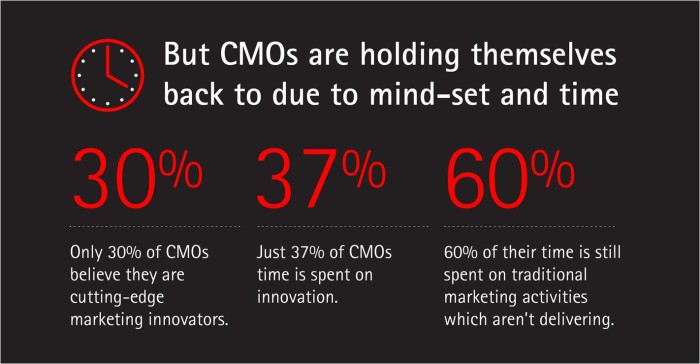 CMOs face a much bigger push on deliverables
Despite the importance of these marketing initiatives, 54% feel a large portion of their marketing budget is being wasted and not delivering the expected business results. According to Robert Wollan, senior managing director leading Advanced Customer Strategy, Accenture Strategy, organisations that rely on "growth by committee" struggle to achieve their targets.
It breeds a C-suite culture where everyone is responsible, yet no one is accountable – and onus unduly falls onto someone, usually the CMO.
According to Goh Shu Fen, principal and co-founder at R3, with businesses grappling with disruption on all fronts, it is no surprise that CEOs are expecting CMOs to be more accountable and business focused.
There is a legacy in CMOs not being able to prove whether their marketing works, more so than their counterparts in IT or finance.
But Goh is of the view that CEOs having higher expectations of CMOs can only be good news.
"It means that CEOs understand marketing needs to be more at the driver seat of the company's strategy," Goh added.
The evolution of the marketing role
Wendy Walker, former marketer at Manulife and Telstra who has had experience on both client and agency side, said:
I don't think this is the case any longer and the role and power held by CMOs have changed drastically over the past five to ten years. CMOs today are much more predictive.
She argued that data and analytics playing a larger part of the changing role of CMOS, have also made a CMO's seat at the table a more strategic one. This allows for a more predictive and guiding influence for overall business strategy and opportunities for growth, and far greater input into product conception and development.
But sometimes, she added, the situation does come down to simply relationships with the CEOs and also the type of industry the organisation is in.
Kiriat Argenio, head of marketing at Zalora, added that today CMOs lead the most exposed area of the business when it comes to growth. Today the growth of a company is surely a consequence of the job of all the departments a business it's made of, but usually marketing is the area that translates everyone' effort in actual performances.
Argenio added that whether with a direct responsibility or an indirect one, the current marketing departments are also the ones whose actions usually have a faster impact.
So how can CMOs change this perception?
The Accenture report also said that CMOs can take a greater role by actively driving the disruptive growth agenda and generating new value for the business. Such initiatives include developing ecosystems with non-traditional players, launching platforms that elevate current products into expanded service models for customers, and increasing revenue through next generation connected data monetization – all of which CMOs are well positioned to do."
To hold their ground in the c-level office, R3's Goh is of the view that CMOs now need to challenge the silos in an organisation and also rethink their marketing models.
"CMOs need to behave like an octopus, with marketing tentacles sensing every aspect of the company's business. They're tasked to deliver creativity with more speed and agility than before, on an innovation canvas not just in communications, but product, customer experience and business model," Goh added.
Zalora's Argenio is of the view that CMOs too should naturally have a risk appetite that is higher than average, and that would be the key to success for the CMO role.
"CMOs need to risk more and ensure to have the support of other C-levels. That would be the best chance the CMOs gets, which is not a lot but is also what makes the job so exciting," Argenio said.
The Accenture Strategy report, 'The C-level Disruptive Growth Opportunity', is based on the company's annual CMO Insights report, which gauges the attitudes of 535 CEOs and 847 CMOs from organisations around the world, on the opportunities and challenges impacting business growth today.