While we know social media is one of the most important mediums of communication today, a recent study by Forrester states that half of the marketers in APAC surveyed say that their 2016 social media budget will be the same as 2015.
Only a quarter of those interviewed will increase their spends by less than 10%.
"This cautious investment appetite in social marketing reflects the growing maturity of markets such as Singapore and Australia, where user growth and usage has stabilised, whereas marketers in developing markets continue to invest to increase their reach," said Clement Teo, senior analyst at Forrester.
For instance, India's social media advertising spending will grow from 2015 to 2020 at a CAGR that is double Australia's.
On a scale of 1 (very dissatisfied) to 5 (very satisfied), respondents' satisfaction with the tactics they deploy on social networks received an average score of 3.43. This suggests that while they believe they're using the right platforms, they feel that tactics such as maintaining a branded profile on social sites like Facebook or LinkedIn are not up to scratch.
East vs West: What's your social media preference?
Marketers in Australia, India, Indonesia, and Singapore are adopting mainstream Western social platforms like Facebook and Twitter more than prominent Asian social platforms such as WeChat and line, said the Forrester study.
Here's a list of the platforms that marketers currently use:
Facebook -100%
Twitter -81 %
LinkedIn -78%
Youtube -66%
Instagram -59%
Google Plus -25%
WeChat- 19%
Tenacent Weibo -13%
Line -13%
Snapchat -9%
Pinterest -6%
Tumblr -6%
However while marketers might expect the most popular social tactics to be the ones they are most satisfied with, survey results show that some less popular tactics rank higher in satisfaction than the highly popular ones. Conversely, some less popular social platforms fared better in satisfaction than their more popular counterparts.
The study suggests that this is because marketers who flock to the most popular sites with the widest reach find that they are also beholden to the site owners' whims and have little choice but to play by their rules. For example, Facebook's recent changes to what users see in their news feed affected social marketing tactics such as advertising, which had an impact on marketers looking to improve their reach.
Forrester categorises the social tactics and platforms that marketers use in Asia Pacific into four groups.
›› Essential: high adoption and satisfaction. Social tactics and platforms such as using social sites like Facebook and LinkedIn and sponsoring or advertising on those platforms are marketers' ideal choices.
›› Undervalued: low adoption but high satisfaction. Although social tactics and platforms such as WeChat, Pinterest, and Tumblr create significant business value for marketers, not many use them.
›› Overvalued: high adoption but low satisfaction. While social tactics and platforms such as Twitter are widely used, they fall short of marketers' expectations.
›› Optional: low adoption and satisfaction. Very few marketers use social tactics and platforms such as Snapchat and Line. Marketers are either just starting to experiment with these tactics or have already become disillusioned with them.
Here's where each of the social media platforms fall under: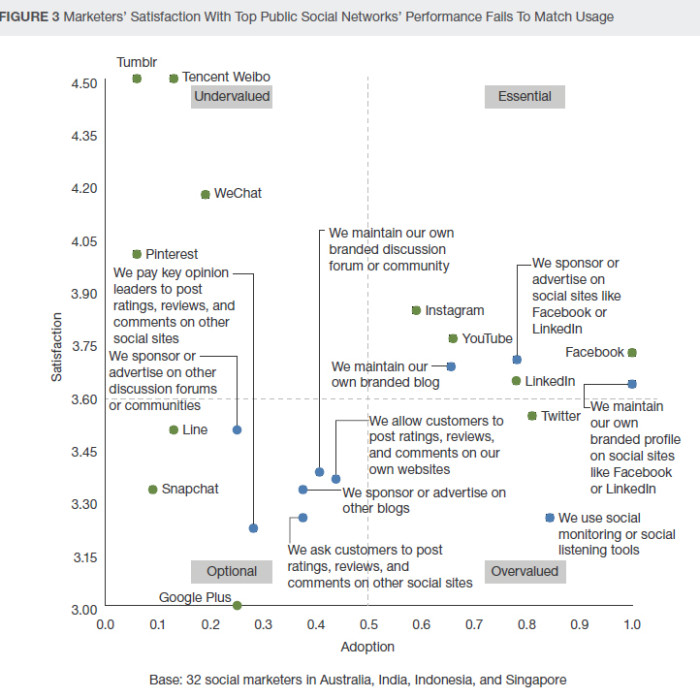 Social handicaps
While social marketing is maturing in Asia Pacific, marketers still face challenges in these areas:
›› Achieving a positive ROI
More than half of marketers indicated that achieving a positive social marketing ROI was their biggest challenge. While some social tools, such as viral videos, can be effective at increasing awareness, they are typically more expensive than other social media tools. They're also more difficult to scale than traditional media buying campaigns.
And unlike ad buys, these tools come with no audience guarantees, making it difficult to set expectations and ultimately deliver ROI.
›› Measuring campaign performance
Nearly 53% of marketers found measuring campaign performance a challenge. While 62% track click-throughs and 52% monitor site traffic, only 38% track the number of leads and 14% track sales numbers as metrics. This means that marketers are not aligning campaign performance to the right set of social metrics.
›› Determining the best social strategies and tactics
Nearly half of the marketers we surveyed struggle to find the best social strategies and tactics for social marketing. Why? Because social media development and consumer behaviors are changing quickly in AP and marketers struggle to constantly learn new ideas, tools, and innovations to keep up with their customers on social media.
›› Integrating social channel strategy with other marketing channels
One-third use social marketing as a discrete channel, meaning that firms' different campaigns don't integrate well across marketing channels. Marketers need to find ways for social media to support their marketing program rather than vice versa, as it affects how firms win, serve, and retain customers throughout the customer journey.
Forrester's Q4 2015 Asia Pacific social marketing online survey was fielded in November and
December 2015 to social marketers in Australia, India, Indonesia, and Singapore.