Facebook-owned messaging giant WhatsApp will begin to share data including users' phone number with its parent company, as part of plans to allow businesses to send messages to users.
It will be the first time the messaging service has connected users' accounts to the social network to share data.
Starting from today, the billion-plus users will be notified of the change to its privacy policy, and have 30 days to decide whether to opt out of their information being used for ad targeting on Facebook.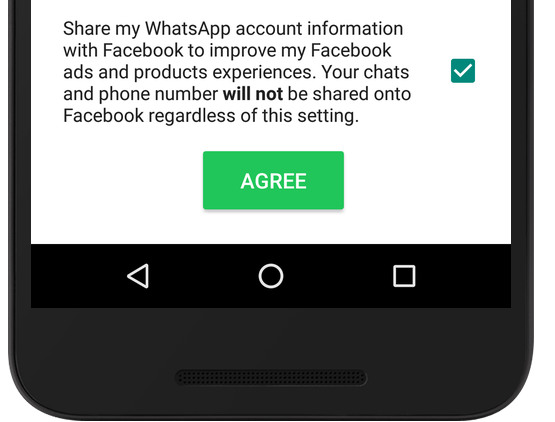 Once users approve the new T&Cs, their phone numbers and analytics data (not including Whatsapp messages, the mobile messaging giant said) will be shared with Facebook to "help tackle spam and abuse", as well as offer people "better friend suggestions and more relevant ads" on Facebook, but not on the messaging service itself.
"We still do not allow third-party banner ads on WhatsApp," said in its latest blogpost. "We have no intention to introduce them, but if we ever do, we will update this policy."
As many people had been expecting when Facebook acquired WhatsApp in 2014, Facebook would eventually utilise the information that WhatsApp provides about its users, so it was more of "when" instead of "if".
"One of WhatsApp's main selling points is the privacy for its users, and this move will frustrate many of its current users who may move on to seek other more secured messaging apps, " said Vincent Leung, regional digital communications manager at BNP Paribas.
This move seems to solely benefit Facebook with no added value to WhatsApp since it's not a platform for companies to advertise on, unlike WeChat.
Leung added, in the end, the company has to remember WhatsApp is a communication platform and not an advertising channel, so it's best to focus on improving user experience instead of how to advertise to them.
However, the updated privacy policy will pave the way for businesses to send messages to WhatsApp users. WhatsApp's spokeperson said:
We want to explore ways for you to communicate with businesses that matter to you too, while still giving you an experience without third-party banner ads and spam.
Not all users were glad about the move. Here are some reactions to the news:
https://twitter.com/prxtsh/status/768887455520923649
https://twitter.com/GregScoblete/status/768894471538937857
Here are some updates at a glance:
WhatsApp can now share data including your phone number with Facebook, letting Facebook better target adverts and improve friend suggestions
Facebook and WhatsApp will be able to link accounts using technology that tells them when a phone has installed both, its device type and software information
WhatsApp says messages will continue to be encrypted, and there will be no third-party banner ads on WhatsApp so far
The privacy policy also allows business accounts for the first time. WhatsApp plans to make the app a home for customer service, allowing companies to contact users
Users have a limited time of 30 days to decide whether they opt out of sharing data with Facebook