Will WhatsApp step into the world of advertising now that it has been snapped up by social media giant Facebook for a US$19 billion deal?
An article released by Forbes yesterday suggested that WhatsApp might just be exploring ways to let brands reach out to its 450 million users, 70% of whom use the messaging service every single day.
The article said WhatsApp could potentially charge the airlines industry amongst other companies to reach out to its huge WhatsApp user base.
WhatsApp has traditionally stuck to its guns, even recently announcing on its blog that it doesn't believe in ads.
Responding to the matter, a spokesperson from Facebook told Marketing: "We had shared on the investor call that WhatsApp will operate independently, and that we will continue our approach of permitting founders to continue to lead their companies post-acquisition and to set their direction, as we did with Instagram."
"We don't expect them to have a detailed plan for monetisation yet, and we're not in a hurry," she added.
However, it is not uncommon to see tech companies who were strongly opposed to advertising initially, slowly give way to a myriad of possibilities brands can engage with customers. Google, Facebook, Tumblr, Twitter all have taken this route at some point.
Last October, approximately a year and half after Facebook bought over Instagram, users based in the United States were introduced to the first ads rolling out. The first brand to run an Instagram ad was Michael Kors, which rolled out a promo for a high-end watch.
Even if WhatsApp indeed stays ad free, a reason Facebook spewed out the hefty amount for the acquisition is the immense amount of data the platform possesses.
Digital experts such as Ryan Lim, business director, local agency Blugrapes warns that end users should be more wary since Facebook now have access to their mobile contacts and their network of friends on mobile which previously eluded Facebook.
"Having so much consumer data in the hands of a commercial entity can be worrying without proper regulation to protect the interests of the end users," said Lim.
Social messaging competition heats up in Asia.
Meanwhile, competition on the social messaging platform is also heating up with platforms such as Line, Kakao and WeChat looking at creative means to monetise their products.
Earlier WeChat emerged as one of the fastest growing social application with a record 379% increase of users during Q2 to Q4 2013, as shown by the latest social report from GlobalWebIndex (GWI).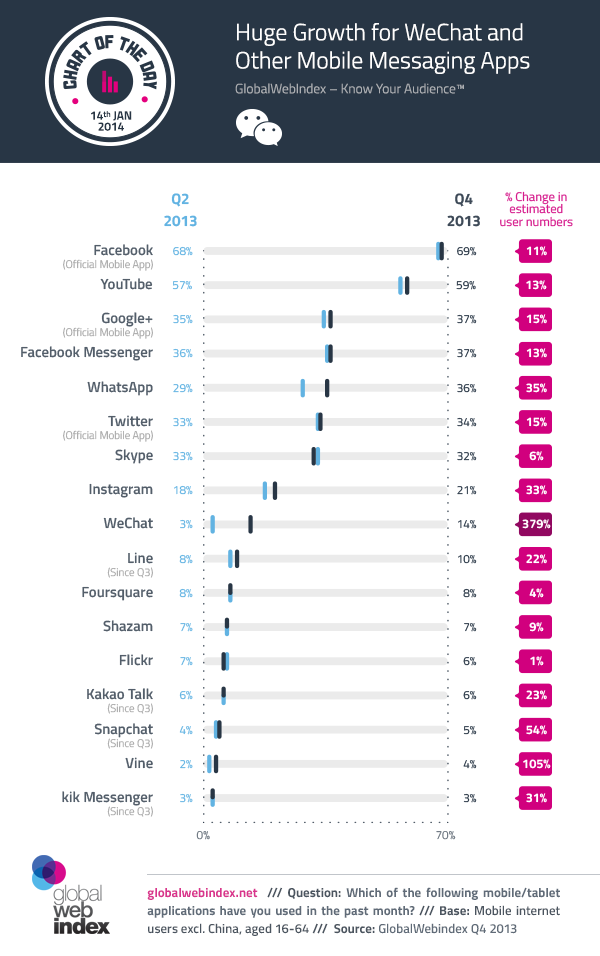 In Asia alone, WeChat was a popular choice amongst many users during that period. It was the second most downloaded app in the App Store in the Indian market; and the most downloaded app in the messaging category. WeChat was also one of the top three most searched items in the Philippines last year and the only app in the top 10 searched items in Malaysia as per Google Trend 2013.
While Louis Song, Singapore country manager of WeChat in a press conference told Marketing, the platform has no plans to have advertisers on board, it has begun working with brands such as British Airways in Beijing in innovative ways to lure Chinese social media users. The campaign targeted BA's 350,000-plus existing Sina Weibo followers and users on its newly launched WeChat account.
Luxury brand Burberry also recently extended its partnership with WeChat to enhance its social and mobile presence in China. The expanded digital deal allows Burberry followers on WeChat to watch its London Fashion Week show and hear WeChat-only audio content about the inspiration and details of key runway events.
Will WhatsApp follow suit in the near future? Share your views with us below.