Job prospects in Malaysia are likely to be positive in 2018, especially in the sales and marketing fields.
According to Robert Walters 2018 Salary Survey Guide, the business environment is expected to thrive next year, as companies that established operations in Malaysia this year continue to grow. This trend will extend across financial organisations, as well as IT and supply chain industries. Companies will continue to attract overseas Malaysian talent as their international experience is highly valued.
The guide stated that professionals working in business-to-consumer functions will remain in demand, with marketing and brand managers, as well as product and category managers continue to be sought after. This is especially so in the fast-moving consumer goods (FMCG) industry where companies are less inclined to hire professionals from other industries. Sales and revenue generating roles will also remain in demand across all industries.
FMCG companies will continue to search for experienced brand and key account managers, while candidates in merchandising or purchasing will be in demand. This is because their skills are vital in facilitating business expansion.
Robert Walters expects salary increment for sales and marketing roles in FMCG and the industrial sectors to remain between 15 to 20% in 2018, if you are indeed changing jobs.
In 2017, hiring in the FMCG and professional services industries was conservative and will remain the same in 2018. This is due to budget constraints and challenges to find the right fit. Talk of mergers and acquisitions in the FMCG industry caused uncertainty among employees, helping create an employers' market.
The study also predicts that individuals for niche positions or specific skill sets in the digital and professional services industries will continue to command salary hikes of between 25% to 30% next year. This year saw a strong demand for sales and marketing professionals in the e-commerce, retail and industrial sectors. Individuals with experience in digital marketing and merchandising were highly sought in 2017 due to the increase in online spending for personal care, fashion, beauty and fresh food products.
While streamlining within companies led to job scope changes and an initial hold on hiring in 2017, Robert Walters noted that new positions are expected to be available in 2018. Due to increase in expectations of finding candidates with the right technical and cultural fit, hiring processes may remain slow next year.
New e-commerce companies in Malaysia will drive demand for skilled candidates from a limited talent pool.
Industrial sector companies will be seeking sales specialists with strong business development skills and advanced technical product knowledge. Product managers will also be in demand as companies continue to launch new products. However, hiring managers may struggle to fill management positions that require both strong leadership skills and solid commercial knowledge, the report stated.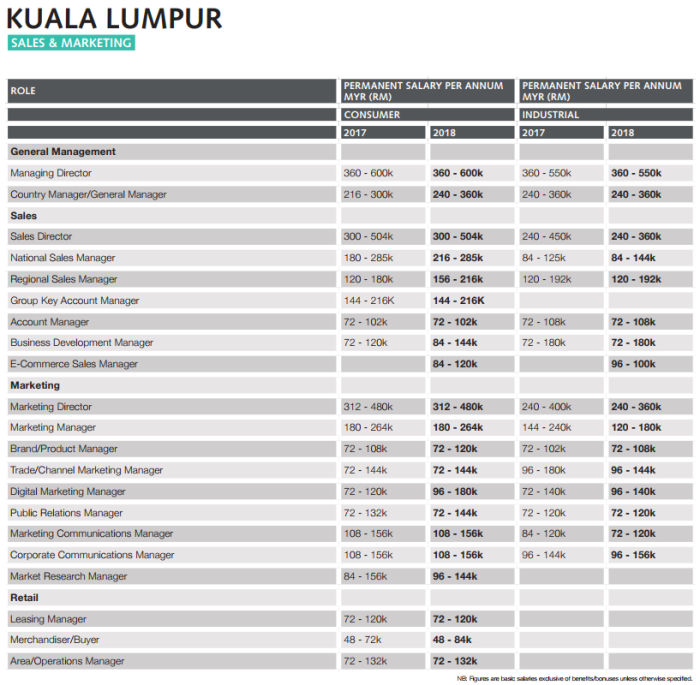 In Penang, hiring for commercial roles remained stable in 2018, with most activity focusing on replacement positions and executive-level roles.
This trend reflected the fact that Penang typically functions as a branch office location for companies headquartered in Kuala Lumpur. Robert Walters expects the hiring trend to continue through next year, with activity predicted to pick up in 1Q after the distribution of year-end bonuses.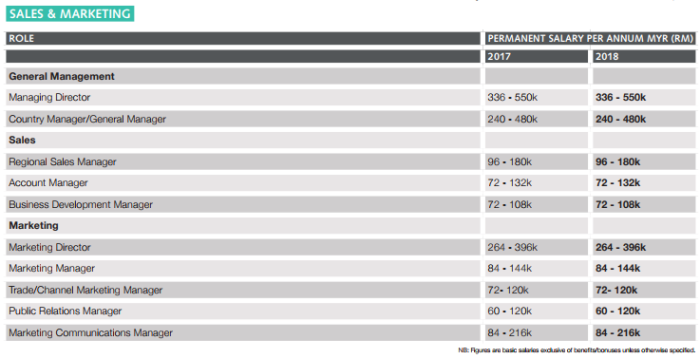 Self-starters with a strong commercial experience will continue to be in demand as employees in Penang usually report to managers based in the central region. Companies are also on the lookout for customer service professionals who are proficient in specific languages. However, these individuals will be hard to find due to a limited talent pool. Professionals in Penang who switched jobs in 2017 received raises of between 15% to 20%, and the trend is expected to continue next year.
What's the next move for companies?
According to Robert Walters, companies will make every effort to keep their best people due to strong counteroffers in the industry. As part of an attraction and retention strategy, employers should ensure top talent are paid a premium. Organisations also need to ensure recruitment processes are managed more efficiently and make strategic but quick decisions when hiring.
Additionally, companies should clearly communicate career progression plans and opportunities to key talent from the beginning. Having structured training and development plans will keep staff engaged and on track to achieve their personal goals.
Employees are increasingly looking for greater engagement with their organisations, and hiring managers will need to facilitate a higher level of workforce engagement to retain talent. Organisations that have the capacity to move employees across specialisations should consider doing so to keep their top people engaged and develop new skills. For example, they can move staff from sales and marketing to business development, or from finance to a compensation and benefits role.
Transparency and clear communication on potential career progression will also have a significant impact on employees' decisions to stay or leave, offering opportunities to move vertically or laterally.
Find out what professionals in other industries are making: