Customers who seek value no longer want a cluttered wallet with vouchers and reward cards. Digital has changed consumer behaviour patterns across as facets of marketing and loyalty is no different. It is now critical for brands to adopt the digital front and set up loyalty rewards programmes in line with today's ferocious tech-savvy consumers.
Collinson Latitude conducted an online quantitative survey working with market research provider, Vanson Bourne, to understand how technology has re-shaped the way modern consumers engage and communicate with loyalty programmes.
The survey was made up of 2,500 respondents, spread across the globe, who were members of at least one airline, hotel or retail banking/credit card loyalty programmes. The study named "Loyalty commerce in a digital age", highlights the current opinions and adoption rates of digital technology among loyalty programme members worldwide.
The report highlighted the fact that over 85% of members preferred interacted with their favourite loyalty programme online. Moreover, over three quarters (79%) believed that technology has made their lives easier, with 71% of the members favouring brands that are early adopters of new technology.
What do customers want?
About 63% of the respondents stated that having a wide range of rewards and offers, including lounge access, insurance and priority boarding, is the most important aspect of a loyalty programme today. This was followed by the ability and facility to redeem points on goods while shopping in stores (55%), and being able to spend points on goods and services online (51%).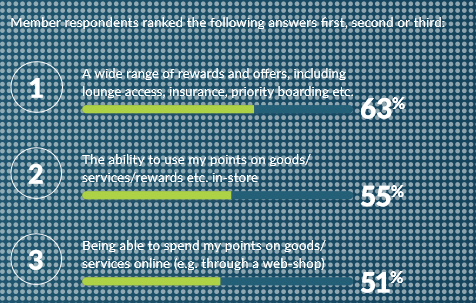 "The results tell us that members crave choice and are more connected world. A world where you can engage with your loyalty programme in multiple ways, be it online, or in-store, and with a range of rewards that really engages and entices your member in. Loyalty programmes no longer operate in silo, they're part of a wider ecosystem of touchpoints between member and brand," said James Berry, e-commerce director, Collinson Latitude.
While brands may have been quick to jump on the technology bandwagon in order to engage consumers, the report highlights that a vast majority of consumers are far more likely to wait it out before embracing new technology for themselves.It is to be noted that 22% of respondents said they adopt new technology as soon as they can. According to the survey, consumers in the UK less likely to adopt new technology than respondents from other areas of the globe. On the other hand, respondents from the UAE are the most likely to adopt new technology as soon as they can.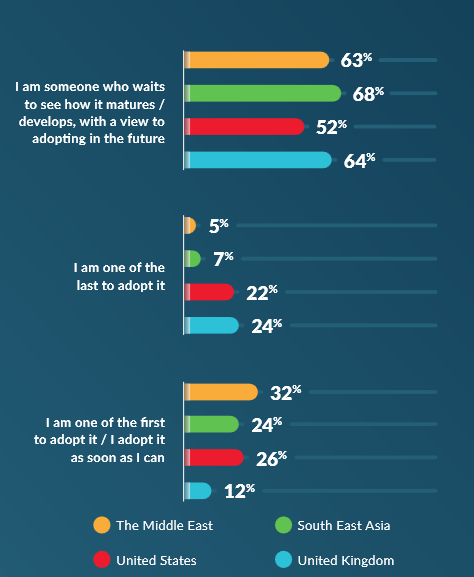 Social media's impact on loyalty programme 
Worldwide, there are 2.34 billion social media users, which equates to a global penetration of 31%, according to Statista. With billions of consumers available on social media, brands are most likely to leverage off this.
The report indicated high levels of social media engagement in the United Arab Emirates, where 79% of respondents follow an airline loyalty programme on social media and 76% follow a hotel or retail banking and credit card loyalty programme. Whereas Millennials represent the most connected generation globally, with nearly six in ten (59%) indicating that they have purchased something they saw advertised on social media.
"One of the reasons behind social media's popularity is its ability to create and connect communities from all around the world in the one place," said Joann Redmon, client solutions manager, Collinson Group. Redmon added:
A loyalty programme is like a community in itself, so brands have the opportunity to create a space where its members can come together to interact.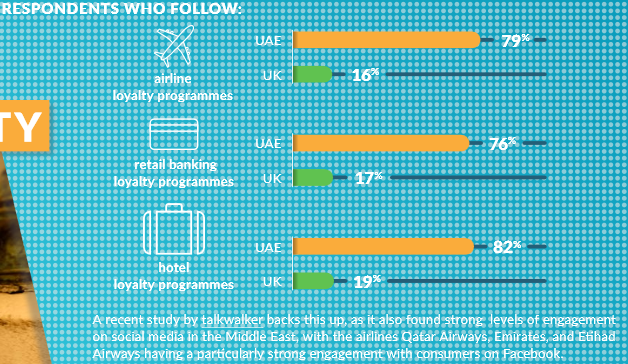 While, technology and social media continues to develop, it's important to note that the demands of the average loyalty programme member will continue to change too. Nowadays, modern-day loyalty members are demanding a wider variety of rewards from their loyalty programmes, as well as a higher level of personalisation.
The report stated that consumers are most likely to get enticed on the ability to earn points on everyday spending. Almost half (46%) of respondents said they like this feature about their airline loyalty programme, with a similar amount saying the same about their hotel (47%) and retail banking (52%) programmes.
"By allowing members to earn points on their everyday spending, you are providing them with an incentive to use your programme – and this is something that is really resonating with consumers," said Berry.
However, this is not enough. Consumers need to be engaged through the loyalty programme to ensure future purchase. For instance, majority (64%) of respondents stated that after they redeemed points or miles on non-core inventory rewards, they then went on to buy core inventory products or services with the same brand.
"Core inventory is always going to be valuable for your members because that's why they signed up to your programme in the first place. But, by offering a wide range of different rewards and benefits, you are giving everyone a choice, appealing to your member's personal tastes and preferences," said Christopher Evans, director, Collinson Group.
The road forward
Digital technology, clubbed with social media, has given brands more freedom and opportunity to maximise the scope of customer engagement. However, while formulating their loyalty and brand engagement programme, brands must innovate and listen, connect with the always-connected consumer, and respond to the call for greater choice.
"In order to succeed, programme managers need to utilise data to listen and adapt their offering in order to continue connecting with their members. By offering a wide range of relevant and attainable rewards and earning promotions, multiple engagement points and improving their presence on digital channels such as social media, loyalty programmes can form a long-lasting relationship with members which drives greater engagement and value for their programme," explained Berry.