Organisers of the Zombie-themed marathon, Run For Your Lives Hong Kong, Action X, faces more backlash on Facebook after hiding negative post-event comments from participants.
Action X posted an apology on 3 October addressing some of the issues concerning participants, such as the behaviour of zombies and runners, a lack of large shelters, long queues and a shortage of volunteers to staff the event.
A similar event will be held in Singapore on 25 October.
According to Action X, in Run For Your Lives Hong Kong 2014, there were 17 injured people who suffered from mostly non-serious wounds such as cuts and scrapes to their limbs.
A wealth of comments were posted in response to the 3 October apology on Facebook and also a subsequent post announcing the winner of the Microsoft tablet Facebook contest.
Many of these comments were hidden or deleted, with some users returning to leave even more comments asking why their previous comments were no longer visible.
For example, posting on the 3 October apology, Facebook user Jack Chung asks why he couldn't see his previous comments. User Genki Hung replies: "Because they have all been hidden – any comments that don't sound good to the organisers have been hidden or deleted."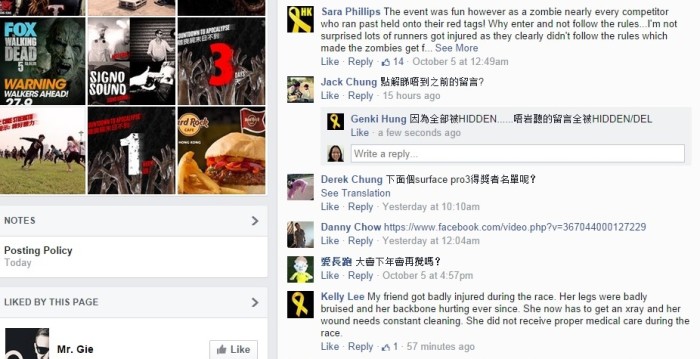 Ted Ho, 28, an event participant who works in the finance industry, is very unhappy about the deletion of comments.
"It doesn't help that they are deleting any type of negative criticism posted on their Facebook page," Ho said.
"But when they do respond, it is simply a generic, copy and pasted effort in an attempt to mute us all. The impression we are getting is they simply want to brush this disaster under the carpet and swiftly move along to the next city to sponge off."
He sees the subsequent post announcing the winner of the Microsoft tablet contest as a distraction from the event's shortcomings.
Arthur Lin, CEO at Action X, says the company has a policy of filtering out inappropriate comments on the Facebook page.
Lin said: "We have a posting policy which prohibits the posting of posts that are inappropriate, offensive or hateful, but we have privately replied to all comments and consolidated their feedback for review.
"We have also been addressing each comment and private message individually, making sure all feedback is dealt with in a timely manner. In this regard, we feel our response on our Facebook page is more than sufficient."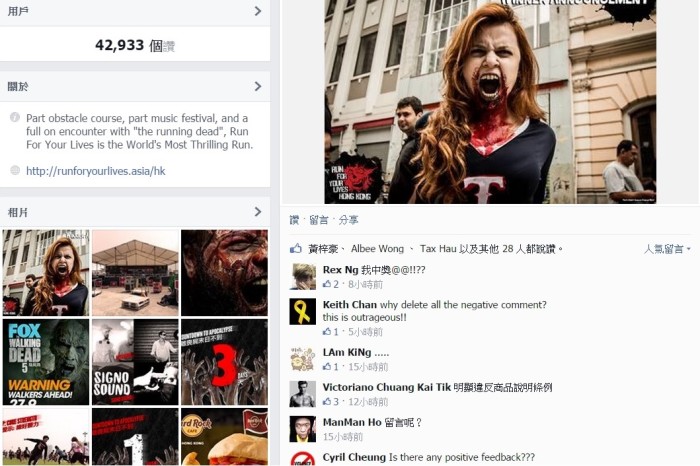 Clara Shek, managing director of Ogilvy Public Relations Hong Kong, says the overall issues faced by the organisers were timing and sensitivity to sentiments in the local market and contingency planning, all crucial to a successful event.
"They should not delete any negative comments because Facebook is an open platform," Shek said.
"They could potentially respond to the negative comments with an authentic message mentioning that this is their first time organising such an event in Hong Kong, that they have run into obstacles or limitations. They should mention they value participant feedback and will incorporate the feedback and negotiate with relevant parties to create a better experience for participants in the future."
Responding publicly to negative comments is also essential for Robin Ashley-Smith, account manager at CRED Communications. She points out it's important to respond with a friendly, patient and understanding message that also lets everyone know you will contact the person who posted the comment privately.
"Never hide comments because it shows a lack of transparency," Ashley-Smith said.
Defining what comments count as inappropriate, offensive and hateful presents another challenge. Ashley-Smith believes only comments that target individuals should be removed.
"Unless comments are inflammatory or bullying towards an individual such as name-calling, I would never tell a client to delete comments. After the issue is resolved, you can consider asking the user privately to remove the message."
As for the organisers' decision to post an announcement about the winner of the Microsoft tablet social media contest because of contractual obligations with the sponsor, inadvertently creating another space for more negative comments to be posted, Ashley-Smith says in these types of situations, the matter should be discussed with the client.
"The users posted more comments on the winner announcement post because they didn't feel heard. If their complaints were addressed in a sincere and consolatory way, they probably would not have continued to leave comments," she said.
"In this kind of situation, it would have been best to ask the sponsor how they would like to move forward. Even if there was a contractual obligation in the beginning, there is a level of common sense that asks, 'Should we move forward with this considering the climate has changed?'"
Meanwhile, Shek says it's hard to stop people from venting their frustrations.
"The organisers needed to acknowledge and show understanding of the participants' frustration and precede the announcement of the contest winner with a message acknowledging the concerns of the participants," she said.
The next step forward, says Ashley-Smith, is for the organisers to post a public apology.
"At this point, there is a lot of damage control and face-saving that needs to be done, and they also need to make things right again to the satisfaction of the customers such as giving the participants special offers for the next event," she said.
Asked what he would do differently if he ran the event again, Lin said he would work on communication.
"It would be working more closely with good quality local partners that are well-versed in the local language and culture to ensure that event operations and management are better catered to the Hong Kong audience," he said.
A shortage of volunteers because of Occupy Central
Action X went ahead with the event on 2 October, despite requests from many of its Facebook fans before the event for postponement.
In its 3 October apology, Action X said that a key issue was that more than 250 volunteers did not show up to staff the event, which stretched its manpower very thin. Some participants had to wait up to two hours to complete registration and baggage check-ins, and another hour for reclaiming their baggage.
In the afternoon, the people queued up in the blazing sunlight and scorching heat with no shelters in the middle of the grounds, according to Ho. Shelters, required by the venue owner to be drilled in or held in place by sandbags, were only provided for the food and beverage areas and the stage.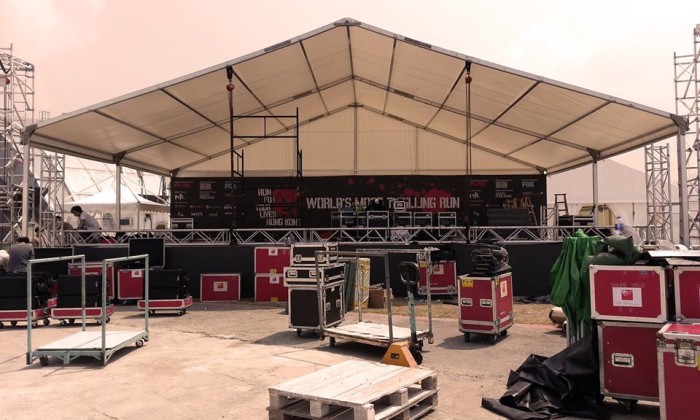 "We did not have shelters situated in the middle of the carnival grounds due to space constraints and to keep stage entertainment visible," Lin told Marketing.
"As for volunteers, we had a volunteer fallout rate of 55%, even though their attendance was confirmed one week prior to the event. As for participants we had a more than 97% attendance rate."
For previous events, Action X generally experienced less than 10% fallout rates and has an operational buffer of up to a 30% fallout rate.
"We suspect the large fallout rate is most likely due to the widespread protest going on in Hong Kong with its peak turnout on 1 and 2 October."
Ho believes the event organisers should have predicted there would be an enormous number of no-shows for volunteers, many of whom were students because of the Occupy Central protests.
He said: "There is completely no excuse for the lack of volunteers. According to them, it took them 10 months to organise the event. Credits to the volunteers who actually turned up, but who are you blame if they didn't? They are not bound by any contract and they were not paid.
"The bulk of volunteers were students, the very students who were busy helping out at the Occupy Central protests. Surely, the organisers would have used their common sense to understand the imminent risks this posed to the event and to understand the consequences for no-shows."
Zombie-runner clashes resulted in injuries
In the apology, the organisers also apologised for the behaviour of zombies and runners.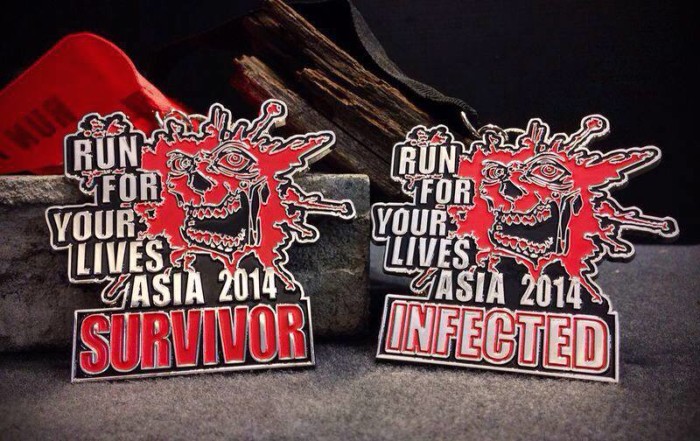 Runners were asked to run on an already available path paved with gravel, and zombies, who were also participants, were given the task of snatching a red tag from each of the participants.
Ho said the lack of sufficient space, combined with the lack of rules and briefings about how aggressive the zombies and participants should be, saw many participants fall and scrape or bruise their arms, legs or knees.
"If the run was organised as advertised, there would be a lot more space for the zombies and survivors to run," Ho said.
"Instead, the organisers chose to cut corners by making the people run on a hard paved path with zombies located at specific checkpoints. Runners were tripping over each other and smashing hard against the zombies to try and get through."
Megan Hills, 21, said the run was a fun experience for her but noted there was aggression from both the runners and the zombies.
"I think for the next run, the organisers should have a professional team of staff acting as zombies," she said.
"A couple of my friends got pushed to the ground and scraped their legs, but they were just scrapes and there were first aid stations along the track."
Lin believes the zombie-runner behaviour on the day of event was because of miscommunication.
"We have never had such an experience at previous events and we believe it could be part of a communication problem. We believe we can do better if the rules were communicated in both English and Cantonese instead of just mainly English," he said.
"Despite multiple warnings and briefings on the rules of the game on our website, EDMs, notices on-site and briefings before the start of each runners wave and zombie shifts, the participants were overly zealous and competitive to survive while the zombies were all out to take the runners' flags even though this running event is totally non-competitive and friendly in nature."
He adds that in all Run For Your Live events, runners are exposed to different terrain. Its Singapore event in January also took place mostly on concrete and paved paths.