Each year, the fields of SEO and SEM grow more similar. Paid and unpaid listings now look more alike than ever. The "quality" requirements for both SEO and SEM content have become closer. Both fields now require skill sets in technology and content to succeed. So, while SEO and SEM comes closer together, truly integrated campaigns are now held back by marketers. Marketers have been fed too many myths, and I'm reminded frequently of this need to "unlearn" when training brand and agency marketers in the Google classroom training programme.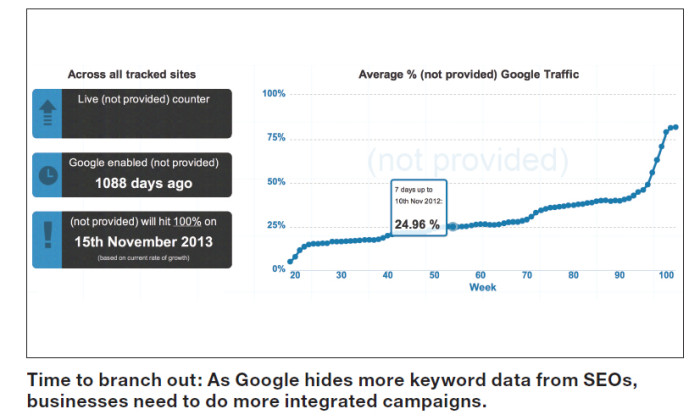 SEARCH MARKETING MYTHS
Here are the most common myths about SEO and SEM that refuse to die:
• SEO is free, SEM costs money: Getting ranked requires significant human cost. Both cost money and should be held up to a ROI metric.
• SEM = Google + Yahoo + Bing: As Google has such a dominant market share, for 90% of businesses, SEO = Google.
• Offline success helps get you to No.1: Many larger brands feel "entitled" to search ranks due to their offline presence. But only search marketing efforts can lead to search marketing results.
• AdWords help SEO ranks: One of Google's fundamental tenets is they don't let any paid programmes influence natural rankings.
• SEO takes a long time, SEM works right away: SEM accounts often need months to become profitable. But content-based SEO can often show results in days. Long-term optimisation is what makes both channels profitable.
• SEM traffic isn't as high-quality as SEO traffic: In many industries such as travel, hospitality and retail, SEM traffic tends to convert better than SEO traffic. While in other industries with longer purchase cycles, the reverse can be true. An integrated approach is necessary for discovering the right formula for each business. To clarify your 2014 search plans, let's dive into the strategy each of these channels will require.
THE SEO PROCESS, AND THE BIGGEST SEO MISTAKES
SEO stands for "search engine optimisation" and is the marketing activity that helps attract unpaid traffic from Google. This includes getting your website ranked high for popular terms – and driving traffic to your Google Maps listing, YouTube videos, images and news articles. There are three kinds of operational activities required to do SEO today: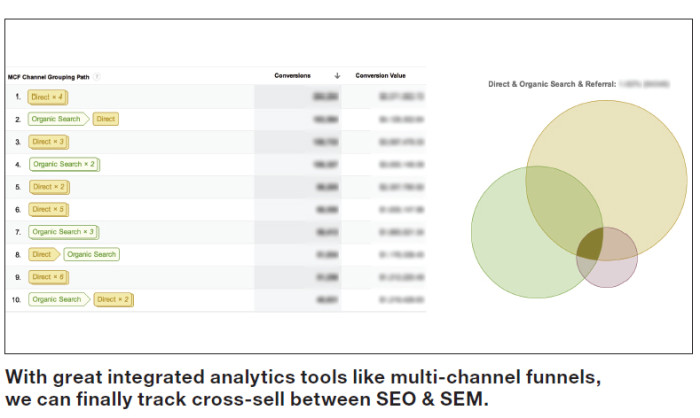 1. Technical optimisation: Typically a one-time activity, this portion requires your web developers to make the site Google-friendly and allow "indexing" by Google's robots. The common tasks in this include speed optimisation, meta tags, title copywriting, on-site optimisation and internal links.
2. Content optimisation: An ongoing responsibility, copywriters and content creators need to give Google and users a reason to come back to the site. This includes creating text content, articles, blogs, videos, infographics, social media posts and other content that users find interesting.
3. Online PR optimisation: Today, nobody beats a path to your better mousetrap unless other people are discussing, linking, citing, liking, tweeting and +1'ing your site. The corporate communications, social media and PR teams need to constantly work on getting more links.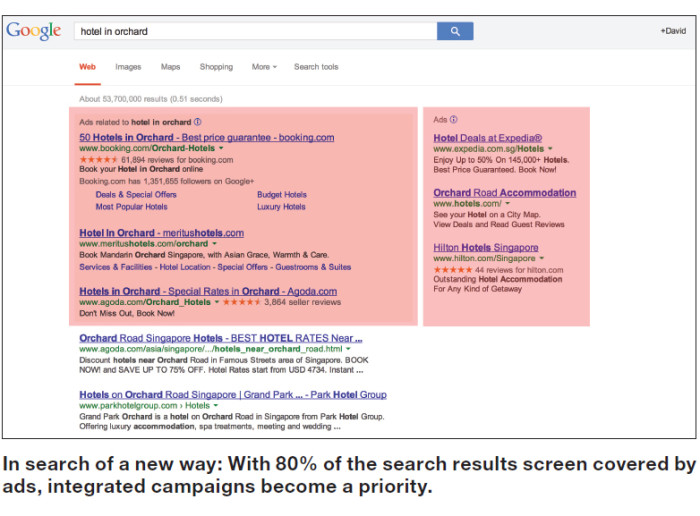 The biggest mistakes in SEO that businesses make is delegating the role to the web programmers and then taking their SEO traffic for granted. In my experience, when businesses start spreading the responsibility to the right teams, set the right SEO KPIs and plan a content strategy, they see a 4-5 times improvement in SEO traffic and results.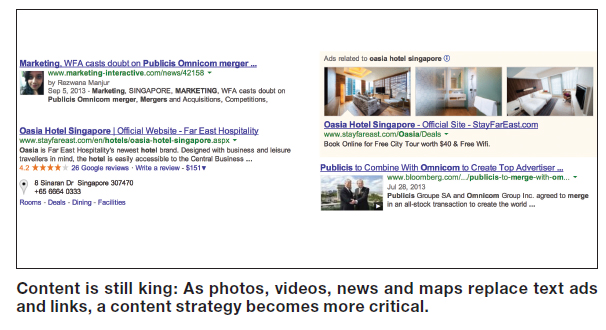 THE SEM PROCESS, AND THE BIGGEST SEM MISTAKES
SEM stands for "search engine marketing" and it refers to driving traffic from paid ads or "sponsored links" from search engines. The definition of SEM has also changed to include a dizzying array of attractive site-links, product ads, maps listings, click-to-call numbers and many other features on the search results page. In addition, Google AdWords extends its reach to content sites around the web, including the most popular sites in video, news, sports, maps, finance and more.
To get the most out of SEM today, here are the three strategic activities that need to happen:
1. Keyword and search campaigns: Keyword-based text ads are still the core of an effective SEM campaign. The work here involves account organisation, keyword research, ad copywriting, bid management, ad extensions, experiments and repeated optimisation.
2. Display network campaigns: The biggest opportunity today for most businesses is to extend their reach with targeted features such as remarketing, audience targeting, combination lists, real-time CPA bidding, rich display ads and video ads across Google's Display Network.
3. Analytics and conversion optimisation: The most successful campaigns optimise their landing pages for post-click performance. The work in this activity includes conversion tracking, tag management, landing page design and analytics consulting with a strategic view to improve postclick performance.
Also, watch what brands need to know about Google's new algorithm Hummingbird:
The biggest mistakes in SEM today include not factoring in the display network into the scope and skill set, and not optimising post click performance through analytics and conversion consulting.In my experience, businesses that start paying attention to these two factors, see a 2-3 times improvement in their SEM spends.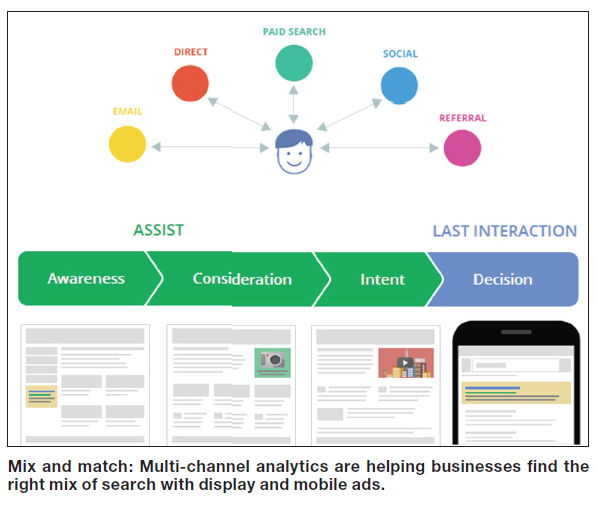 IN-HOUSE VS OUTSOURCED: WHAT WORKS BEST?
With such a daunting list of tasks, many businesses want to outsource the job of driving clicks. But in many cases, that can be a fatal mistake.
In both SEO and SEM, the content strategy is the key to driving success. And that content, driven internally, should be the starting point of a search campaign.
So, at the risk of reducing work for agencies like us, I'll go ahead and say that most small businesses should do search marketing in-house and invest in the training and development of their existing staff. On the other hand, larger businesses should almost always outsource. Large campaigns require too many different kinds of skills, and it's more cost-effective to have an agency handle this.
And in both cases, the SEO, SEM and analytics education should be the top priority in 2014. Organisations that make the decision to educate and adopt search in their DNA are well on their way to reaching their ambitious goals in 2014.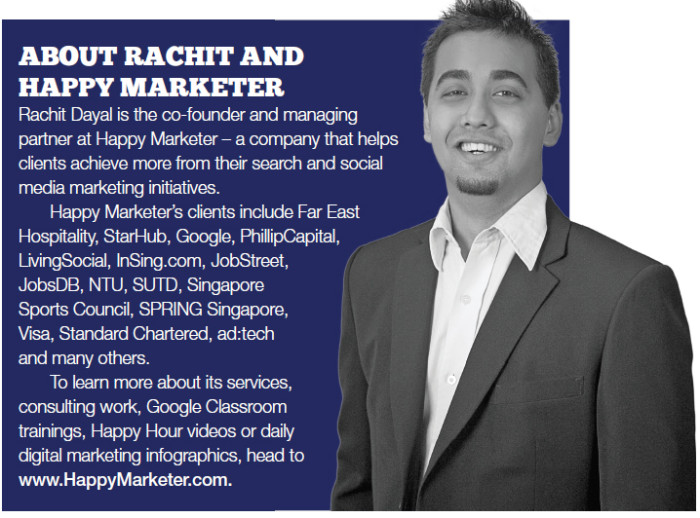 This article is part of a six-part series from Marketing Magazine's Search 2.0 Master Report.
Read part 3 : How to boost overall Search Performance
Download the full PDF of the report here.