With content's growing role in marketing, and marketing predominantly going digital, global technology company Cisco needed to re-look at the way it was leveraging content. What these changes necessitated was a move from talking campaigns to talking stories.
Sharing Cisco's journey of content marketing, in particular hiring and managing a team around content, with delegates at Content 360 was Rashish Pandey, director of marketing for Asia Pacific.
Pandey defines content marketing as storytelling at scale that drives a desired action. And what makes good content is what he calls SHARP – shareable, humorous, actionable, relevant and professional. See the chart below: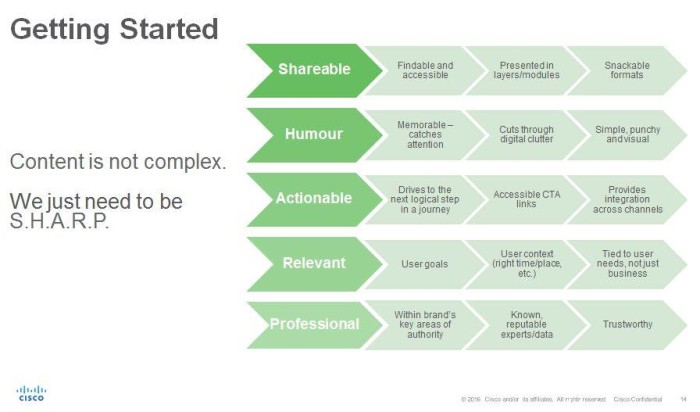 From creating one or two massive reports every year, Cisco is now creating a flurry of shareable and bite-sized content out of these reports throughout the year for continued engagement. But this switch, however simple it may look on the surface, has been a complete change-management journey, one that is still ongoing, according to Pandey.
Once the vision of content-led marketing was established, Cisco set out to piece the puzzle together step by step – with talent being one of the most important things. What was clear was it didn't want to outsource content marketing to an agency.
It continues to use agencies, but the entire process is controlled and run internally. What's the risk in outsourcing? While agencies are a great support to the brand, if the content muscle isn't built in-house and brands rely too much on agencies, the content will become undifferentiated at the end, Pandey explained.
Having in-house capabilities also allows brands control over the process which helps in the brand being agile, when it comes to content marketing. In Cisco's case some of its subject matter experts are capable of publishing content without the need for it to go through an agency.
With this in mind, it set out to create a new structure for its team. It created four new roles, each with a distinct job scope operating under a guideline of how to come together as one team. He said:
These are all the roles we thought that we needed to build an end-to-end content practice.
The roles are:
1. Customer experience manager – or the people champions. They are the custodians of customer insights.
2. Content managing editor – or those who have the power to say no to people within the organisation and still survive. They look at all the possible content pieces that could possibly run and choose the ones that would get the brand the most traction and engagement, much like an editor at any reputed publication.
3. Subject matter experts – those who understand the product are not necessarily engineers, but are capable of publishing content with authority and authenticity and in the tone that appeals to the audience.
4. Content marcom manager – quite literally the one that juggles a thousand balls without dropping one. They are the creative soul of all that gets published.
"All these roles are in the process of getting filled up within Cisco and its subsidiaries worldwide," Pandey said.
Managing this team across geographies requires being prescriptive to some extent, but with an awareness that content marketing isn't a linear process.
"We are prescriptive about who needs to attend the weekly meetings, for example, and what their role is, what is the expected outcome, how did the past performance work and so on.
"But the important thing to note is that these meetings ensure we are agile, adapting to the needs of the business and working towards the outcome accordingly."
In such a massive transformation, training and preparedness becomes critical – from taking the teams through the basics of storytelling, to a digital-first approach to content, to the nitty-gritty of real-time and relevant content. So is rewarding these efforts. Cisco has a number of internal recognitions in place for various stages of content marketing.
"The journey isn't an easy one – it is complicated and requires a cultural change. But daring to start is crucial," he said.