Coca-Cola received permission from US billionaire Warren Buffett to put his picture on its newly launched Cherry Coke cans in China.
"Chinese consumers love new flavors and crave excitement from brands like ours as we launch new products," said Shelly Lin, Coca-Cola China's marketing director for trademark Coca-Cola.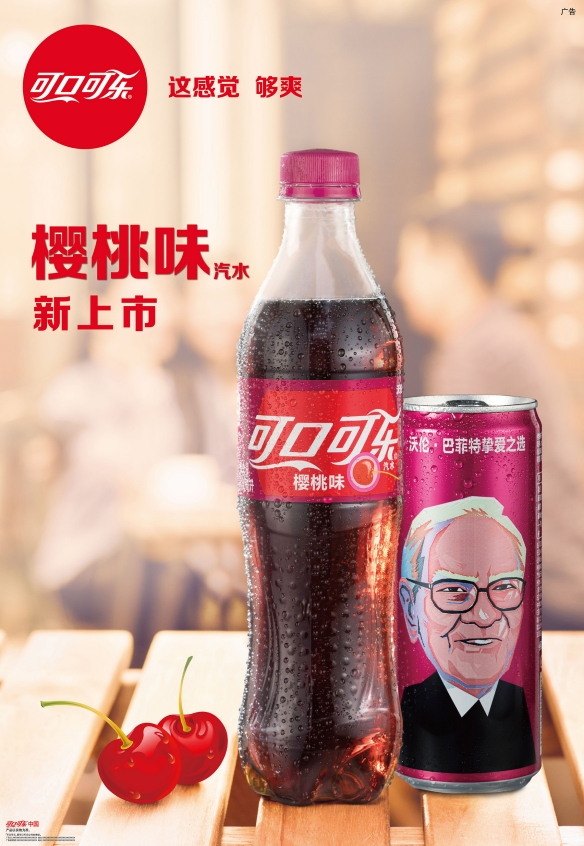 "As we thought of the most creative ways to bring the great taste of Cherry Coke to China, we thought who better to celebrate the launch of this special drink than its best-known fan.
"We honestly were surprised when Mr. Buffett agreed to the idea. But we're thrilled, and he's selling well," Lin continued.
Buffett is frequently pictured in public drinking Cherry Coke, and his investment firm Berkshire Hathaway is Coca-Cola's biggest shareholder, with nearly 10% of the shares.
Yahoo Finance reported on how this all came about. "Four or five months ago, [Coca-Cola Chairman and CEO] Muhtar [Kent] said they were going to introduce Cherry Coke into China and asked me about putting my picture on the cans and bottles," Buffett told Yahoo Finance.
"I said it would be fine to do it for the first six months after launching the product. If there are no problems associated with this and he asks me to continue, I will likely say OK. Incidentally, there is no compensation involved."
For the drawing, Buffett said, "I did not sit down for a portrait. I think Muhtar knew better than to ask for this; I've never been keen on that sort of activity.'"
Launched in mainland China on 10 March, Cherry Coke is available in both traditional and modern trade outlets in 330 ml cans and 500 ml PET bottles. Buffett will appear on the special-edition cans for a limited promotional period.