Digital has become a focus for all marketers, leveraging various platforms and employing new tactics to make their brand stand out and reach new categories of consumers.
There is no questioning the fact that digital is an essential channel for brand development and driving sales. But are brands using it effectively? And what really works when it comes to the online world?
This is all determined by the type of content created and how it is rolled out to consumers. Campaigns with a strong message will attract attention provided they bring something new to consumers, be it a new store opening or an exclusive sneak-peak at the latest hit gadget. In stark contrast, product pushes on a weekly basis or heavy discounting tend to lack impact.
To succeed, a brand must firstly define three key objectives (not 10!) and then concentrate their efforts on developing 'communication assets' that are both relevant and effective.
With a crowded and highly segmented online world, the next big question is "where do I broadcast my content?"
The choice of platforms is crucial. You can determine this based on the usual question - where is the majority of my target audience likely to be?  This will lead you to the obvious places; Instagram, Facebook, Weibo & Wechat.
However, it is sometimes more effective to look into the newer, more niche platforms which are gaining in popularity at rapid speed. Snapchat, Periscope or Meipai are interesting since they are less crowded with competitors and therefore provide brands with a louder voice in a smaller space.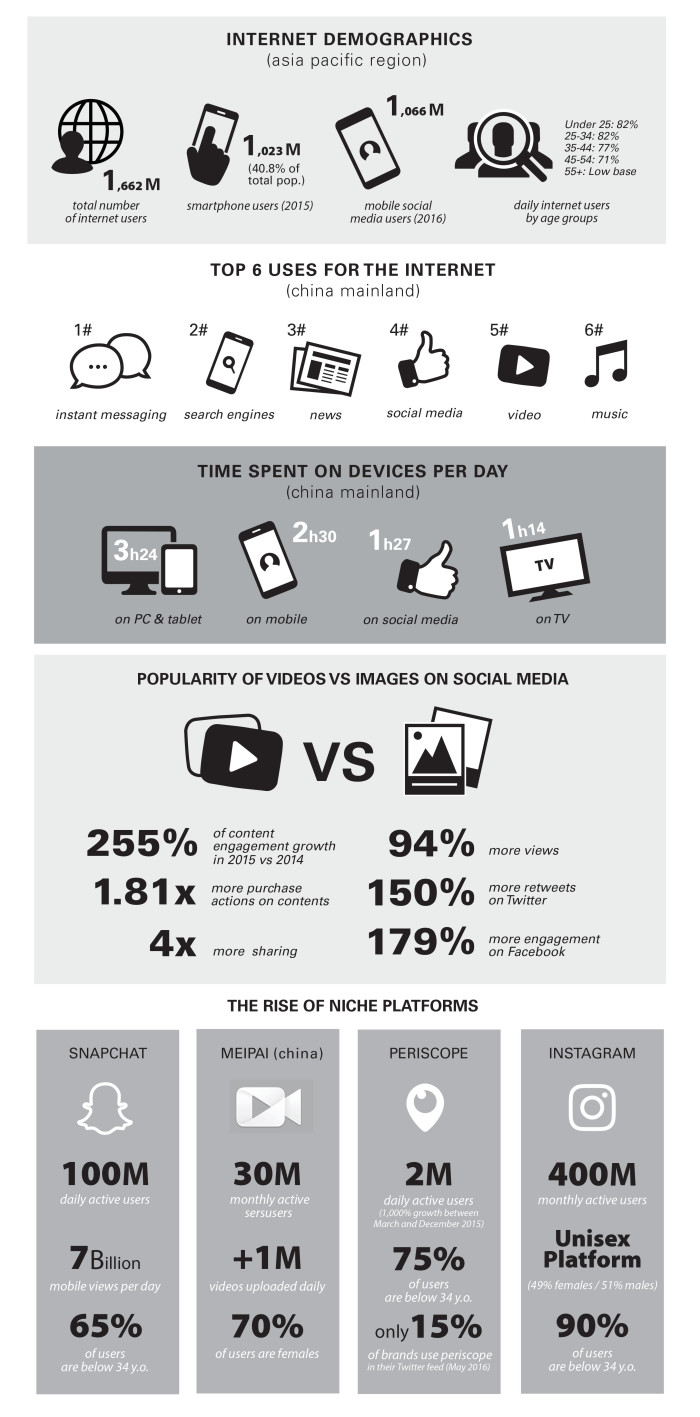 These more niche platforms also provide brands with a great opportunity to test out their campaign messages on smaller audiences before proceeding to jump straight into the more mainstream platforms.  What is key here is the format needs to fit the platform to ensure a clear communication of the campaign message.
Choice of the platform is also inextricably linked to timing which done well, will guarantee campaign success. Brands often fail because they think they will catch their audience by being everywhere at the same time.
Actually, by engaging those niche 'trend setters' first and then building on this momentum by subsequently moving communication efforts into the larger platforms can be far more beneficial. Only then do the Key Opinion leaders, public relations and targeted online media buying come into play to ensure the brand has the 360 degrees coverage it is after.
Last but not least, brands must watch their KPIs in real-time. There is no point in waiting for an outdated monthly report to be issued as all of this information comes too late in the game. Performance indicators allow marketers to be more pragmatic and to redirect investment and communication efforts as the campaign is running. This is the beauty of digital: We can pretty much track it all as it happens.
Julien Rapinat is client services director of digital strategy at Mazarine Asia Pacific, also a member of the Council of Public Relations Firms of Hong Kong (CPRFHK).