It seems to be the season of spending with CNY just passing and Valentine's Day just around the corner.
According to a latest study by MasterCard, love is clearly in the air and consumers in Asia Pacific have indeed caught the bug.
On average, people plan to spend US$100 on Valentine's Day gifts this year. Folks in Hong Kong plan to spend the most at US$243 each, followed by consumers in China (US$239) and Singapore (US$189).Men in Hong Kong are the biggest spenders, planning to lavish US$273 on Valentine's Day presents for their loved ones.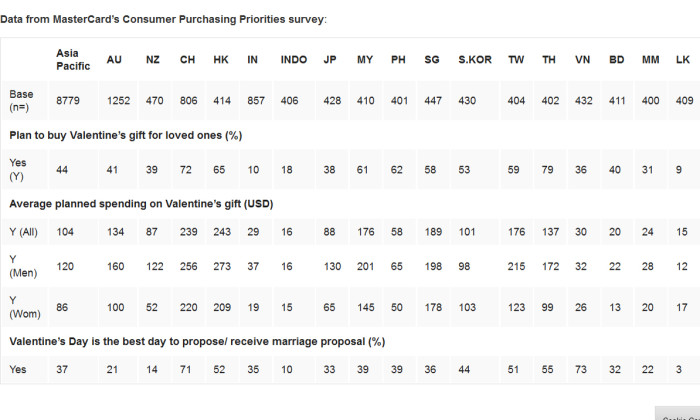 Eric Schneider, region head, Asia Pacific, MasterCard Advisors said: "Love is certainly in the air across Asia Pacific. Nearly half of people across the region plan to buy gifts for loved ones this year, and spending during Valentine's Day was up 23 percent from 2013 to 2015.  What's surprising is that Valentine's Day is more popular in markets such as Thailand, China, and Malaysia, than Australia and New Zealand; places that have more of a tradition of marking the day. "
Is the Chinese New Year chatter online raining on the Valentine's Day parade:
Meanwhile in Singapore, with the two holidays so close to each other, we asked Isentia which event was really taking home the prize in terms of online chatter.
According to data from iSentia, while the overall buzz for CNY is still higher during the period of 31 January to 10 February 2016, the Valentine's day buzz is starting to pick up on February 9 with CNY trend beginning to drop. Hence, one can assume the topic will gradually gain traction in the upcoming week.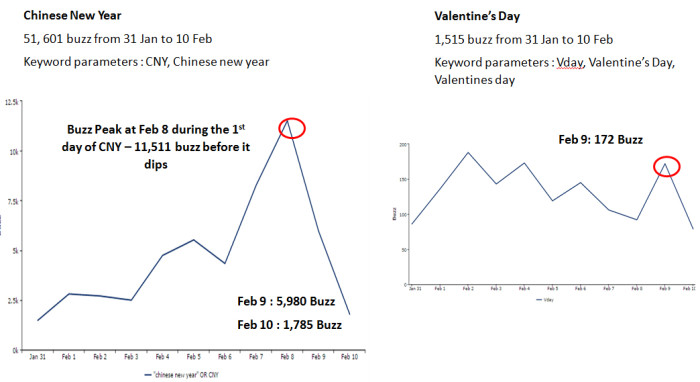 Meanwhile, more than 80% of the conversations online are primarily due to netizens tweeting about the upcoming plans, feelings about Valentine's Day. Here's a look at the channels on which the conversations are happening.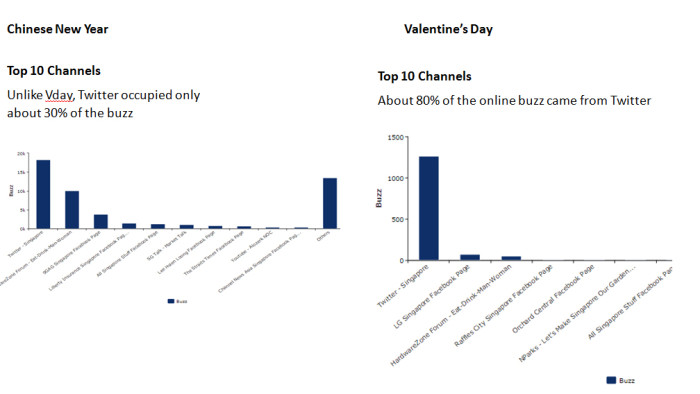 "It's a good space for marketers to engage them positively and with more emotional resonance rather than simply focusing on using contests and giveaways," said the Isentia study.
What do consumers want?
Across Asia Pacific men plan to spend 40% more than women on gifts this year, said the MasterCard study.
While flowers remain a popular gift, MasterCard users in the region say they would rather spend more money on "experiences" than "things" during Valentine's Day. Between 2013 and 2015, 36% of money spent on Valentine's Day went on hotels, while 24% went to restaurants. In total, Valentine's Day spending in Asia Pacific was up 23 percent from 2013 to 2015.
Meanwhile here is a Valentine Gift Poll 2016, by Lightspeed and a clear look at what consumers across Malaysia and Singapore want this Valentine's Day.
(Photo courtesy: Shutterstock)