American fashion brand Urban Outfitters, with 243 stores in the US, Canada and Europe combined, has opened its first store outside of these regions in Hong Kong.
Urban Outfitters is owned by retail company Urban Outfitters Inc, which also manages clothing brands Anthropologie and Free People.
In spite of its scale, Steve Briars, creative director of the Urban Outfitters brand, said the brand will continue to build its image as an independent fashion retailer.
That's why traditional advertising plays a minor role in its marketing mix.
"We rarely use print media for advertising. We do use it in local instances and would monitor performance of the ads as we get the first reads," Briars said.
"We are a word-of-mouth brand. We want people to shop with us for who we are, not because we invest lots of money in marketing."
Urban Outfitters did not commission or place any ads to coincide with its Hong Kong store opening.
"We also prefer to talk to an audience which 'subscribes' to our news rather than casting a wide net and hoping for a catch," Briars said.
The brand targets young people interested in becoming fans of its social media sites with content marketing campaigns.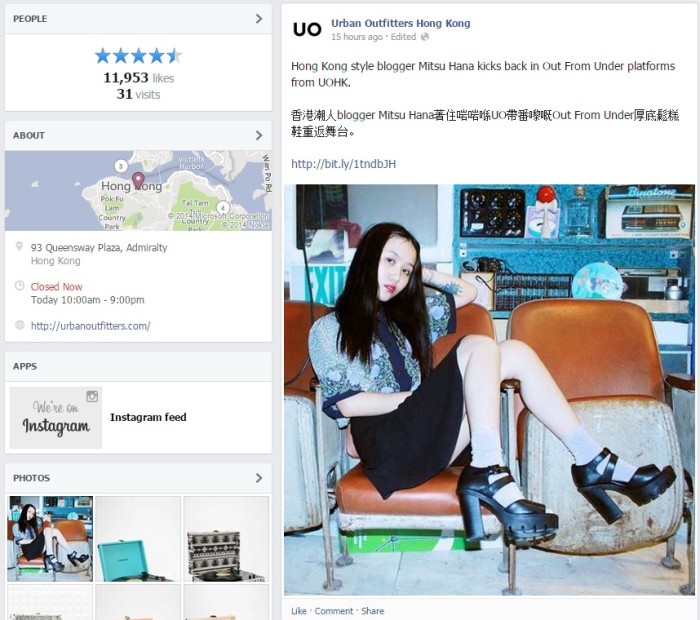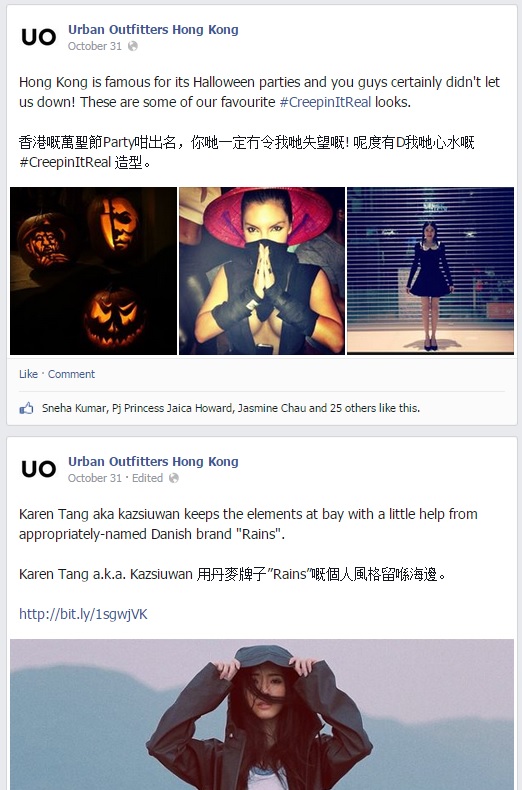 While Instagram and Facebook are the brand's most popular social media platforms in the US and Europe, it is also on Twitter and Pinterest.
In Hong Kong, it is using Weibo and Wechat to market the brand.
On the eCommerce front, Urban Oufitters operates an e-store for the US, and another for Europe, both of which ship products to Hong Kong.
Marketing to individuals who value a hip and independent sense of style is also apparent in the brand's in-store displays.
Each of the brand's stores feature interiors unique to that particular store.  In the Hong Kong store, for example, there is a 2000-square-foot ceiling art mural and artistic wall displays not found in its stores in other regions.
Briars said, "Life would be easier if we built white-box stores and threw in a model shot here and there, but we feel the new generation is bored and ambivalent to cookie cutter marketing."