Making its rounds in the design community is a Facebook post by one Kelley Cheng, who is the founder and creative director of design consultancy the Press Room. The post shows three separate images of a brief by a government body, asking for unlimited number of changes on a piece of work.
Take a look: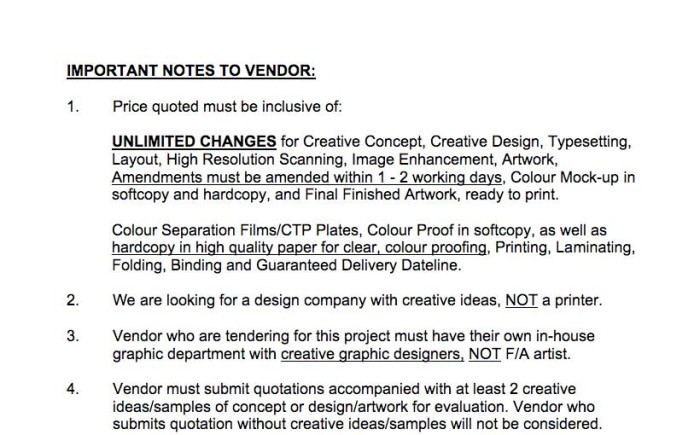 [gallery link="file" ids="125224,125225"]
While the post has gotten the design community riled up for its demanding nature, it is worth considering that this could simply be a very honest brief. It is not surprising for anyone in the advertising arena to find demanding clients who insist on extensive work from their agency partners. Often agencies are burning the midnight oil trying to accommodate last minute tweaks by the client.
What probably stands out this time around is that it is in writing - "unlimited changes"- in the brief.
Fiona Bartholomeusz, managing director of Formul8 agreed that this demand is not an uncommon one – and not exclusive to government agencies but rather cuts across industries.
I once had a client demand 96 rounds of change. What is different is this particular brief states it in writing.
"Sure you can have a contract stating the number of changes but clients can always argue the changes are minor or label you as a difficult agency if you argue not to. There will always be an idiot agency that will back over backwards to please such a client," Bartholomeusz said.
Ultimately, she added, it comes back to the age old question: What is the 4As doing about it?
She added that clients still do see ad agencies as simple vendors selling commoditised services and agencies should take some of the blame for allowing clients to think that they can take advantage of their agency partners.
"Clients don't treat other professional services partners in this manner. Why do ad agencies then allow themselves to be treated this way?" she questions.
Patrick Low, founder of Goodfellas said: "You can't put such stipulations in black and white." While he agreed that such demands are common from clients, it is risky for an agency to work with such a client - especially if the agency hasn't got any prior relationship with the client. He said:
It opens up a can of worms. If the entire industry can come together and avoid going for such a pitch, then we can protect ourselves. If you pitch for an account like this, you have to do so with your eyes open.
Paul Davies, managing partner of Roth Observatory International said whilst it could be seen as an "honest brief", it is neither fair nor reasonable and would not make for a productive partnership over time.
"From my experience the government agencies I have worked look for fair and reasonable commercial conditions and working relationship. My understanding of the government strategy to recruitment is that they look to hire people who are or will become specialists in their respective government department area first," he said.
The down side of this approach is that in some areas (such as marketing) the government bodies can lack the expertise needed - especially when undertaking a particular task or activity for the first or maybe even the second time.
"What some government bodies have done to counteract this lack of expertise is to use consultants such as ourselves to compliment them and provide that expertise and on going development," said Davies.
With regards to government tenders, his experience has been that the agencies participating can state their exceptions, issues or conditions.
"Without exception I have found that the government body will be open to discussion and creating a fair and reasonable circumstances for both parties," he added