Uber Hong Kong will withdraw two of its services, Uber Van and Uber Taxi, starting from 4 September 2016.
A letter from the ride-hailing company to its customers, announcing an end to two of its transport options, has gone viral on the internet since Tuesday.
In the letter, Uber addresses that it will halt taxi and van service on 4 September, but reassures UberBLACK and uberX, which offer luxury and budget private cars, will continue with their services.
It seems a victory for two Hong Kong startups, GoGoVan and Lalamove (formerly known as EasyVan), which pioneered their app-based, on-demand cargo van services before Uber came along.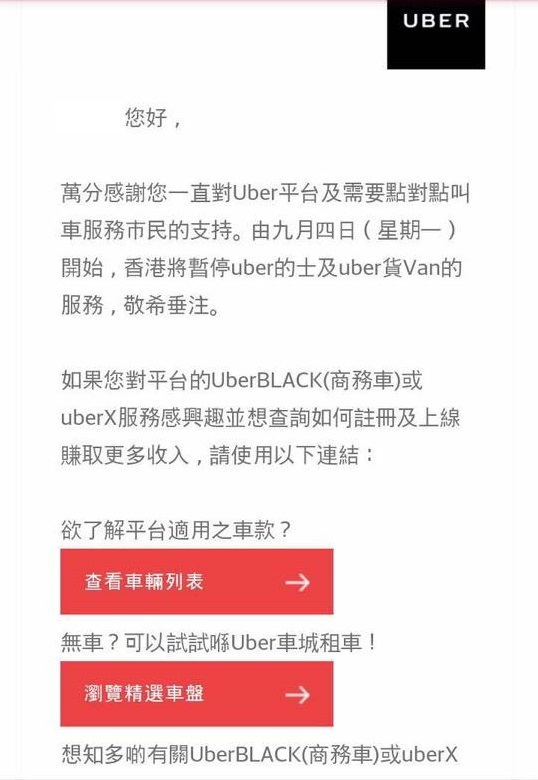 Uber spokesperson Harold Li confirmed the announcement and the company is now delivering emails to its Hong Kong customers.
He said Uber Taxi and Uber Van only account for a small portion in the Hong Kong services, and stopping the services means the company will be more focus on developing its "core business", such as UberX and UberBLACK.
When asked what impact the change may bring to the company, Li said:
We are exciting in our ability to invest in more features, and being able to focus on ride-sharing services will definitely help us to deliver high-quality features.
He said the company has been paying efforts in promoting its brand awareness. In late July, Uber Hong Kong has just rolled out its first ambitious ad campaign since its regional launch in 2014, blanketing over 30 bus kiosks and transit hubs billboards in the city for four weeks.
[gallery size="full" link="file" ids="147818,147819"]
The ads, which also appear online, showed typical Hong Kong people sitting in Uber cars, and taglines that play on Uber's name. Li said the idea behind the campaign was to celebrate the company's second anniversary in the city, and to introduce UberBLACK to new customers.
"We would love to get Hong Kong people more familiar with our ride-sharing services," Li said.
While Uber Hong Kong emphasised on the business initiative behind its new move, the news sparks concern over the company's sustainability.
In fact, the company has announced last week that it will end services in Macau on 9 September if talks with local authorities cannot resolve the issues of legalising the service.
It also faces ejection from neighbouring Taiwan, after a local regulator accused the car-hailing app of misusing its business licence.
According to Bloomberg's latest data, Uber's earnings before interest, taxes, depreciation and amortisation (EBITDA) was negative $1.27 billion in the first two quarters of 2016.