Kathy Chen, a former employee of the People's Liberation Army, named Twitter's first-ever China managing director.
Despite being banned from mainland China since 2009, the low-key appointment was revealed when Twitter's co-founder and CEO Jack Dorsey announced the appointment last Friday.
A big welcome to Twitter, @KathyChen2016! She joins us as our MD for China!

— Jack (@jack) April 15, 2016
Kathy Chen is a former employee of the People's Liberation Army who worked for a joint venture partly owned by China's Ministry of Public Security, according to her public profile on the internet and various news reports. Chen is also the former executive at Microsoft and Cisco Systems.
Xinhua, China's official news agency, also used its Twitter account to send her "congratulations" on the appointment.
@XHNews Thanks and look forward to closer partnership in the future! — Kathy Chen (@kathychen2016) April 15, 2016
Later Chen responded to a post with: "Thanks and look forward to closer partnerships in the future!"
Some users express their concern if Twitter is looking to form closer relationships with the Chinese government.
[caption id="attachment_133624" align="alignnone" width="700"]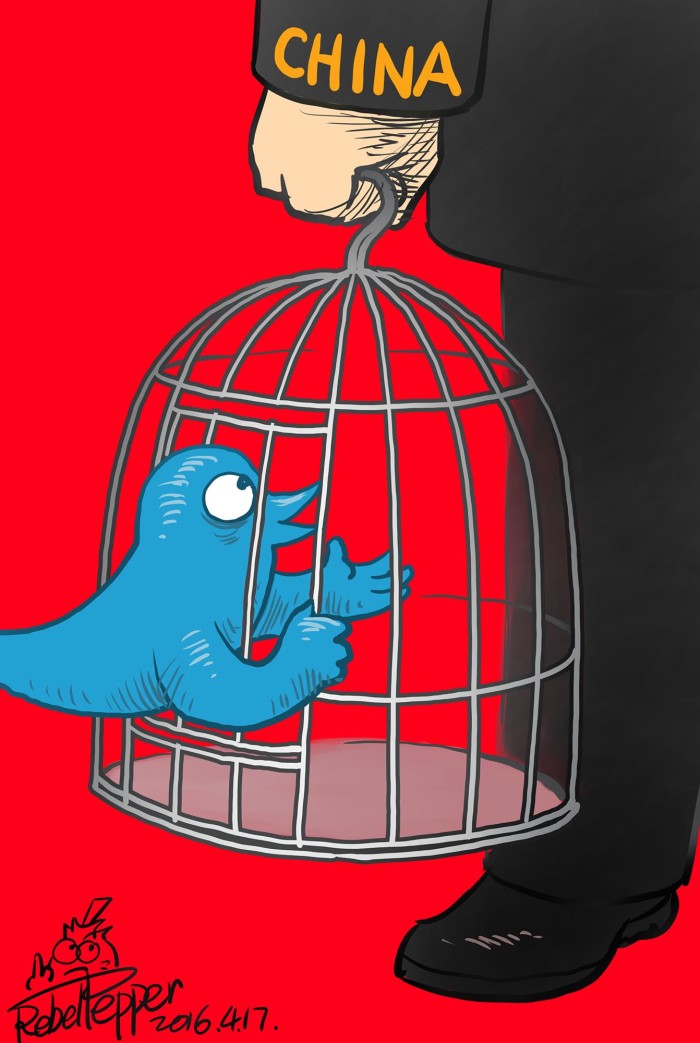 Cartoonist Rebel Pepper expresses fear that the appointment threatens Twitter's role as a bastion of free speech.[/caption]
Twitter has been operating from Hong Kong since March last year and has attracted advertising revenue from Chinese companies looking to reach a global audience. Facebook reportedly maintains a very successful sales hub in China, allowing companies to tap into its network of users.
In a recent interview with the now Alibaba-owned South China Morning Post, Shailesh Rao, Twitter's vice-president of Asia Pacific, Latin America and emerging markets, said that after seeing 340% growth in the number of Chinese advertisers using Twitter over the past year, such as technology groups Lenovo and Huawei, the company wanted to expand.
"With our data analytics, we can give Chinese companies insight into how their customers are thinking about their products and services, and use that insight to help them deliver tailored and more effective communication to reach their audiences," Rao added.
However, Rao said that restrictions on its consumer service in mainland China meant it would concentrate on growing its advertising business in the country rather than seeking to acquire new users.
"We would love to offer our Twitter consumer service to Chinese users, but that's not an option right now," he said. "Instead we will focus on leveraging some of our capabilities to create value for Chinese businesses and state-owned enterprises."