As TV spot pricing continues to climb and marketing budget shift to digital, latest figures from admanGo shows that TV ad spending drops 7% in June compared to previous year.
The decline, the report suggests, is primarily due to budget reduction by advertisers in Toiletries and Household (-10%), Beverages (-14%) and Pharmaceuticals & Healthcare (-12%) areas, despite additional spending brought about by the World Cup 2014 last year.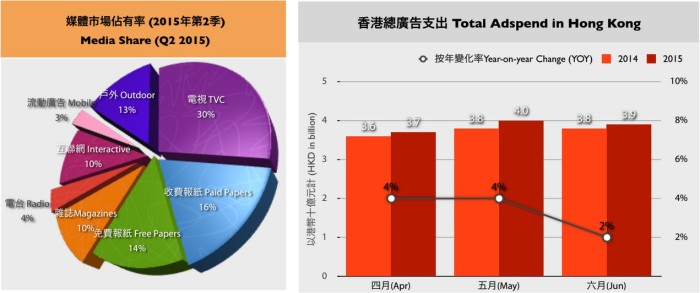 Meanwhile, adspend on magazines and paid papers in Q2 were down by 14% and 4% respectively against last year, resulting in the closures of four print publications in one month, including Sudden Weekly, Hong Kong Daily News and Sing Pao Daily News and Fashion and Beauty.
But not all traditional media experienced a drop.
Adspend in free papers in the second quarter increased 11% when compared with the previous year, while a 7% YOY growth was also recorded for spending in radio ads.
The spending in interactive and mobile ads in Q2 was also up 37% and 69% respectively. The adspend in mobile by Cosmetics & Skincare was more than doubled than last year and Olay, L'Oreal Paris and Clarins were the top three spenders.
Among the top 10 industries in adspend, Travel and Tourism Services marked the highest increase with a 28% YOY growth.
The industry's two biggest spenders were Trivago and The Miramar Group; and specifically, the spending by Trivago was five times higher than its level in last year.
However, interestingly, adspend by Retail and Beauty, Slimming and Fitness declined 13% and 11% respectively compared with the same period last year.
Within Retail, the adspend by supermarkets showed a 23% YOY drop while both drug stores and shopping malls recorded 18% and 28% YOY decline respectively.
With this said, there was a 15% YOY increase in adspend by department stores even when the retail market turned quiet.
The adspend by Wing On was up 17% against last year and the spending by CitiStores and Yata increased 50% and 58% respectively.