"Earn" advertising in the form of word-of-mouth recommendations from family and friends continues to be the most influential source of advertising among Malaysian consumers.
According to research by Nielsen, consumers placed the highest level of trust in word-of-mouth endorsements at 86%, while the credibility of online advertising has improved in recent years.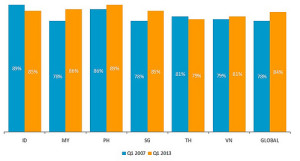 Chart 2: Consumer trust in traditional paid media (% trust somewhat/completely)
Consumer trust in earned media/recommendations from consumers (% trust somewhat/completely)
Trust in traditional advertising remains strong with television, magazine and newspaper advertisements continue to be among the most-trusted forms of paid advertising for Malaysian with (70%) said they trusted television ads.
Despite declining trust in magazine and newspaper advertising across the region in recent years, more than two in three consumers in Malaysia (68%) said they trusted magazine ads and 72% said they trusted newspaper ads.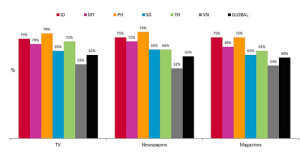 Chart 2: Consumer trust in traditional paid media (% trust somewhat/completely)
"Despite continuing media fragmentation and the emergence of new advertising platforms, television remains the platform of choice for the delivery of marketing messages thanks to its ability to reach the masses, and this research illustrates that television advertising still holds strong resonance with Southeast Asian consumers," said David Webb, managing director of advertising solutions at Nielsen.
There has been an increase in trust in online ads in Malaysia with 11 points increase to 61%. Online banner ads also recorded a positive shift in trust levels compared to 2007 with 44%.
"Online ad spend is growing rapidly and according to PwC, is forecast to reach nearly US$34 billion in Asia Pacific by 2015, highlighting advertisers' growing confidence in online. Strengthening trust among consumers will serve to further drive this growth," added Webb.
Locally, 52% trusted ads in search engine results compared to the global average of 48% and online video ads were trusted by around half of consumers with 50%.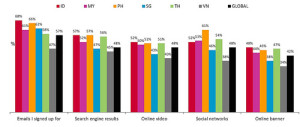 Consumer trust in online paid media (% trust somewhat/completely)
Trust in owned advertising in the form of content and messaging on brand websites also increased since 2007 and Malaysians believe brand websites to be credible, which is reflected in 72% of people above global average of 69%.
"Rising consumer trust in brand website content is definitely a key advantage for marketers as it is an avenue where they can control the brand messages in a way that consumers consider credible. This perceived credibility is a key component in advertising effectiveness," added Webb.
Among ads that make the greatest impact are ones that used real-life situations which are most likely to resonate among Malaysian consumers (60%), while ads that were value (52%) and family (51%) oriented, and humorous (43%) also fared well.