Every brand wants to stand out, and with stiff competition inching in from every side, consumers scepticism has also heightened on the same scale.
How does a brand prove itself to be worthy of consumers' time?
According to Havas Worldwide's latest white paper, brand building boils down to two essential elements: trust and dynamism. Consumers of today have to believe that the brand is not only delivering what it's promising but also have to invest a significant amount of energy into paving a better future for communities.
The global study totalled over 10,000 prosumers' — a termed coined to merge both professional and consumer grade into one — opinion on what they felt were critical factors for brand success and consumer engagement.
"Our study reveals a powerful insight about brand strength: It is based on what people believe about where your company is headed and the value you will provide to society along the way," said Sarita Bhatt, director of global strategy at Havas Worldwide.
Prosumers are today's leading influencers and market drivers. What prosumers are doing today, mainstream customers are likely to be doing in six to 18 months from now, making them an ideal dipstick test group to see which brands are getting it right and how.
Understanding the difference
Trust

"Consumers want to buy from and do business with brands that share their values and beliefs. And they will punish those businesses they view as irresponsible." — David Jones, global CEO, Havas.
What factors does it take to build trust?
Quality of the brand's products/services
Transparency in brand communications
A clear link to roots and heritage
Nimble and multi-local with the ability to combine global power and reach with local sensitivity and involvement.
Dynamism
To build dynamism, brands must first reconnect innovation to utility: What does the iPhone 5 bring that I really need? Why pay for all the high-tech capabilities of an SLR camera if I'm just going to use it on auto mode?
Dynamism is not about roots or a record of reliability; it's about creating excitement around a brand and opening pathways to the future.
Three factors have the greatest impact on perceptions of dynamism:
Having a purpose beyond profits
Sociability, creating a presence in consumers' lives.
Seamless communications and calls to action across platforms.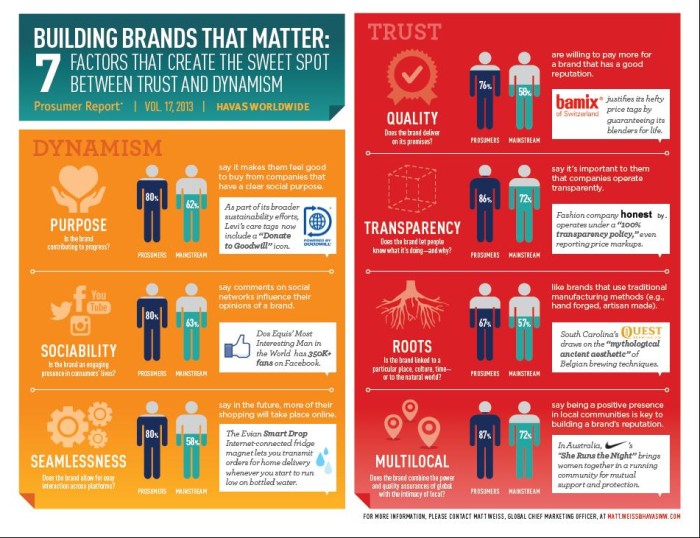 A quick summary of the paper shows that
Social brands win
The value of "local" is tied more to actions than provenance
It's no longer acceptable to operate solely in pursuit of profit
Consumers want to partner with brands to drive positive social and environmental change
Transparency is essential to trust
An authentic brand history is a valuable reputation boost
Employees can be a brand's best advocates—or its most damaging detractors
Mobile consumers want seamless digital interaction
How many criteria has your brand fulfilled on this checklist?