Despite the maturity in programmatic, the lack of transparency in the field is still a major pain point for advertisers. This has led to many marketers contemplating taking the function in-house, in an attempt to regain some control over their ad spend and increase transparency, said a report by R3.
According to a recent survey from the WFA, 41 % of marketers plan to take greater control of their programmatic ad spending this year. Many advertisers think that agencies have struggled to adapt to programmatic buying, and are attracted to the quicker response times and more control over data that in-housing their operation provides.
"Everyone is looking for the best solution to the challenges raised by programmatic buying, but taking it in-house is not necessarily a panacea for all of its issues," read the report.
While it may be the right solution for a huge global brand with a massive media budget and the resources to hire the right people,
Smaller regional brands might struggle to set up the infrastructure or find the talent necessary to support their operation.
The study added that the market seems to have a shortage of people who truly understand programmatic, and companies need both data scientists and media experts with a deep knowledge of the ecosystem to be successful. Often times, the solution that works best for most brands is some type of hybrid between completely outsourcing programmatic to an agency and fully in-housing the operation.
Some global brands such as Netflix  have a 100% in-house programmatic team, while others – such as L'Oréal – prefer to have their agency execute the buying but lead the strategy internally. There truly is no one-sizefits-all solution to eliminate programmatic's transparency issues, but these brands are at the forefront of innovation in that space, testing and learning to find the best way forward.
Victim to tech tax
A study by R3 states that of the US$63.4 billion that brands spent on programmatic in 2017, as little as 27% made it to working media, according to a recent WARC report.  Up to 12% of those dollars were lost to ad fraud, and an astounding 55% fell victim to the so-called "tech tax" that is applied at each stage of a programmatic buy.

These issues, said the report, undermine the industry as a whole, eroding trust between agencies and their clients. As such, many marketers are demanding greater control over what portion of their ad spend is working media and what creative is actually seen by the consumer. In late 2017, the CMO Council surveyed 300 marketers on their programmatic strategy, of which 54% of respondents said they had pulled digital ads, citing fraud concerns.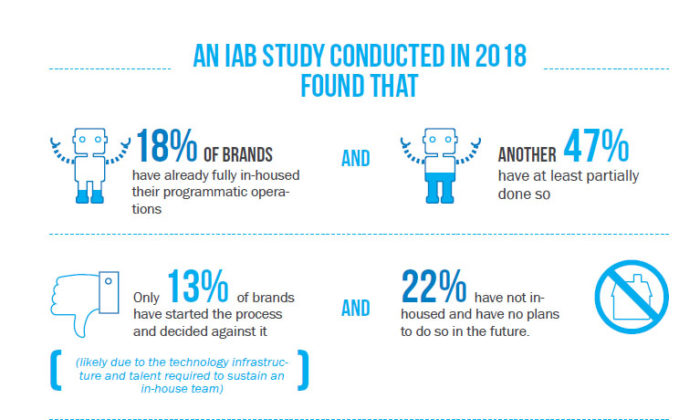 "The prevalence of ad fraud, inappropriate content and inconsistent measurement standards have only fanned these flames, and have led to marketers questioning whether or not their agencies (and other third parties) are adding value at ifferent stages of an increasingly complex process," said the report.