Digital has become a core of every agency function today. While every other hot shop starting up claims to know the world of digital, only very few know how to truly monitor and navigate this volatile space. And even if they successfully understand how to market their clients, only a few ever really know how to truly market themselves.
According to a recent study by social media monitoring company Digimind, social media agency We Are Social came out on top as the leading digital agency on social media in Singapore. We Are Social had the largest community, thanks to their 122.81K followers across Facebook, Twitter and Instagram.
The survey looked at communities (subscribers, fans, and followers); interactions (likes, retweets and comments); and publications (posts, tweets, videos, etc.).
To establish this top 50 list, digimind monitored 102 digital agencies (60 global and 42 Singapore based) from 24 July to 24 August 2015 its Digimind Social Analytics tool. The list was then narrowed down to the best performing agencies according to the above mentioned metrics.
The study also found that the agency also acquired most of their community through Facebook and Twitter.
Here are the top 50 other leaders:
Facebook and Twitter emerged as the most popular social networks for digital agencies in Singapore. Interestingly, more global agencies had Facebook accounts than Twitter, but locally, it was Twitter that outranked Facebook. Across the board, there is still very little presence on Instagram and Pinterest.
Although We Are Social has the biggest following on Facebook, they were overtaken on the medium by The Influencer Network (another local social media influencer agency) in terms of interaction over the period studied.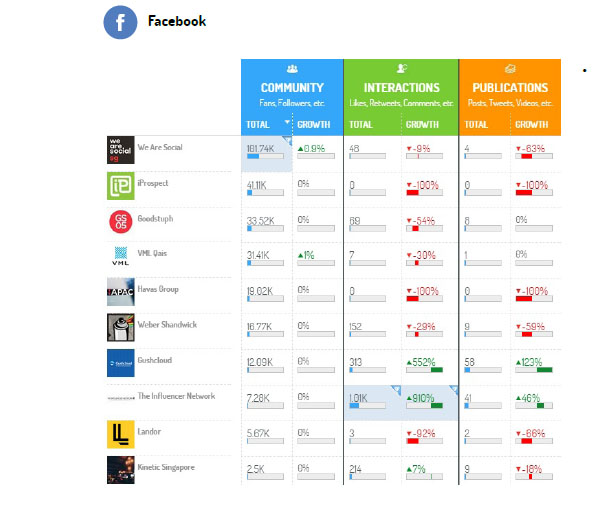 Similarly on Twitter, We Are Social dominated in terms of community size, although DD Group led in terms of interaction and publications on the micro-blogging platform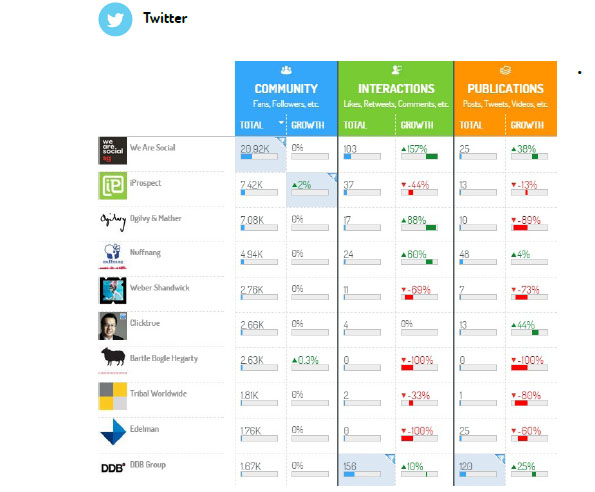 Interestingly, the most thriving communities on Instagram belong to local social media influencer agencies (Nuffnang, Gushcloud and The Influencer Network). While Gushcloud led in publications and interactions, Nuffnang remained the agency with the largest Instagram following.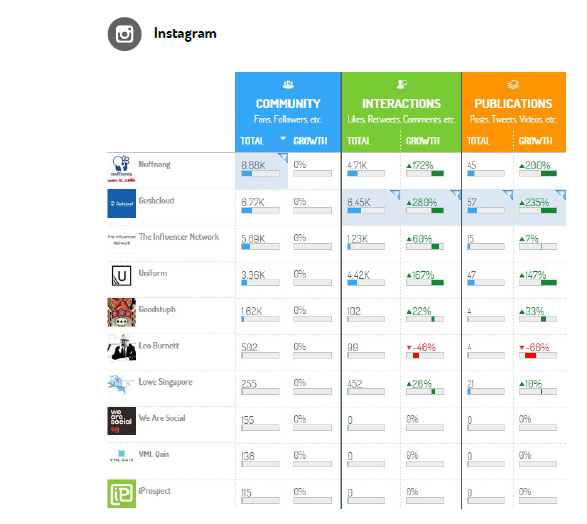 Meanwhile, although it had little to no publications and interaction over the period studied, J. Walter Thompson retained the biggest community on YouTube.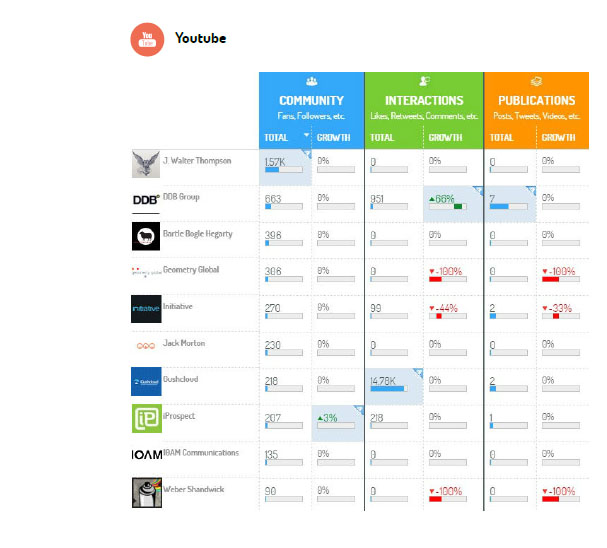 Publicis, VML Qais and Grey Digital Singapore have the largest communities on LinkedIn.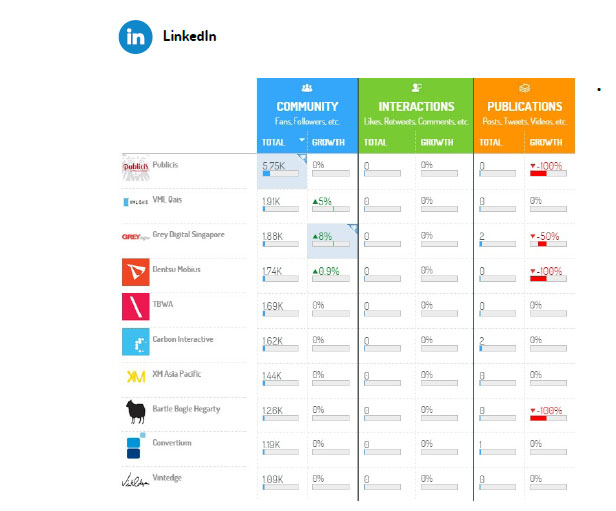 According to the study, ideally a "digital agency" should be defined as a business that delivers services for the creative and technical development of Internet based products. These services include but are not limited to: web design, digital marketing strategies, creation of websites and social media content, implementation of applications, social media listening, community management, influencer marketing, public relations, and many more.
"We wanted to assess the performance of these agencies on social media. For this study, we limited it to digital agencies based in Singapore and global agencies with offices in Singapore, who had social media accounts dedicated to Singapore or the Asia Pacific region. The social networks studied were: Facebook, Twitter, Instagram, LinkedIn, Google+, YouTube, and Pinterest," said Paul Vivant, founder and CEO of Digimind.
Out of 87 global agencies with offices in Singapore, 60 had at least 1 social account dedicated to Singapore or the Asia Pacific region. Only 25% of these agencies had at least three social accounts for said region.
They are: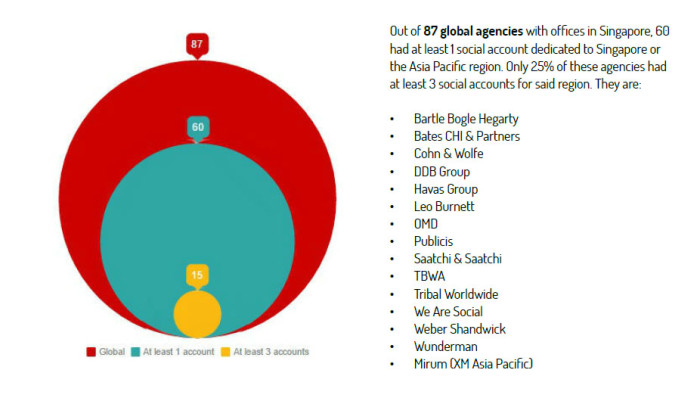 The study was conducted from 24 July to 24 August 2015 for the Singapore market.