Newcast, the specialist branded content and experience division of ZenithOptimedia, has pitted seven FIFA World Cup official partners and sponsors on a "social media challenge".  Using a proprietary social media analysis app called Socialtools, Newcast analysed the brands' Official Facebook pages before and during the World Cup season to see who came out on top.
The rankings were based on a combination of two factors- increase in fan growth and activation rate (calculated by the number of fans and non-fans who liked/commented/shared a page post and expressed as a % of fans) as a likely result of the FIFA World Cup.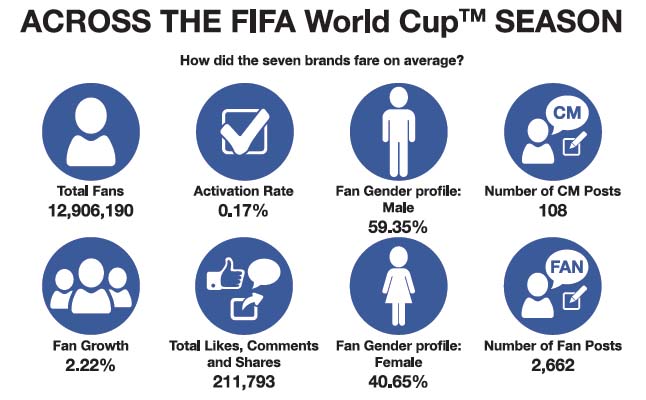 Adidas came out tops in the kick-off with a 2.80% fan growth, 0.32% activation rate and over 24,000 likes, comments and shares. This was followed by Kia, Coca-Cola and McDonald's.
On the average, the seven brands recorded 2.22% Fan Growth, 0.17% Activation Rate and 211,793 total likes, comments and shares. Most of the top posts from these brands were all World Cup-related with activation rates ranging from 1-4%.
[gallery link="file" ids="61025,61026,61027,61028"]
Lastly, Newcast also looked at the top World-Cup related posts across the whole of Singapore.
Singaporeans greatly took notice on the South Korean newscaster Jang Ye Won who was sent to Brazil to cover the Chile versus Spain match. That particular post from The Straits Times' Facebook Page received 18,601 likes, 1,322 shares and a 6.09% Activation rate.