Forrest Gump famously coined the idiom, "Life is like a box of chocolates. You never know what you're gonna get". But when you do know what you're going to get, which chocolate would you choose? To find out more about our love affair with cocoa, YouGov asked 9,000 people across APAC about how they like theirs.
Among the 11 brands that the study covered, Godiva is particularly popular in Hong Kong. Other popular brands include Lindt (20%), Ferrero Rocher (17%), Cadbury (16%) and Nestlé (8%).
The top 5 chocolate brands in Hong Kong
1. Godiva (23%)
2. Lindt (20%)
3. Ferrero Rocher (17%)
4. Cadbury (16%)
5. Nestlé (8%)
But tastes differ over which is the best brand of chocolate: Cadbury is APAC's favourite brand of chocolate, chosen by a quarter (25%) of respondents regionally. Other popular brands include Ferrero Rocher (14%), Nestlé (12%), Hershey's (12%) and Lindt (9%).
The top 5 chocolate brands in APAC
1. Cadbury (25%)
2. Ferrero Rocher (14%)
3. Nestlé (12%)
4. Hershey's (12%)
5. Lindt (9%)
Meanwhile, Toblerone is a firm favourite in the Philippines and Indonesia (favoured by 16% and 14%, respectively, against 6% regionally); while Nestlé is more than three times more popular in Vietnam than it is regionally (chosen by 39% locally but 12% regionally).
The rise of the ethical consumer
Traceability and transparency have gained prominence in recent years, a trend reflected in consumers' priorities when purchasing chocolate. 58% of the APAC respondents think fairtrade certification is an important factor when buying chocolate.
This rises to as many as 77% in Indonesia and 70% in Thailand. By contrast, Hong Kong consumers are the least concerned in the region, 55% of Hong Kong customers consider fairtrade certification "not important".
Fairtrade certification is considered to be more important than advertising (33%) or packaging (49%) across APAC. However, taste is still the most important consideration – highlighted as important by a whopping 93% of those polled.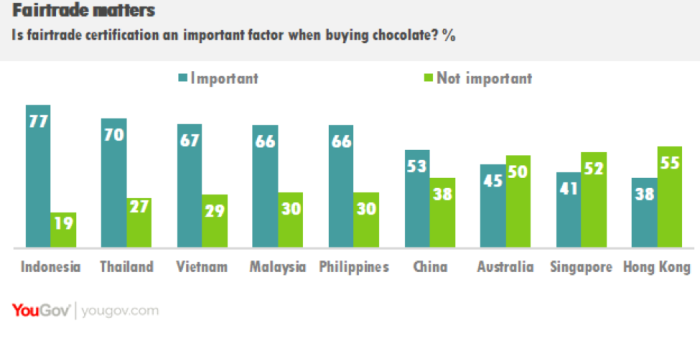 Over 40% of consumers in APAC eat less chocolate now compared to last year
Yet health concerns increasingly shape people's purchasing habits. Almost three in five consumers (58%) think calories are an important factor in making a purchase decision. 43% of those polled also report that they eat less chocolate now than they did a year ago. Of those, three out of five respondents (60%) do so because they are increasingly health conscious. The next frontier for chocolatiers will be to rise to the challenge of keeping the same great taste while alleviating health concerns.
Data was collected online between 22 June to 3 July 2017 using YouGov's panel of over 5 million people worldwide. It was weighted to be representative of online population. Sample size: Asia Pacific (n=9,088; Australia: 1,013; China: 1,007; Hong Kong: 989; Indonesia: 1,004; Malaysia: 1,049; Philippines: 1,015; Singapore: 1,007; Thailand: 1,002; Vietnam: 1,002)
(Photo courtesy: 123RF)