Haidilao is perceived as the most reputable food brand, followed by Pizza Hut and Little Sheep. McDonald's (7), TGI Friday's (8) and KFC (9) are the western brands that ranked in the top 10.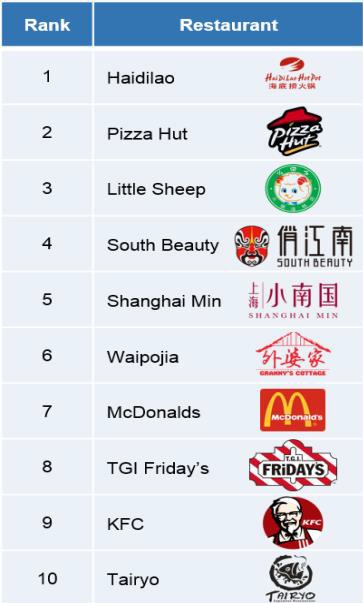 According to OC&C Strategy Consultants' latest report, China's restaurant market becomes more vibrant, with growth outstripping other major markets, despite higher volatility.
Chinese consumers eat out almost three times a week, on average, and are becoming more sophisticated, amid increased awareness and openness towards international brands. This growth is largely attributed to the explosive increase in China's middle class, which now accounts for 68% of all urban households.
The report found that Chinese consumers actively seek out new restaurants and are receptive to new formats and concepts such as restaurant theming, healthy lifestyle menus and organic produce, as well as innovative, fusion cuisine.
"The arrival and rapid expansion of international chains in the past few years has increased the competitiveness of the market. Both local and international food brands need to design the right business strategy and offer a customer experience that will meet increasingly sophisticated expectations,"said Jack Chuang, partner of Greater China at OC&C Strategy Consultants.
Food quality, wide choice of categories and service quality come up as the three critical factors while serve speed, convenience and pricing are rated as less important.